Its the time of year to give the gift of unlimited TV and movies! Android TV Boxes, such as the Jetstream Android TV Box is the perfect gift for those who want to turn their old TV into a smart TV. By pairing an android TV box with an older television, they now have a Smart TV at a fracture of the cost for a new TV.
Jetstream 4K Ultra HD Android TV Box Technical Details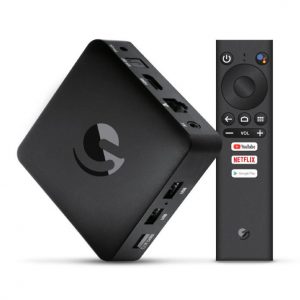 The Jetstream includes everything one needs to get started. It includes an HDMI cable, 2 AAA Batteries, Power Cord and of course the Jetstream android box.
Setup is simply a matter of connecting the Jetstream to your TV using the included HDMI cable and then powering it up with the included AC adapter.
On the back of the Jetstream is an AV output, Ethernet port, HDMI out, Optical S/P Dif, and DC power in. There is also a microSD card slot for local media storage and playback. You can also use the microSD card slot to expand the storage of the media player.
The Jetstream comes with 8GB storage on board and it has a quad-core CPU. With support for Dolby Audio and 4K Ultra HD, it's more or less everything you need in a TV today.
But that's not all! It also has Bluetooth v4.2 so you can seamlessly stream media from other smart devices, like tablets and Smart Phones. Plus it has built in Wifi that supports 2.4 GHz up to 5.0 GHz allowing for wireless stream casting.
Jetstream Android TV Box + Google Assistant!
Jetstream includes a dedicated button right on the remote for Google Voice Assistant and it has a built-in microphone. Users can perform voice searches and access shortcut buttons to navigate the Play Store, Netflix, and even YouTube. This is extremely helpful as it eliminates the need of a wireless keyboard and introduces users to a whole new experience. I was able to say things like find kids movies.
Is the Jetstream 4K Ultra HD Android TV Box hard to configure?
I found the Jetstream to be incredibly easy to set up and configure. The entire process took me less than fifteen minutes. On first startup of the Jetstream Android TV Box you are prompt with general information like location, wifi connection and time zone.
You will need a Google Account to finish the setup process and to use the Google Play Store to add Apps and Games. If you already have an Android Smart Phone you can be setup within minutes by Allowing the Jetstream 4K Ultra HD Android TV Box to pair with your Smart phone and share your Google account and preferences seamlessly. This is a nice added touch for Android users as it takes the guess work out of the equation!
Build your own TV guide!
The Jetstream Android TV Box has an overall nice interface and layout, which you will see as you start adding channels and Apps. The screen is fully customizable allowing you to add your favorite channels so they are right there when you want to watch them. By default, the most popular streaming apps are already available including Netflix, Hulu, Vudu, Sling, ESPN, and more. I did notice a very notable app missing from the Play store though, which is the Amazon Prime app. I'm more of a Netflix person, but my wife likes her prime. For those of you who watch Prime Video alot, that's something to keep in mind if you are interested in purchasing this device.
The main channel icon is to the left with featured or recommended content displayed to the right of your screen. You can easy browse a screenshot of a Netflix program or Tubi program, make a selection and start watching it seamlessly through the main screen. This cuts down the need to navigate to the main App Icon and browse through the large index of content to find a program you want to watch.
Performance Wise
Performance-wise the Jetstream 4k Ultra HD works as well as I hoped it would. Everything looks crisp, sharp, and vibrant. The remote is great, and responds very well. It is a much improved version over the past remotes we have had to use. My six year old daughter figured out how to use the remote in a day.  I was able to hop back and forth from app- to-app with no lag or freezing.
What is the best 4k Android box
In my opinion nothing comes close to the Jetstream 4K Ultra HD Android TV Box. The overall experience and quality of the Jetstream Android TV Box has left me speechless. It truly is an amazing TV Android Box, that I am sure will be hard to beat! I actually prefer it over my Roku Ultra. And you can't go wrong on the affordable price.
In fact it is so popular good luck finding one in Canada that isn't on back order. After seeing mine my step mother now wants her own Jetstream 4K Ultra HD Android TV Box. We went to countless Canadian websites and none of the sites have any in stock.
If you live in the US you can find the Jetstream Android TV Box via Walmart.
Website: http://www.ematic.us