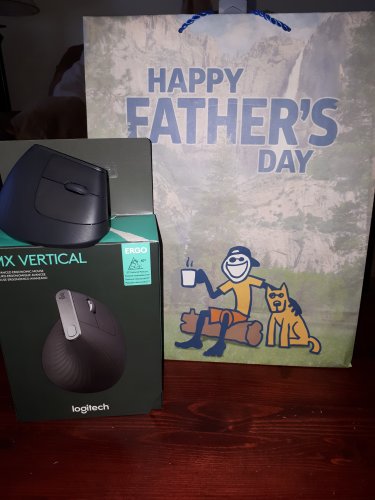 Logitech is a brand name that most computer users are very familiar with. Logitech specialize in nano mouse technology, gaming mouse's and even rechargeable mouse's that stay ahead of the competition. The Logitech brand has been around since 1981. They have come a long way to being one of the best device suppliers for computers, laptops, tablets and more. With father's day just around the corner I am taking a look at the Logitech MX Vertical – Ergo mouse! This is the perfect vertical mouse for him this Father's Day.
While they definitely look unusual, vertical mice are becoming a common sight on computer desks.
I have to admit that it takes some time to get past the odd design of the MX Vertical. It is not your standard shape for a mouse. Despite the odd shape I find the Logitech MX Vertical to be a comfortable, smooth-performing mouse. My wife tried out the MX and didn't find it comfortable. Whether you find this comfortable largely depends on how you hold your wrist when you work on a computer.
Also, you can't grip the Logitech MX Vertical like a typical mouse. Rather you have to use a lighter touch and let the hand guide the mouse for your task.
The Clear Leader for Ergonomic Mice
There are two thumb buttons on the left side, two split mouse buttons on the right where your ring and other fingers naturally sit, and a nicely rubberized and notched scroll wheel. The mouse is topped with a metallic plate which also features a DPI switch button. At the front of the mouse, there's a USB-C port for charging the built-in ION battery or for using the mouse as a wired connection. Logitech does include a USB-C cable for doing quick charges. The Logitech MX Vertical can also be used as a wireless mouse, with support for Bluetooth and the Logitech Unifying Nano Receiver. A button on the bottom allows for quick switching between three different wireless connections. While many Logitech peripherals have a slot to stow the receiver when not in use, the Logitech MX Vertical does not — despite its bulky size.
As I mentioned earlier the Logitech MX Vertical does take some getting use to especially if the vertical format is something new to you. With that said, the Logitech MX Vertical is beneficial for users with carpal tunnel or shoulder pain. Even users with arthritis would benefit from the MX vertical.
The Logitech MX Vertical's performance of the wireless connection using the Unifying Nano Receiver is phenomenal.  I experience no interruptions or latency, and it seems to have a decently connection rate. Switching between connection types is also easily done. You can set it up to connect to your computer via the nano receiver and Bluetooth, or use the plugged in option via USB. USB overrides any wireless connections, but when unplugged, the unifying nano receiver connection kicks in instantly.
Our Verdict
All-and-all Logitech has designed a true ergonomic mouse for users who spend hours at the computer and suffer from chronic pain from underlying symptoms.
I give the Logitech MX Vertical Mouse a 4 out of 5. There is a learning curve to adjusting to the new design, but its overall performance is phenomenal. One obvious downside is the mouse is very clearly only for right-handed users.
If you're using a mouse a lot for work and experiencing pain in your hand, arm, or wrist, the MX Vertical may make for a more comfortable change up.  I feel more relaxed in the arm using it, except for when I have to grip harder to stop the cursor from moving while clicking. As far as I am concerned, this is a top-notch ergonomic mouse. However with that said its bulk  size doesn't make it the best option for workers like myself who are often on the move.
While I am critical of a few aspects that limit the audience for the MX Vertical, it successfully fulfills a niche need.
As a computer programmer who spends a great deal of time in front of the computer, I'm the ideal customer for the MX Vertical.
It's also one of the most expensive non-gaming mice around at $100. Nonetheless if you or dad need a good mouse then why not splurge. After all it is father's day! He deserves it!
Website:www.logitech.com/en-ca