If you are looking for a pleasant surprise for kids or adult this upcoming Easter, series 6 Whiffer Sniffers scented backpack clips are a splendid idea. If you are yet to hear of Whiffer Sniffers, they are a collection of scented backpack clips, huggable super Sniffers and scratch n' sniff stickers.
Whiffer Sniffers scented backpack clips are the perfect price point and size to use as Easter basket fillers. Measuring 5 inches tall, kids clip them onto their backpack, book bag or lunch box. Adults even love Whiffer Sniffers and clip them onto their purse, athletic bag, and attach them in the car.
Whiffer Sniffer Scented Backpack Clips Series 6
This spring, Whiffer Sniffers is debuting series #6, which features 7 new scented backpack clips. My daughter's favorite is Willy Hyde, the Easter Candy scented egg. He has many colors and smells like an Easter Basket full of candy.
The names of the new characters in series 6 are: Shirley Cone, Waffle Aaron, Louie Lime, Ima Bubblepopper, Danny Dipperell, Chill Bill, and Apollo Freeze.
Chill Bill is a rainbow slushy scented backpack clip!
Apollo Freeze smells almost good enough to eat. She is a fruity ice pop scented clip.
Danny Dipperelli is a chocolate dipped strawberry scented backpack clip!
Louie Lime smells almost good enough to eat, but she is meant to be seen.
Shirley Cone is a strawberry ice cream scented clip.
Waffle Aaron is a waffle scented backpack clip!
Mystery Pack 12 provides the opportunity to get the rare Ima Bubblepopper, blue raspberry gum scented backpack clip. You will either receive Ima Bubblepopper or one of the 6 regular Series 6 clips in your mystery pack.
The scents are true to whatever food the character is meant to represent. The scents are light, not overwhelming. Each scent is meant to last at least a year. Although some of the scents have lasted longer than a year.
My daughter enjoys collecting mini toys, and is constantly expanding her collections. Whiffer Sniffers are another fun type toy for her to collect. Because the company is always releasing a new series of Whiffer Sniffers, her collection can grow.
You can find a complete list of scented personalities, products and prices at whiffersniffers.com.
Whiffer Sniffers can be purchase via Amazon.com.
About Whiffer Sniffers
The Original Whiffer Sniffers is a collectible line of scented plush characters that are available as either backpack clips, bigger huggable plush versions, and scratch n' sniff stickers. For more information visit whiffersniffers.com.
About Bearington Collection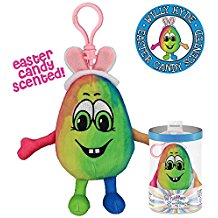 Bearington Collection has been manufacturing award-winning collectible plush bears and animals since 1997. Bearington's baby division, Bearington Baby is one of the top three baby plush & accessories lines in the United States. Bearington's newest division, The Original Whiffer Sniffers is the company's first entry into the toy segment. www.bearingtoncollection.com.