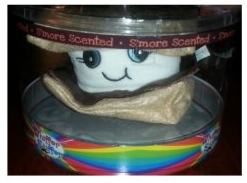 I'm sure most of you will remember scratch and stiff snickers from the 80's. Some of you may even remember the scratch and sniff sweaters from the 70's. I have good news for parents. If you miss the wonderful stickers from your childhood, they can still be yours. Whiffer Sniffers, Bearington Collection have brought back the scented sensation scratch and stiff snickers for a new decade of kids (adults) to enjoy. Along with the stickers comes, Whiffer Sniffers- a collection of collectible plush character plush with personality and charm. Super Whiffer Sniffers are 12 inch huggable pals. Their scent will last for one year.  The backpack clips are about 4 inches and can be attached to backpacks, overnight bags, or wherever you want them hanging around. The backpack clips are perhaps the most popular item of the line.
Whiffer Sniffers plush have quite the appeal to kids young and old.  Series 1 of Whiffer Sniffers launched in April of 2015 with the introduction of 12 scented characters.  Since the launch, the line has been a social 'scentsation' with over four million views on YouTube, more than 10,000 followers on Instagram and multiple awards including the 2016 Tillywig Sterling Fun Award and TTPM's Most Wanted Holiday Collectible in 2015.
Sense their first release in 2015, my daughter has owned a few Whiffer Sniffers.
Whiffer Sniffers Series one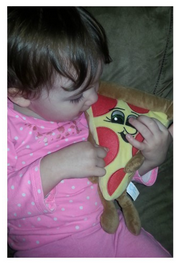 Christmas 2015 my daughter was super excited to receive Tony Pepperoni. Tony has the divine scent of garlic pizza sauce- or at-least that is what I thought. My husband thinks he smells more like pepperoni and my daughter just thinks he smells good. Even the dogs were sniffing Tony.
Tony has now found a new home at my cousin Kim's Pizza restaurant where he happily greets all the customers.
Along with Tony Pepperoni, why not purchase many more characters,. For example, Jimmy S'more is a huggable plush version of, a s'more.
Whiffer Sniffers Series Two
Whiffer Sniffers launched Series Two in February of 2016. This year my daughter has added Sunny Pop to her stuff animal collection. Sunny Pop is a Orange Cream Pop scented plush.  Sunny Pop smells like sunny citrus.  She smells much like the orange creamsicles I  remember from my childhood. She has begun to loose some of her scent, which is strange as Tony still smells very much like garlic pizza sauce.
Whiffer Sniffers Series 2 Clip Milton Melon smells like you guess it- watermelon, while Whiifer Sniffer Adam Apple smells like yummy apples. Sugar is a sweet strawberry cupcake with white fluffy frosting and pink sprinkles. Sugar Cake has a delicious Strawberry Cupcake fragrance. Billy Bluesberry is a jazzy fellow with a scent of blueberries.If you love Pina Colados and getting caught in the rain then King Conga Coconut Sniffer is for you.  He smells like coconuts.

Whiffer Sniffers Series Three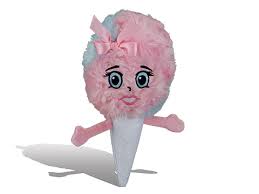 Bearington Collection's Original Whiffer Sniffers expands with series three, featuring 10 new scented plush characters with personalities to match their scents.
The characters include Meatball Paul, Georgia, a peach,  Slipper Sam, a salesman who sells slip 'n slides; Chunky Chuck, a sweet guy with an even sweeter tooth; Huey Gooey, the biggest fan of the carnival scene;  Willy B. Chilly,  Ivana Pucker Up, who makes lemonade; Ivana B. Bitsy, the pair to Ivana Pucker Up; Katie Cotton,  loves getting her hair done and Huey Dippins, has a melt-proof chocolate coating.
Whiffer Sniffers heads to Toys R Us Canada
Last year Whiffer Sniffers  made their exclusive Canadian debut at Toys"R"Us just in time for the holiday season. Visit a store near you to find your mystery pack, or head to www.toysrus.ca and start your Whiffer Sniffers collection before all of your friends! All of the fun Whiffer Sniffers characters are available in a collectible backpack clip or a huggable plush size.
For something extra fun, Whiffer Sniffers have added printable coloring pages you can download from their site! Print your child's favorite characters and let them color them in!
About Whiffer Sniffers

About The Original Whiffer Sniffers

The Original Whiifer Sniffers is a line of collectible scented plush characters available as backpack clips or larger huggable versions. The entire line includes 21 unique characters, like Kumana Wanna Smell Ya, the surfing pineapple, or I.B.Poppin', the movie loving buttered popcorn that make the perfect tradable plush friends. For more information, please visit www.whiffersniffers.com. Follow them on Facebook for the latest updates and a little bit of witty humor too!
About Bearington Collection
Bearington Collection has been manufacturing award-winning collectible plush bears and animals since 1997. Their baby division, Bearington Baby is one of the top three baby plush & accessories lines in the United States. Bearington's newest division, The Original Whiffer Sniffers, is the company's first entry into the toy segment. www.bearingtoncollection.com
About Incredible Novelties Inc.
Incredible Novelties Inc. is a leading supplier in unique toys, gifts and licensed products. The Toronto-based Canadian distributor always finds fun in the work they do.