Squishies are a new toy craze among kids. Originating in Japan, the latest toy craze features small soft foam toys that when squished and smashed, slowly rise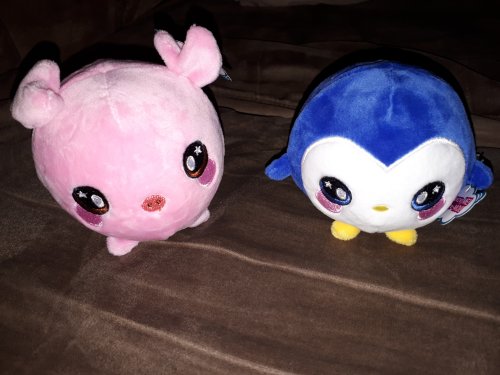 back to their original shape. They are the newest version of the stress ball and kids can not get enough of them. The Beverly Hills Teddy Bear Co makers of Shimmeez has added a twist to the slow-rise collectible craze. Introducing Squeezamals part Suprizamals and part squishy toy.
This all new line that makes for a wonderful Christmas gift or stocking filler combines all the elements my daughter loves into a new collectible that she is going to want to collect.
Each 3.5 inch roly-poly character uses plush fabrics and exterior accented with embroidered details for the face and a slow-rise foam on the inside.
There are currently 19 Squeezamals for kids to collect. Cassie is a kitty cat that is covered in teal and purple colors. Penelope is a pink piglet with heart-shaped ears.  Pepper is an adorable purple penguin. Other creatures available to collect include a panda, a monkey, a fox, a hedgehog, dogs, a sheep, and more. Of course all collectibles lines must include at least one unicorn? Uma is white and purple with a blue horn in the middle of  her head.  With so many different characters to collect there is something for everyone.
Like other slow rise toys kids can hold Squeezamals in the palm of their hands and feel their soft textures, and then press them down and watch them slowly rise. Squeezamals are also lightly scented, too.
Overall, Squeezamals give kids the collectibles they love in adorable, slow-rise styles. Squeezamals are available to purchase at Walmart, Toys R us and Showcase Canada.
The quality of these slow-rise toys sets them apart from other squishy toys on the market.