On my hunt for last minute stocking fillers I came across Lost Kitties. This is a new fun line of collectible surprise kawaii kittens from Hasbro. These adorbs cat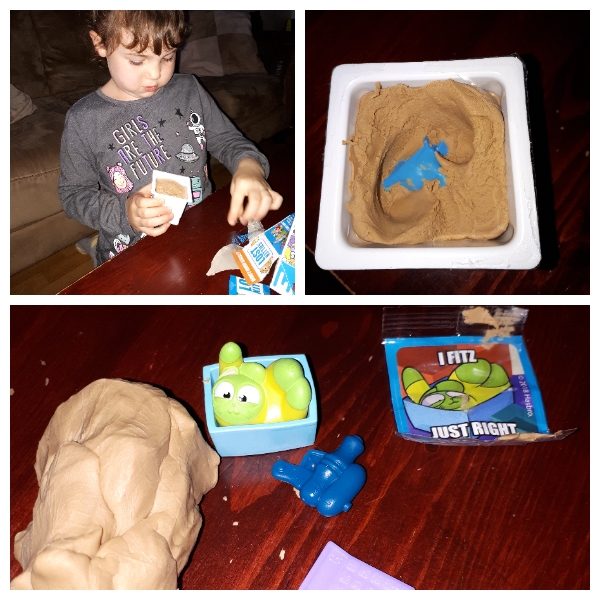 figures come packaged inside mini milk cartons. Children will have to open the carton to see which Lost Kitties figure they received. This new collectible toy definitely appeal to children's love of all thing collectible and the blind bag surprise addiction.
Children open the carton and dig through the Kitty litter (Play-Doh-like compound) to find which kitten they received. Hidden within the compound is not only a  kitten,  but two accessories for the kitten and a sticker of a meme depicting the kitten.
Kids then use the included collector's guide to search for individual characters or complete squads. Each kitty squad has its own mischievous interests and personalities – such as #Noms, #Cattitude, #Workinit, #Ififits, #Adorbs, #Scaredycats, #Cathletic, and #Notfelineit. There are 36 Lost Kitties in total to collect.
With the shaping compound Miss P was able to make all types of fun cool things for her kitten. The compound is also an indicator as to how rare the collectible Lost Kitties may be. White= common, brown=rare, and pink=ultra rare.
Miss P's unboxing reveals a rare Lost Kitties figure- Cubbie. Overall these are a fun collectible. Miss P only owes the one now, but I can see her purchasing more of these. Lost Kitties are inexpensively priced at Toys R Us for  $3.45 so they make the perfect stocking filler. And they are affordable enough that Miss P can buy them with her allowance.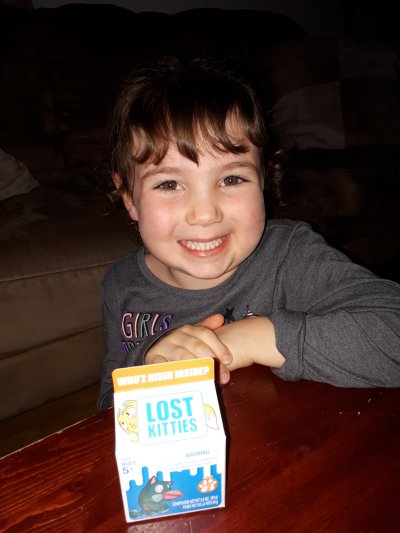 The Lost Kitties are for ages 5 and up. Parents should know that the dough compound included with Lost Kitties collectibles does contain gluten.
Lost Kitties are available in single packs, bundle, twin packs and Itty Bitty lost kitties which come in little milk bottles.
Shop Amazon