There are 76 days until Christmas, and I have just begun Christmas shopping. If you are wondering what the best toy is to a get a child age 3 to 10 I have just the suggestion. When it comes to toys in our home, the most well-loved item is the play kitchen. My daughter has spent countless hours making her father and I amazing sandwiches, fried chicken, pizza, cookies and all kinds of other delightful foods. Sadly my daughter is getting too tall for her current play kitchen. Luckily for me I discovered the Pop-Oh-Ver kitchen. Both the Pop-Oh-Ver Deluxe Kitchen CounterTop and Pop-Oh-Ver Deluxe Stove Set allow children to engage in pretend kitchen play using standard size dining chairs.
A chair cover play kitchen remains an excellent gift idea for a child who may be getting too tall for their current play kitchen and a wonderful option for families who don't have a lot of space for a free standing toy kitchen or who would prefer not to invest a ton of money on one.
Pop-Oh-Ver Deluxe Stove Set

The Pop-Oh-Ver Deluxe Stove Set has a microwave and oven with fabric doors that open. The stove set sets up easily within a couple of minutes. Simply grab a chair, unfold the Pop-Oh-Ver, and follow the step-by-step instructions, which require you the fold the canvas Pop-Oh-Ver cover over the chair, insert plastic pieces, and fasten the ties to the chair so that it stays securely in place. We found that our chairs are not tall enough, so we had to make some adjustments. However, the height ratio from my daughter to the chair is perfect, and the Pop-Oh-Ver deluxe stove set is just the right size for her to play.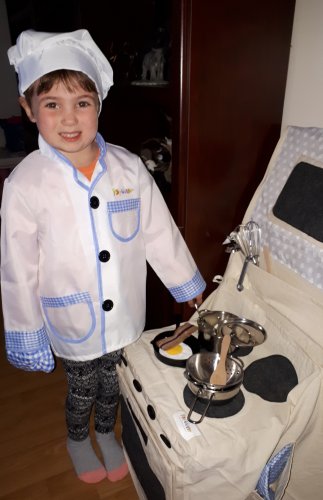 Since the Pop-Oh-Ver kitchen sets are designed to be portable and easy to store, they don't have all the bells and whistles that some play kitchens have. However, the nice thing about the Pop-Oh-Ver deluxe stove set is that it encourages children to really use their imagination. They say that it's consistently better to leave something to the imagination to encourage true creativity.
An oven, four burners and even a microwave oven with an opening door make up the Stove Set. There are magnets in the microwave and oven doors, so they easily open and shut. There are also pockets in the oven and microwave to hold food that is "cooking." The kitchen set also has pockets on the side of the set for storage.
Deluxe Kitchen Counter Top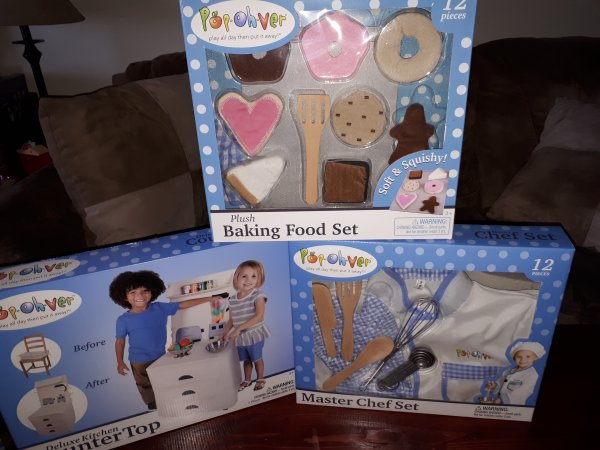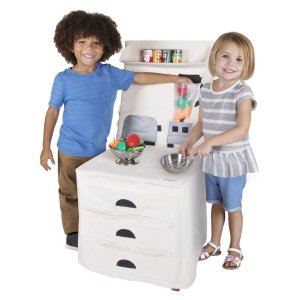 The Deluxe Kitchen Counter Top resembles a kitchen counter top with the drawer detailing, a blender, a scale and a toaster. The pop out shelf actually holds items! The drawers can hold the utensils like spoons, wooden spoons, whisks, ladles, and more! Even though the drawers don't pull out, the fabric allows for expansion.
Because the kitchen sets fold compactly, you can take them with you wherever you go. Made of durable canvas and heavy gauge plastic, the Deluxe Stove Set and counter top set come in protective sleeves inside a large decorative box with a handle for easy storage.
The deluxe kitchen counter top and Pop-Oh-Ver deluxe stove set are perfect for apartment-dwellers or anyone else who's pressed for space.
Pretend food, and kitchen accessories are also available to purchase separately. The food sets and accessories add to the overall play experience.
Kitchen Pots N Pan Set
The Kitchen Pots N Pan Set is a 12 piece play set that includes a wooden spoon, oven mitt, pretend faux cast iron skillet (made from plastic), 4 metal hand held accessories, whisk, spatula & ladles; bowl and a colander. I was pleasantly pleased with this set. The pieces are strongly made of stainless steel and have a good sturdy feel to them. The pots are about 5 inches in diameter, light weight and easy for small hands to manipulate. Accessories are dishwasher safe. I find the size of the pots, pans and utensils to be larger than other sets my daughter owns. You can use all the parts of the kitchen pot set with real food as they are food grade.
Pop-oh-Ver Master Chef Set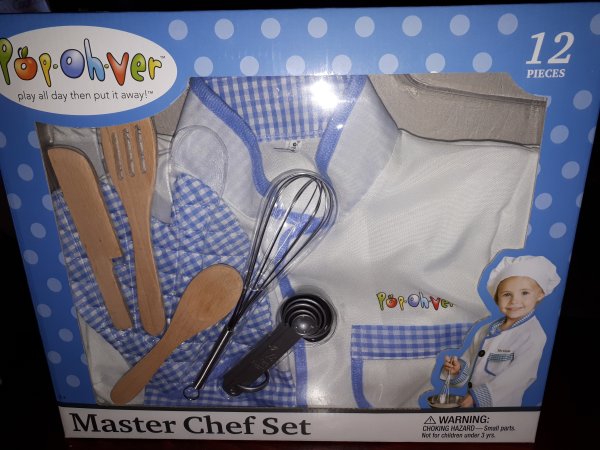 Dress up play helps your little one build confidence and explore their imagination. It also helps children develop social awareness. Pop-oh-ver offers a Master Chef Set, which included chef jacket, chef hat, oven mitt, whisk, measuring spoons, and wooden utensils. The chef's jacket features velcro closure with soft blue piping, collar, pocket and a spot for a name badge. Overall, It's the perfect gift set for any aspiring chef!
Pop-Oh-Ver Baking Set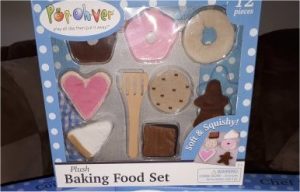 Kids can serve up a warm tray of baked goods with the Pop-oh-Ver Baking set. The baking set comes with an assortment of cookies, doughnuts and cake. It also includes a baking sheet and a wood spatula.
Pop Oh Ver Pretend Food

Choose from Pop Oh Ver Pretend Food, which includes egg, bacon, sandwich, hotdog and more or Pop Oh Ver Pretend Fruits and Vegetables, which come with a variety of fruits, vegetables and a knife.
Pop Oh Ver has won 2018 Hot Diggity Dog Award, Oppenheim Gold Seal Best Toy Award, Creative Child Magazine's 2018 Product of the Year and more prestigious children's product awards!
ABOUT KANGAROOJustin Ligeri, the successful entrepreneur behind Yagoozon, Inc. — The largest reseller on Amazon and #1 on the 2013 Inc. Magazine "Inc. 500 " lists — launched Kangaroo Manufacturing in 2014.
Kangaroo Manufacturing was born with only a dozen items, including the unique and incredibly popular Super Cool Slime and Do You Want to Build a Snowman. Ligeri then began development on over a dozen additional product lines, with an ambitious goal of releasing about 100 new products every year. His products span a range of interest from kitchen products, toys, novelty items, costumes, and much more. Ligeri also pushed Kangaroo Manufacturing to become a deluxe pool float industry leader branded as Coconut Float introducing many fun and exciting designs every year. Now Ligeri is excited to debut his latest creation to the world: Pop-Oh-Ver play sets – the perfect play kitchen set that's also portable. Kangaroo products can be seen on the shelves of brick & mortar stores as well as e-commerce retailers.
Visit www.popohver.com to learn more!