Soon it will be the season of gift gifting. This upcoming holiday season why not gift  a game to those you're shopping for. There comes a moment on Christmas day after the presents have been opened and the turkey has been gobbled down that the classic games like Monopoly, and the game of Life come from out of the hallway closet. This year why not pull out a fun new game?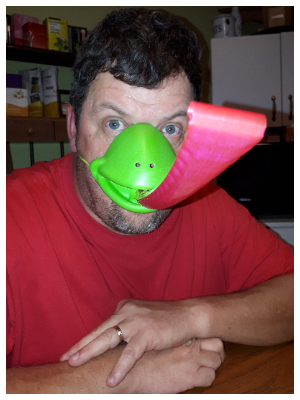 Tic Tac Tongue is a new hilarious, fast-paced game from Yulu Toys.This game might seem silly at first and that's because it totally is! After-all you are wearing a chameleon face to play the game. Designed for ages 4 years and older, this 2-player game is sure to bring some laughs on game night.
Set up is easy. Assemble the mask and the mouthpiece and put it on. Set up the bug cards in the stands so they're upright. Shuffle the game cards and place them on the table.
How to play Tic Tac Tongue
Players sit across from each, facing each other over the standing up cards. Once you are ready, the youngest player picks up a game card, and then you race to shoot the target corresponding to the game card.
Blow into the mask and extend the tongue to knock down the card. The first person to knock over the corresponding card wins that card.
But you have to be careful. You win the cards you knock over, but if you knock over the wrong card, your opponent gets it. The first player to knock down the most insect cards wins.
Though there are standard rules for the game, you can make up your variation.
Our Thoughts
Overall this is a fun, simple game, that's sure to entertain the whole family. The game is also great as a tool for younger players to practice number recognition.
As a parent I especially like that you can clean off the mouthpieces, though this may be not the ideal game for a germaphobe. You may want to use a little rubbing alcohol  to clean  the mouthpieces with.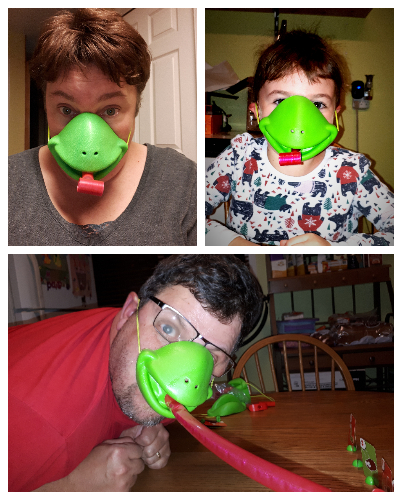 What is your favorite new board game?  What do you think about Tic Tac Tongue?
About YULU
Established in 2015, YULU is a brand-driven international creator and manufacturer of toys and games that aim to promote an active lifestyle. YULU, is completely committed and focussed on creating active play experiences with brands like Helix, Spy Code, Whacky Shots and many more to follow. YULU advocates the fundamental need for cognitive, physical, social and emotional development by creating indoor and outdoor toys and games. They believe that through active play, children nurture their creativity and develop problem-solving skills. Children become inquisitive about their surroundings and more interactive with people around them.