With the holiday shopping season behind us, adding new toys to your child's toy box might be the farthest thing from your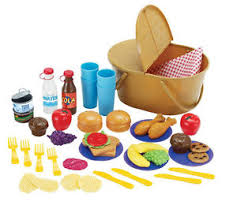 mind. I hate to be the barrier of bad news, but there are only 88 days until Easter. Also, with a new year comes another birthday. The next time you are shopping for a gift for a toddler why not consider adding more open-ended toys to their collection like a pretend play picnic basket?
Recommended for children aged 3 to 5 Kidoozie Picture Perfect Picnic set is the perfect open- ended toy that encourages a high level of imaginary play. With the picnic set, language development is also strongly encouraged as your child names the different foods.
The set includes blanket, 4 plates, 4 cups, 4 forks and knives, 2 bananas, bottle of water, bottle of soda, 2 burgers, 2 apples, 2
chicken legs, 2 cans of food, 2 muffins, 2 cookies, 2 bunches of grapes, 2 slices of bread, lettuce, tomato, and jam. The set also comes with a picnic basket, making clean up a breeze. The basket ads to the pretend play experience.
My daughter received the set for Christmas and it has already seen hours of play. She has played with it nonstop sense Christmas. She likes emptying the things from the basket into her shopping cart and serving me food on the plates. She also stacks the cups together and uses the picnic basket to store her other pretend food. We have also had a couple of picnics together with the set. I think it is definitely the perfect toy for open-ended dramatic play.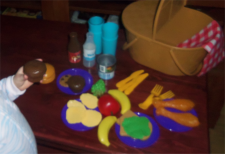 I normally avoid any toys not recommend for my daughter's age group. The Kidoozie Picture Perfect Picnic set does include some small pieces, which may be a choking hazard for her. For instant the 2 cans of food each contain a pop off lid. The tab on the lids could easily come off. Both the bottle of water and bottle of soda have caps that easily fall off during play. To avoid the possibility of our daughter choking on these items we removed the caps from the beverages and lids from the canned food, before allowing her to play with the set.
The included "blanket" could have been a bit bigger, and I do wish some of the food was made of a stronger plastic- like the chips are made from.
Overall though, Kidoozie Picture Perfect Picnic set provides fun for my daughter and does encourage her imagination. This mother is pleased.