If you're having trouble finding a gift for the child that has everything why not give them a science kit.  It is hard to beat a gift that gives kids the opportunity to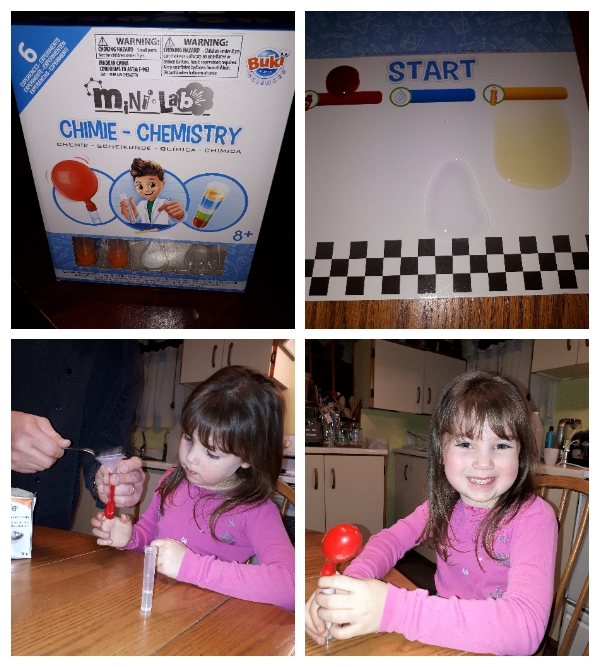 explore and learn. This gift will not only entertain, but will teach them important STEM skills. Mini Lab Chemicals chemistry set is as an easy introduction to chemistry, where children will discover density, viscosity and chemical reactions.
The Buki Mini Lab Chemicals chemistry set comes with a booklet that contains six chemistry experiments that your child can do with ingredients that they normally fine in the kitchen like vinegar, oil, ketchup, milk, baking soda and cream. The experiments are quite simple. The kit also contains test tubes, pipette, spoon measuring, balloon, and ph paper.
Through fun science experiments children will learn what happens when you mix baking soda and vinegar to inflate a balloon. They will also see what happens when you add oil to water?
While the kit is geared to children eight years and older my almost six year old daughter was able to do some of the experiments with assistance from me and her father. Miss P is naturally curious so I figured this was something we could do together. Overall it was a fun way to introduce her to chemistry.
We find the Buki Mini Lab Chemicals chemistry set to be the perfect beginner kit for any young scientists. It is definitely a hands-on science experience the whole family can enjoy.
Founded in 1992, Buki is a French brand with a team of designers, illustrators and scientists working together to bring scientific and creative games and toys.
All Buki experiments, recipes and activities are tested and approved by children!
If you're looking for educational and creative toys for your children this holiday season, pay https://ksmtoys.com a visit.