This is by far one of the most creative toys for the holiday season. The 3Doodler Start is a 3D pen specifically for kids. With this pen kids can finally bring all of their wonderful and imaginative ideas to life in 3D.
3Doodler Start Make Your Own HEXBUG Creature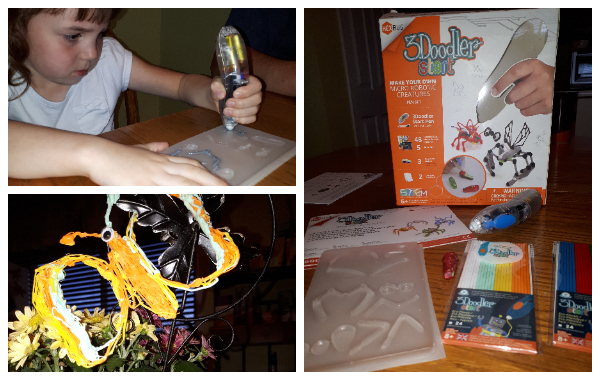 3Doodler recently partnered with robotic insect toy company Hexbugs to launch a "Make Your Own Hexbug" set. The kit lets kids draw insect body parts and legs on a custom DoodleMold.
Part of the 3Doodler Start STEM Series, this set fosters STEM learning by allowing kids to design and experiment with different robotic structures. The set takes physics, engineering and structural principles into account.
The set contains the 3Doodler Start Pen, USB charging cable, 48 plastic strands, a well-illustrated easy to follow guide with five activities, three insectoid motors (with batteries), and two doodle molds.
I was really happy the 3D pen came charged. This meant Miss P could start creating straight away. The battery lasts 45 minutes to an hour on a full charge. One click and the pen starts to force out the plastic, another click and it stops, a double click reverses the plastic. While the recommended age is six plus, Miss P caught on quite quickly. Straight away she was able to draw shapes and patterns.
The 3Doodler "Make Your Own Hexbug" set comes with a book full of ideas for kids to create. There are endless possibilities of things that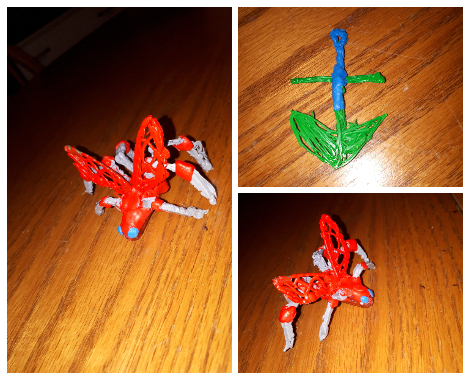 kids can make besides the 3 hexbugs.
You simply trace the drawing on the booklet with the 3D pen. When building in 3D, you add layer after layer until you reach the height you're looking for, or when you have filled the stencil. They will easily peel off once the plastic has cured.
You use the doodle molds to create insect body parts for your HEXBUG.
The 3D printing pen is designed with no hot parts, and uses low heat BPA-free, non-toxic Plastic so it's completely safe for kids. The pen is  easy for small hands to hold due to its contoured shape.
The plastic heats enough to melt and be formed, but it is not too hot to touch. The pen takes about 1.5 hours to charge.
The structures kids create are not very sturdy, so don't expect 3D printer-quality products. Nonetheless, 3Doodler is pretty impressive and can be addictive too, but in a good way.
3Doodler Start Refill Plastics
You use the plastic strands up pretty fast. Therefore, you may want to order some extras if you plan on purchasing a 3doodler set. We ran out of the plastic strands pretty quickly.
What do you think about 3Dooler?
About 3Doodler
Owned by WobbleWorks Inc, 3Doodler is a technology company making creativity tangible through its range of 3D printing pens and accessories. Founded in 2010, the company went on to raise $2.4 million on Kickstarter to support the production of the world's first 3D Printing Pens. 3Doodler now makes products for all ages and skill-levels of creators – whether they're 3D sketching, tracing shapes from templates, or creating architectural models or entirely unique 3D structures. Headquartered in New York, 3Doodler 3D pens and accessories are now available online and in brick-and-mortar retail stores in more than 60 countries. See 3Doodler Products and learn more about the company and about discounts for educators at http://the3doodler.com/