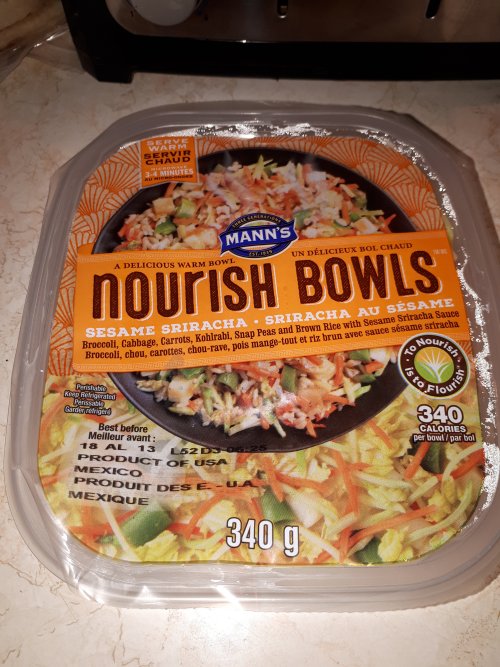 I'm always looking for easy and quick ways to eat healthy. Mann's Nourish Bowls are perfect as a healthy meal solution, particularly during busy school nights. Less time in the kitchen means more time for homework, after school activities and baths. Mann's Nourish Bowls are available in six trending flavors: Cauli Rice Curry,Southwest Chipotle, Monterey Risotto, Sesame Sriracha, Spicy Thai Veggie Noodle and Bacon Maple Brussels.
We recently tried the Sesame Sriracha Nourish Bowl, which comes packed with broccoli, kohlrabi, cabbage, carrots, snap peas, brown rice and a spicy sesame sriracha sauce. We made a Sesame Sriracha Beef Stir-Fry with the Sesame Sriracha Nourish Bowl. We substituted the brown rice that came with the nourish bowl for jasmine rice, which too is low in fat. We also added some whole carrots that we had left over in the fridge to use them up. Paired with fluffy jasmine rice, this was the perfect weekend stir-fry that will have you wanting seconds, though it is very filling.
Sesame Sriracha Beef Stir-Fry
Ingredients:
1 (12 ounces) package Sesame Sriracha Nourish Bowl™
Onion diced
Apple cored and diced
1 cup Jasmine Rice
2 teaspoon olive oil
1 1/2 lbs. boneless stew meat (This is sold at most grocery stores.)
Instructions:
Once water is boiling, add rice to pot. Cover, lower heat, and reduce to a gentle simmer. Cook until tender, about 15 minutes. Keep covered off heat until meal is ready.
Cut the beef into smaller, bite-sized chunks.
Heat the olive oil in a large pot over medium heat.
When it is hot, add the beef chunks and cook until done.
While the beef is cooking, chop the onion and apple.
After the beef has cooked, add the onion and the Sesame Sriracha Nourish Bowl.
Cook the nourish bowl for 5-10 minutes until the vegetables are slightly firm.
Add your cup of jasmine rice and the sauce from the Mann's nourish bowl to the rest of the ingredients.
Heat for another five minutes, slowly turning all the ingredients together.
Let stand for 5 minutes before serving to allow all the flavor to combine together.
Once finished- serve with diced apples on top.
Serving amount: 2-4
Salmon or chicken would also be the perfect addition to the flavorful Sesame Sriracha Nourish Bowl.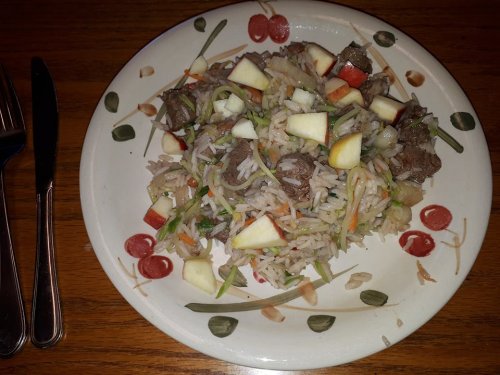 Mann's Nourish Bowls are available in the refrigerated produce section of grocery stores across the U.S. and Canada. These bowls are all vegetarian and can be eaten on their own or as a side dish enhanced like in the above recipe.
Mann's Nourish Bowls can also be microwaved and are great to take to work for lunch. With Mann's you can prepare a light, hot meal in 3-4 minutes.
This post is sponsored by Mann's – thank you for supporting the brands that keep Today's Woman cooking.
Mann Packing's new Girlfriends Guide: Beyond the Bowl  has some creative recipes for the Nourish bowls. Check out how-to videos on YouTube.
For more information on Mann's Nourish Bowls, visit nourishbowls.com , and to see the company's full line of products, visit
veggiesmadeeasy.com.
About Mann Packing Company
Founded in 1939, Mann Packing is an industry leading, third generation supplier of premium fresh vegetables. Headquartered in Salinas, California, Mann's is one of the largest suppliers of western vegetables, Broccolini® and sugar snap peas in North America. The firm holds the distinguished Women's Owned Business Certification from the Women's Business Enterprise National Council the most widely recognized and respected certification in the United States for women's business enterprises. Leading the way in product innovation, environmental sustainability and green supply chain management practices, Mann Packing is consistently vigilant in food safety, employee wellness and quality assurance, making for one of the most trusted brands in the industry.