The Christmas shopping rush in full swing and it is only going to get busier with less than two weeks left until Christmas. I love it when I can find incredible deals and best off many of the items I need for gift recipients under one roof. I made the stop to do some Christmas shopping last week at one of my favorite stores-Giant Tiger. Giant Tiger had some great gift ideas for everyone on my shopping list. Here, I've rounded up some of my favorite finds.
Beauty gifts for him and her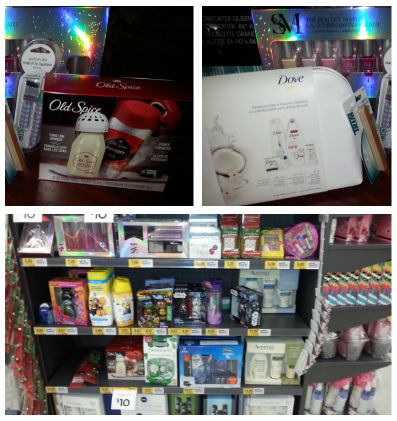 The best beauty buys for men and women that will make the perfect presents this Christmas.
Update his morning routine with a set of shaving tools, as well as body care products and cleansers for the shower. Add a bottle of his go-to cologne- like the Old Spice gift Set. Don't forget to pick up  Old Spice deodorant for his stocking. It comes in a package of two, so you save!
For the beauty maven. The perfect Match mini nail polish set will be a nice addition to her nail supplies. She'll love playing with the 14 various shades as she creates nail art masterpieces.  For her stocking you can pick up some nail polish remover, a nail file and a package of emery boards.
I don't know about you, but I love sets that has everything in one spot. I picked up a lovely gift set from Dove. It is housed in a luxurious wash bag and the kit includes four of the brand's favorite skincare products.  What a lovely gift!
Another option would be to create a bath time gift pack. Buy a nice wash clothe, big bath towel, some bubble bath and even some lotions.
Bedding & Linen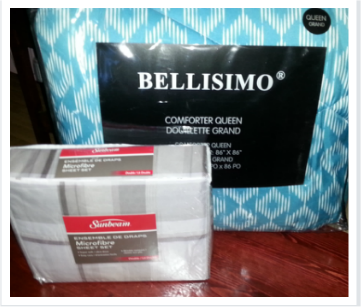 Everyone needs linen for his or her home, and the fact that the linens at Giant Tiger vary widely in price means that is relatively easy to find something within your budget. Not only do they carry a large variety of sets, but I like that  they sell a nice selection of separates.
Everybody needs sheets, but not everyone needs a new comforter. I was able to pick up a nice Sunbeam Printed Microfiber Sheet Set for a recipient on my gift giving list for under $15.
Buy a keeping comfy gift pack with flannel sheets, flannel pajamas and flannel slippers from your #comfycozychristmas destination store! My son loves his flannel sheets. His wife on the other hand, not so much a fan.
Gifts for the Movie Lover
Everyone has that one person who is just crazy about movies in all forms.  My daughter is one of those people.
Giant Tiger has a wide variety of Christmas Movies that will get them in the mood for the holidays, year after year.
They also have a variety from ever genre. Choose from classics like Little Rascals, or perhaps your recipient is more of a Captain America fan or War horse.
You take your gift giving to the next level by making a movie theme gift basket. Pick up a couple movies for under ten dollars, and some Cadbury Chocolate Bars, or any of their favorite candy bars will work,  microwavable popcorn and a throw blanket to cozy up with.
Don't forget to grab a basket of choice- the size will determine by the amount of items added. (I was able to pick up some plastic popcorn containers at Dollar Tree.)
Don't forget to add a Cineplex gift card, now available in store now at Giant Tiger.
Gifts for Kids
When it comes to gifts for kids, Giant Tiger has lots of affordable gift ideas. When I mention gift ideas I'm talking Shopkins, trolls, My little pony and so much more!
Crafts always go over good with my daughter and are perfect for snow days, when it is too cold to play outside. You can imagine my excitement when I came across the Crayola Trolls colouring kit. This kit is going to keep my daughter kids busy for hours. With 55 plus pieces there's so much to choose from. This kit includes 1 storage case, 10 washable markers, 16 crayons, 12 short coloured pencils, 10 colouring pages, 10 blank pages.
Of course I picked her up a couple The Busy World of Richard Scarry movies for just $2 each. Perfect for those long winter evenings when you are trying to pass some time before bedtime and you want the kids to wind down.
Frugal Christmas Gifts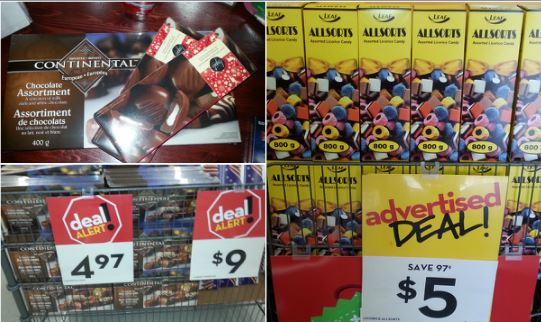 Give a gift pack of a puzzles and snacks to eat while they do the puzzle! Giant Tiger carries a number of puzzles. Choose from children's puzzles priced at just $3.00 or adult puzzles priced at $6.00.
Christmas snacks are easy gifts that are sure to be a crowd pleaser—especially for secret Santa gifts, teacher gifts, neighbors and friends. I grabbed some chocolate for friends.
Why not take things to the next level and put together a gift pack with all kinds of chocolate. Hot chocolate, chocolate bars, truffles, etc. Continental Assorted Chocolates are currently all sale at Giant Tiger for just $3.00.
Give a themed gift basket. Like an coloring book kit containing various coloring books, and some pencil crayons. Giant Tiger
has books for $3 or $5.
Giant tiger has a number of frugal gifts for $10 that are perfect for a white elephant gift exchange. This adorable cast iron skillet set comes with a tasty treat mix for the baker in your life!
Last Minute Festive Party Outfits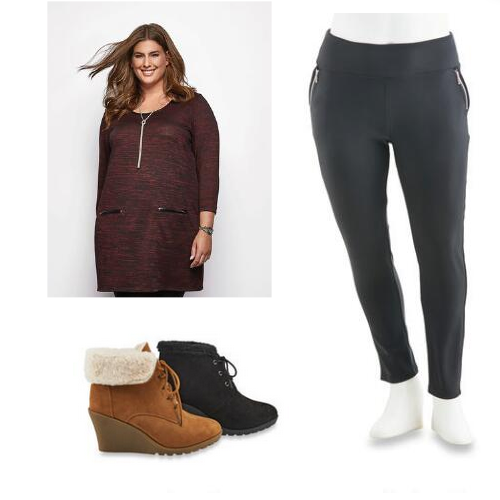 Still in need of a Christmas outfit? Don't worry, Giant Tiger  has this dilemma covered.  After going to 3 stores with no luck, Giant Tiger was my go to place  to pick up a last minute Christmas outfit for an event I attended last week. I pick up a pair of lily morgan Women's Plus Brushed Scuba Legging and let me tell you, they are so comfortable. I love that they can be dressed up for semi formal and dressed down for casual.
Don't forget your ugly Christmas sweater!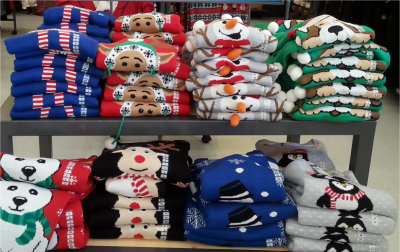 Christmas shopping shouldn't be stressful! I hope these gift ideas inspired you to stress less this holiday season.
Did you know Giant Tiger offer a feature on their website that tells you if your local store has the item in stock. Say you're searching for Shopkins Tall Mall Storage Case, you can do a quick online search to figure out which location near you has that item, cutting hours out of the shopping process.
Still don't know what to get someone for Christmas? Take a peek at Giant Tiger's gifting look book (bit.ly/2gbCV9D) for great gift ideas for any budget and then drop by your local Giant Tiger today! Giant Tiger is my #comfycozychristmas destination.
Have you done any of your Christmas shopping at Giant Tiger this year?
Let us know in the comment section and enter the #ComfyCozyChristmas contest to win up to $2,000 in Giant Tiger Gift Cards! http://bit.ly/2gm53uM
About Giant Tiger:
In 1961 Giant Tiger Stores Limited opened their first store in Ottawa, the Nation's Capital. The business was started with a very simple idea – keep the cost of operation low and sell a large volume of merchandise at everyday low prices. It is the adherence to this idea that has allowed Giant Tiger to grow to over 200 stores.
In 1968, another simple idea was incorporated into the Giant Tiger formula- franchising! Today most of our stores are franchised so that our valued customers will be better served because the owner is in the store. Giant Tiger franchise owners become members of the community, sharing community concerns and serving community needs. Giant Tiger also helps to bring communities together. In 2012, Giant Tiger donated more than $2 million to more than 700 local associations and charities across Canada.
Giant Tiger offers a large assortment of casual clothing and footwear for the entire family including many of the latest fashion items at the lowest possible price. The identical quality and fashion items offered by major chain stores are sold at Giant Tiger often at remarkably lower prices. In addition, Giant Tiger provides for families everyday needs in groceries, confectionery, pet food, cleaning supplies, housewares, stationery, toys and health and beauty products.
Website: http://www.gianttiger.com/