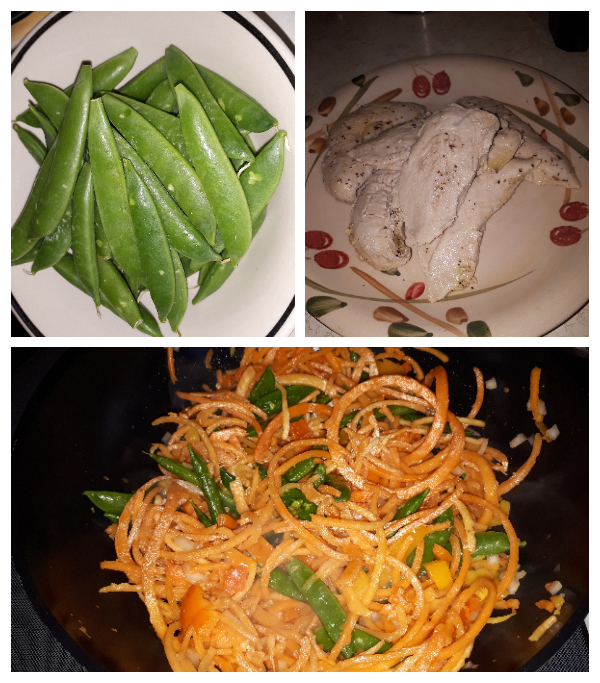 In my last  recipe, I told you about all about Mann's Nourish Bowls. Today I would like to tell you about Mann's Stringless Sugar Snap Peas. If you're anything like me, you love to eat fresh, raw snap peas right out of the bag. These stringless snap peas are delicious as a snack or added to your favorite recipe. They are flavorful and super easy to cook with. If you are looking for a vegetable low in calories,  Mann's Stringless Sugar Snap Peas are a great choice. Containing 35 calories per 3 ounce serving, sugar snap peas are a great source of fibre and are high in vitamin C. I recently used them in my Turkey Spiralized Butternut Squash medley that I made for dinner.
Before I get to the recipe, Butternut squash noodles are a tasty substitute for pasta or other grain side dishes. Now you can purchase pre-packaged Butternut Squash noodles at most grocery stores. I like to substitute vegetable "noodles" in place of starches to lower the calories of the meals I make for my family. In addition I am trying to incorporate more fruits or veggies into every meal I make. If you'd like to include pasta, I do highly recommend Catelli Supergreens.
Ingredients
One package of Harvest Fresh Butternut Spirals
Half a package of Mann's Stringless Sugar Snap Peas
2 tablespoons olive oil
1 cup diced peppers
1/2 cup plum tomatoes diced
Two packages of Butterball Easy Fresh boneless, turkey breast slices.
Directions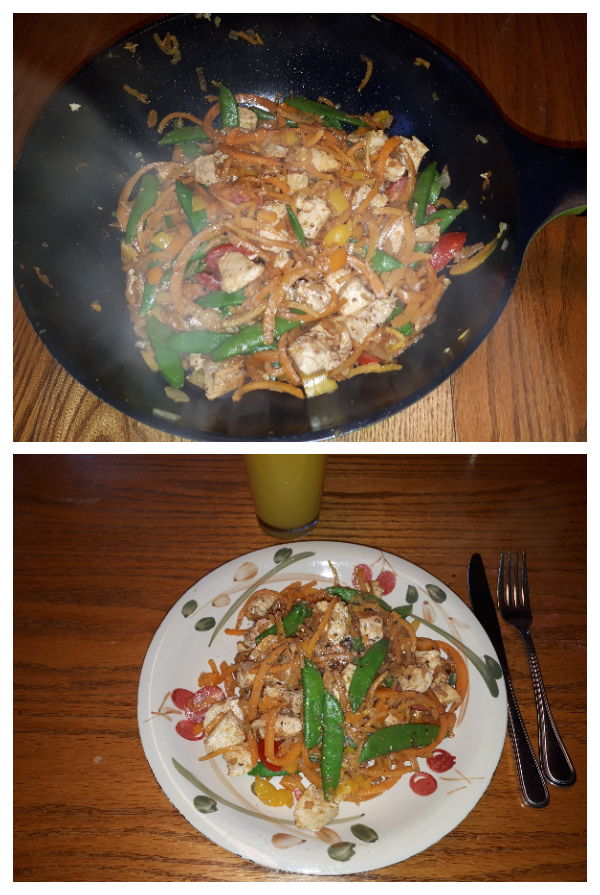 Preheat your pan over medium-low heat.
Once heated, add 2 tablespoons olive oil to your pan.
Once your olive oil is heated, add your two packages of Butterball Easy Fresh boneless, turkey breast slices.
Be sure to use tongs or spatula to turn the turkey breast slices.
Sauté the turkey until tender.
Remove the turkey from the pan and set aside.
Wash your skillet and then return to stove.
Add 2 tablespoons olive oil to the skillet.
Heat over medium heat and then add your one package of 10.7oz Butternut Spirals and half a package of Mann's Stringless Sugar Snap Peas.
Cook 5 minutes or until squash noodles are tender, and the sugar snap peas are crisp and tender. Stir frequently.
While your noodles and sugar snap peas are sauteing, cut your turkey breast into cubes and add it to the squash noodles and snap pea mixture.
Add your 1 cup diced peppers, and 1/2 cup diced plum tomatoes.
Cook, tossing frequently, another five min.
Serve and enjoy.
With Mann's Stringless Sugar Snap Peas this dish was quick and easy to prepare. You can reduce time even more by cutting your tomatoes and peppers a day ahead. Refrigerate in an airtight container until you are ready to prepare your Turkey Spiralized Butternut Squash Medley.
We hope that you have enjoyed our recipe. Do you want more recipes? Let us know in the comment section! We would love it if you make one of our recipes to snap a photo and share it on our Facebook, or Tweet to @Todayswomanco or share on Instagram with the hash tag #todayswomanrecipes. Don't miss recipes for Today's Woman. Subscribe to our feed or follow us on Facebook.
About Mann Packing
Mann's is a leading provider of innovative, pre-washed and ready to use fresh veggies. They are one of the largest suppliers of fresh Broccoli and Sugar Snap Peas in North America and carry the distinguished Women's Business Enterprise National Council certification. They are an industry leading, third-generation supplier of premium fresh vegetables including commodity products and fresh veggie mixes, dishes, and salads. Staying on the cutting edge of package and product innovation has made Mann's a regarded consumer brand; being vigilant on food safety practices and compliancy regulations has made them a trusted brand among retailers and consumers alike.
Website: veggiesmadeeasy.com
Be sure to check out their recipe section.