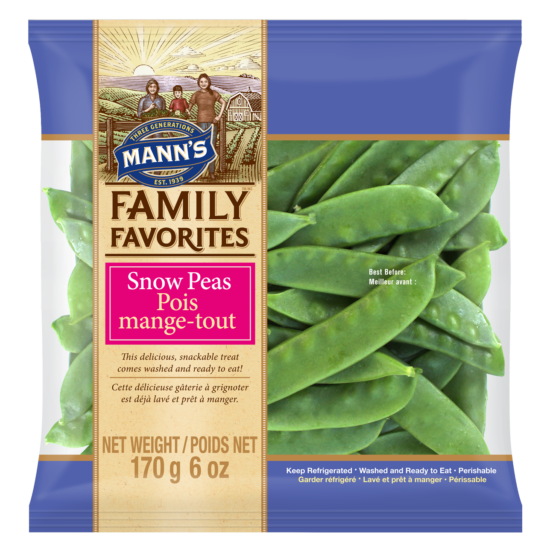 Versatile and one of the easiest vegetables to prepare, snow peas can be enjoyed on their own, added to a salad or added to your favorite dish. Snow peas are packed with vitamin A, vitamin C,  potassium, dietary fiber, magnesium, iron and folic acid. Snow peas are also very low in calories, with slightly over 1 calorie per pod. They also lack cholesterol, making them a filling,  and nutritious dietary supplement. Mann's Fresh Vegetables Snow peas on their own are one of my favorite afternoon snacks due to their extremely low level of fat and calories. If you want to cook them, the easiest way to do so is to saute them in a frying pan with a little virgin olive oil or add them to a recipe as I have done. Tonight for dinner I made a healthy smoked salmon pasta with snow peas.
Healthy smoked salmon pasta with snow peas
Ingredients:

2 tbsp of Kraft Green Feta Olive Oil
1 cup of diced Harvest Fresh Spinach
I small box of Catelli Super Greens Spaghetti
1/2 package of Manns Fresh Vegetable Snow Peas
1 can Del Monte Pinnaple Chuck or fresh pineapple
High Liner Portion Mariness Mesquite Wild Caught Pink Salmon
2 tbsp pf extra Virgin Olive oil
2 peppers
Herbs & spices of choice
1 cup diced tomatoes
Instructions:
Wash and chop pepper and tomatoes. Rinse the snow peas, though they do come washed and ready to eat.
Drop a couple drops of virgin olive oil into the pan; heat over medium heat.
Add your 2 chopped peppers, half a bag of snow peas, and your cup of diced spinach. Add herbs and spices. Continue to cook for another 2 to 3 minutes or until tender.
Add the diced tomatoes & your can of drained pineapples and heat.
Heat water for pasta. Cook pasta according to the package directions, omitting salt.
Drain and add cooked pasta to the mixture. Simmer 5 minutes.
When finished add 2 tbsps of Kraft Greek feta Olive oil and heat for 2 min.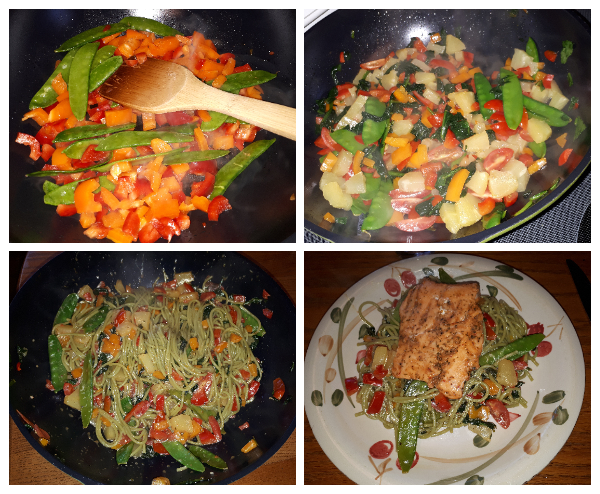 Portion a serving on each plate, top with pink salon and serve.
This meal was very satisfying. Even my husband had seconds of the pasta and by altering the recipe just a little and adding saute power blend we had a healthy meal for the next night.
Catelli SuperGreens is the ultimate veggie pasta. Made from 100% Canadian wheat and the super-goodness of spinach, zucchini, broccoli and kale, it's big on nutrients like vitamin A, potassium, fibre, iron and calcium. It's the perfect way to introduce a little green into your meal ideas.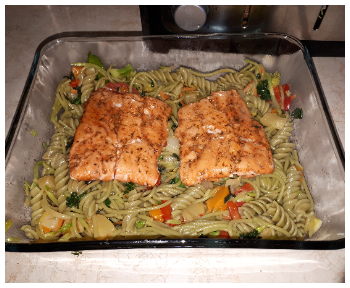 We hope that you have enjoyed our Healthy smoked salmon pasta with snow peas recipe. Do you want more recipes? Let us know in the comment section! love it if you make one of my recipes to snap a photo and share it on our Facebook, or Tweet to @Todayswomanco or share on Instagram with the hash tag #todayswomanrecipes.
About Mann Packing
Mann's is a leading provider of innovative, pre-washed and ready to use fresh veggies. They are one of the largest suppliers of fresh Broccoli and Sugar Snap Peas in North America and carry the distinguished Women's Business Enterprise National Council certification. They are an industry leading, third-generation supplier of premium fresh vegetables including commodity products and fresh veggie mixes, dishes, and salads. Staying on the cutting edge of package and product innovation has made Mann's a regarded consumer brand; being vigilant on food safety practices and compliancy regulations has made them a trusted brand among retailers and consumers alike.
Website: veggiesmadeeasy.com
Be sure to check out their recipe section.