Easter is fast approaching. If you are still wondering what to get your child(ren), this year, aim for the unconventional and give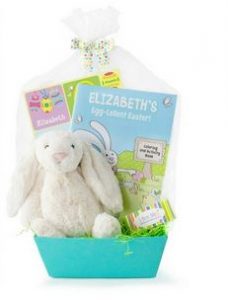 a personalized Easter basket instead. Watch their eyes light up when they see their name on a personalized gift created just for them.  I See Me! is my favorite place to shop when it comes to unique personalized gifts for children. In addition to books and stickers, I See Me! offers a number of personalized gifts for children, such as: personalized coloring books, matching games, place-mats, lunch boxes, music CD's and growth charts, which would be perfect for Easter!
This customized Personalized Easter Bunny Activity Basket includes a plush bunny, a personalized Easter coloring and activity book, crayons, and a set of stickers featuring your child's name. Or you may opt for the Egg-Cellent Easter gift set, which would be the perfect addition to your child's Easter basket!
Recommended for ages 2-8, the stickers and place mat can be customized with your child's name and the coloring book can include a sweet message from you.
My daughter was so excited to receive this.
Personalized Placemats
Whether your little one is coloring, crafting or just eating, this personalized place mat from I See Me will come in handy. The 12"x17" mat is made of high-quality durable plastic that can be easily wiped clean with a damp cloth. Do not put placemat into dishwasher. The placemats are printed in the USA, have been tested by an independent lab, meet CPSIA guidelines for food safety, and are BPA-free.
I See Me! Coloring Books
The Egg-Cellent Easter coloring and activity book features a little story, coloring pages and activities. The coloring pages are simple and easy for young kids to color. I See Me! Coloring Books are also available in an animal-theme or fairy tale theme and include child's name, birth date, and a printed dedication from the sender.
Personalized Stickers for the Kids
Young Kids have and always will love stickers. Make Easter extra cute with custom personalized stickers. I See Me!  personalize 9″ x 11″ sticker sheets feature your child's first name on 18 colorful stickers. 
Personalized picture books
I See Me! offers a wide selection of options from when it comes to personalized books.  I See Me! ordering process is quick and painless. You are easily guided through entering specific information (child's name, personal message, photo, etc.) and in no time flat, you have a perfectly personalized book at your door.
Beyond chocolate bunnies and Easter egg hunts, Easter is also about love, happiness, and God's blessings. "Thank You, Lord, For Everything, written by P.J. Lyons and illustrated by Tim Warnes, is a sweet and gentle rhyme that reminds little ones of all the blessings God has given them."
In this personalized picture book, P.J. Lyons' engaging text and Tim Warnes' playful illustrations remind us about the love,
beauty, and friendship all around us. Children are reminded to be thankful for their breakfast, playtime with friends, the beautiful flowers, and more. The book also includes blank pages that invite your child to write what he or she is thankful for, with the prompt, "Thank you, Lord, for…" You can even include your own heartfelt message or devotion, as well as a photo of your child!
We own a number of other personalized books from I See Me!, so I know that "Thank You, Lord, For Everything Personalized Book" is a high quality book that will withstand years of use.
Show your little ones just how special they are with personalized gifts. Regardless of what personalized gift you choose for your child from I See Me!, they will be sure to love it.
About I See Me, Inc:
Over nearly twenty years, I See Me! has become the leader in personalized gifts for children with a mission to bring smiles of joy and delight by making each person feel special. For more information about gift ordering, visit www.iseeme.com
Joy of Reading Sweepstakes
You could WIN a $100 Visa® Gift Card and a prize package worth over $850 in the I See Me Books! Joy of REading Sweepstakes. Enter here: http://swee.ps/VsNtboWXb