You don't have to be a kid to get excited for Halloween. If you are looking for the perfect Halloween products, Hallmark has a wide selection to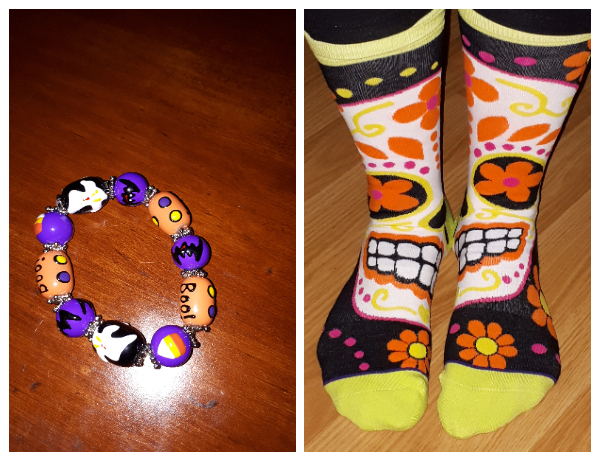 select from.
With spooky adult parties on the rise, why not give the hostess of the Halloween party a little something. This beautiful stretch bracelet featuring spider and ghost glass beads would make the perfect Halloween costume accessory. I plan to gift it to my oldest daughter for Halloween. (Shh!)
Hallmark's Halloween socks are a great for showing of your spirit for the holiday in a fun and festive way. Choose from sugar skull, jack-o'-lantern or candy corn. New socks are a must for fall and Hallmark's Toe of a Kind Socks are pretty fun. And until October 1st if you buy one pair of socks, you'll get one free, so why not grab a pair for you and a friend?
Halloween Gifts for the Kids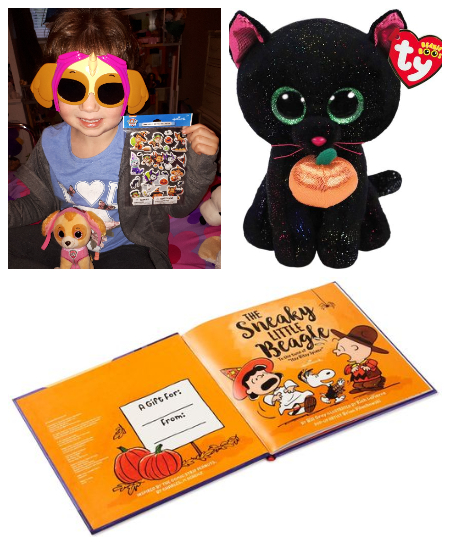 Trick-or-Treat Fabric Bags– Give your kids costumes the finishing touch with Trick-or-Treat Fabric Bags. These bags are large enough for your kids to haul their candy home in. My daughter will be using her Trick or Treat canvas bag again this year.
Surprise your favorite trick-or-treater with some (non-candy) surprises, like a cute Halloween-themed stuffed animal, a Halloween book you can read together after the trick or treating is done, or a treat bag filled with trinkets such as Paw Patrol Halloween stickers, and a pumpkin patch Halloween bracelet.
The smallest trick or treat goers who are too young for candy will delight in a Halloween itty bittys Peanuts grab bag. It will be a surprise treat when they open up the package to find either Lucy, Linus, Charlie Brown or Snoopy dressed in a festive holiday costume.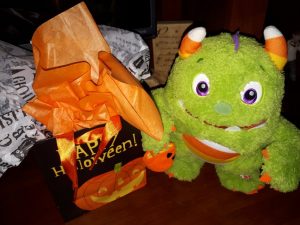 Hallmark also has some free Halloween coloring pages for the kids, so be sure to check them out.
Home Halloween Decorations

Hallmark's selection of Halloween decorating ideas and fall decor will get anyone in the spirit.
Transform your home into a spooky house with fun Hallmark Halloween decorations, such as metal lanterns perfect for your front porch or mantel, Halloween door decorations, figurines and even Halloween ornaments.
The previous Halloween products are available at Hallmark Gold Crown® stores nationwide and wherever Hallmark products are sold. For more great Halloween decorating and gift ideas please visit www.hallmark.ca.
Scare up savings at Hallmark on Halloween products that will guarantee ghostly grins!
What is your favorite Hallmark Halloween product?