It will soon be that time of year when kids will be excited over the prospect of the Easter Bunny coming to their home. If you are like me, you may have already begun to look for ideas to fill this year's Easter basket with. Books are always a great addition to an Easter basket. It has been said that reading to your child brings many benefits to your child's development. Literacy is one of the greatest gifts a parent can give a child. My daughter loves books, and as a mother I love the strong and nurturing bond that forms between us when she is sitting up on my lap listening to me read a book. I make reading even more fun with a variety of  personalized books.
I See Me! is my favorite place to shop when it comes to unique personalized gifts for children. They have lots of options to choose from when it comes to personalized books. The ordering process is quick and painless. You are easily guided through entering specific information (child's name, personal message, photo, etc.) and in no time flat, you have a perfectly personalized book at your door.
My Little Book of Blessings Personalized Story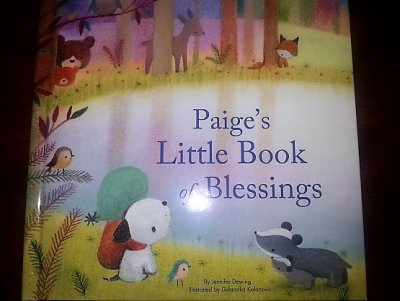 My Little Book of Blessings is the newest book in my daughter's collection of personalized books. ISeeMe.com's "My Little Book of Blessings" book encourages a child be the best he or she can be.
My daughter's name is included on the cover and throughout the text, as well as her friends' and family members' names. Written by Jennifer Dewing and illustrated by Dubravka Kolanovic, My Little Book of Blessings is a collection of ten sweet and simple daily blessings.

My Little Book of Blessings starts with an encouraging daily blessing:
My God bless you every day
And send you off and on your way
to laugh and clap and dance and play!
The book continues with additional blessings, written in whimsical rhyme especially for children, including helping hands, the "golden rule," friendship, the Earth, animals, meals, love one another, and bedtime.
I love the sweet illustrations; which perfectly compliments the blessings. You are also able to include a personalized message and photo of your sweet little blessing, making this a keepsake book that will be cherished for years to come.
We own a number of other personalized books from I See Me!, so I know that "Little Book of Blessing" is a high quality book that will withstand years of use. My Little Book of Blessings makes a thoughtful keepsake book for Easter, a newborn baby, adoption, a baptism or first communion.
Snuggle Bunny- Personalized Books
"My Snuggle Bunny" is a personalized feel good storybook written by award-winning author Maia Haag and illustrated by John Butlera, which focuses on telling children how much they are loved. The gift-set comes with a 12" cuddly plush bunny for your child to snuggle with!
In this heartwarming book,  your child will hear throughout the 20 page story all the ways that Snuggle Bunny loves them throughout the day. From a hug in the morning to snuggle time in the evening, Snuggle Bunny counts ten ways in which he expresses infection. The counting aspect of the book is perfect for toddlers working on their counting.
The book is personalized with your child"s name on the cover and throughout the story and illustrations. You also have the
option to add a special dedication.
In addition to the personalized bunny book, the My Snuggle Bunny Gift Set from I See Me! comes with a soft, plush bunny, which is a nice touch.
Both my daughter and niece own the "My Snuggle Bunny"  book and stuff bunny.  My daughter sleeps with her bunny every night and loves hearing her name throughout the story.
"Every Easter basket should have at least one book in it." — Martha Stewart
Personalized Stickers for the Kids
Young Kids have and always will love stickers. Make Easter extra cute with custom personalized stickers. I See Me!  personalize 9″ x 11″ sticker sheets feature your child's first name on 18 colorful stickers.  Choose from 19 fun designs, with each theme being super cute and affordable at just $5.99. My daughter of course chose the Prima Ballerinas Stickers. We found the stickers stick fairly well and the image and text was crisp and clear.

For more information or to make a purchase, visit the I See Me! website (iseeme.com). In addition to books and stickers, I See Me! also offers a number of other personalized gifts, such as: coloring books, place-mats, music CD's and growth charts, which would be perfect for Easter!
About I See Me, Inc: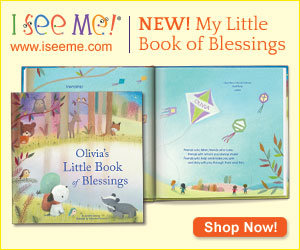 About I See Me, Inc. provides the highest quality, most personalized children's books available. Their mission is to increase self esteem in children through personalized books that celebrate the uniqueness of each child. The goal of I See Me, Inc. books is to show each child how absolutely unique and special he or she is, to teach the child how to spell his or her name, and to build vocabulary skills.