Wonder Woman has always been popular. With a new movie hitting theaters in 2017, interest in this DC heroine is more popular than ever before. We have some great Wonder Woman gift ideas for a woman who is a Wonder Woman fan of course, or simply for the gal who would love the idea that she manifests the qualities of Wonder Woman.
DC Rock Candy Classic Wonder Woman Figure– This Rock Candy: Classic Wonder Woman figure brings the super heroine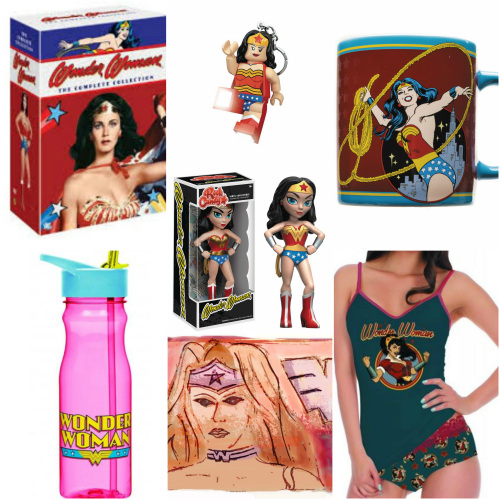 to life. Wearing her red, white, and blue suit complete with Lasso of Truth, Wonder Woman makes for an adorable vinyl figure. (fortressgeek.com)
DC Heroes: Wonder Woman Coffee Mug- Celebrate your favorite female superhero with this coffee mug. If she has to get her morning coffee before she can function, she will appreciate this Wonder Woman coffee mug. (fortressgeek.com)
DC Lego Wonder Woman Keychain Light- Just press the chest plate on the LEGO Wonder Woman DC Super Heroes Mini figure Flashlight to activate the light. This 3-inch tall Mini figure key chain features poseable arms and light angling legs so you can move them up and down to move the light wherever you wish. (fortressgeek.com)
DC Wonder Woman Bombshell Camisole and Panty Sleep Set- Ant Lucia's fan-favorite artwork of the DC Bombshells – redesigns of DC Comics' super-heroines in a 1940s pin-up style – is featured on this new blue-gray camisole and matching panties. Both Items included in this set are ultra-soft, quality stitched and ready to help bring out the Wonder Woman in you. The set does tend to run small, so we recommend ordering a size up. (fortressgeek.com)
Wonder Woman Tea– Once you drink this blend you will feel like you are a member of the Justice League. . Irish breakfast, vanilla, blueberry and cinnamon are the star ingredients in Wonder Woman's blend.  (adagio.com)
The Wonder Woman: The Complete Collection is the ultimate gift for the Wonder Woman fan. (Amazon.ca) I must admit that I grew up in the 70's watching and admiring Wonder Woman.
Her mighty thirst can only be quenched with a 25 oz Tritan Wonder Woman water bottle. (fortressgeek.com)
She's the hero of the family. Let her show off her skills in the kitchen, while reminding her she is a wonder woman with the DC Comics Wonder Woman Character Apron. (via Amazon.ca)
I think The Big Book of Girl Power would be a great gift for girls or grown women.Watch movie online The Transporter Refueled (2015)
There you have it. I think that the inner nerd in all of us can't wait for the new movie. In the mean time if you have a Wonder Woman fan in your life, or are a Wonder Woman fan yourself and are looking for some items to put in your list for Santa, we hope these Wonder Woman gift ideas have helped. Be sure to check out fortressgeek.com for other Wonder Woman gift ideas.