Mother's Day is the perfect time to tell all the moms in your life how much they mean to you. Hallmark is the place to start when you want to find just the right gift for all the moms in your life. Check out some of our favorite Mother's Day gifts in our Hallmark Mother's Day Gift Guide.
Crafters and Co. Spa Collection
There are few things in life as stressful as being a mother. These gifts from Hallmark will bring the comfort of the spa home to mom and make it easy for her to relax and rejuvenate.
Give her a feet a comforting hug with the spa-like Just Chill Slippers. With their easy-to-slip-on backless design and soft, cozy fabric, relaxing Indulgence is right at  her feet. Available in sizes 6-7 and 8-9. Combine the slippers with other pedicure  pampering supplies and place everything in a gift bag.
Go a step further and add a Hallmark spring candle tumbler, sleep mask,  bubble bath essentials- like bath salts, a container of Hallmark's Crafter & Co  camomile soothing tea and a lavender comfort wrap.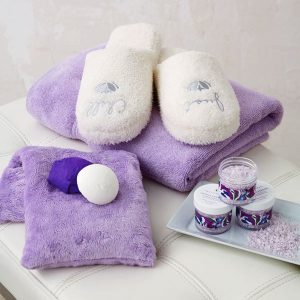 The Hot + Cold aromatherapy Comfort Wrap soothes, relaxes and rejuvenates achy shoulders, sore spots on lower and upper back or the tummy area for relief of uncomfortable cramps. Crafted with the perfect blend of aromatic herbs known and selected for their qualities to calm, soothe, and release stress, this tranquil pillow pad contains flax seed, lavender, chamomile, peppermint, spearmint, lemon grass, rosemary, cinnamon and other natural ingredients.  The comfort wrap comes in a designed box for gifting.
Mark & Hall Accessories
The Mark & Hall stylish yet affordable collection of accessories from Hallmark features totes, bags, scarves and jewelry with prices ranging from $12.95-$59.95. Here are a few of my favorites from the Mark & Hall accessory line.
Mark & Hall Camel Colorblock Tote Bag-  Mom can commute in style with this sophisticated handbag. The stylish and yet practical Mark & Hall Camel Colorblock Tote Bag features comfortable shoulder straps and a reinforced bottom panel in attractive vegan leather. The inside of the bag is quite roomy and there is a small zipper compartment on the inside for your cell phone and keys.
Mark & Hall Blue Floral Scarf-  Scarves are a great spring accessory that can dress up any outfit. They also add a layer of warmth when temperatures are up and down. I immediately fell in love with the Mark & Hall Blue Floral Scarf.  I know that my gift recipient is going to love it. The scarf is lightweight and a great accessory to any summer outfit. The scarf is finished with a delicate seam and deep blue tassels.  The floral scarf is sure to help her maintain her status as fashionista of your household.
Marjolein Bastin Spring Gifts for Mom
Discover the beauty of nature in Marjolein Bastin's gift collection. Marjolein is an accomplished wildlife artist based in the Netherlands, with an international following. She is perhaps best known as one of Hallmarks most celebrated and award winning artists.  From the beautiful butterfly to vibrant flowers and chirping birds these works of arts are sure to brighten mom's day.
The Marjolein Bastin Tote is made out of sturdy canvas fabric with a reinforced bottom. The burlap-style canvas design creates a natural backdrop to the classic Marjolein Bastin garden scene of colorful flowers and bees. The inside features one small zipper compartment for your keys. The main area has copious space  for mom to carry tools, gloves, hat and seeds organized.  The garden tote features a magnetic snap closure and two side pouches on the outside.  Overall this beautiful bag makes a useful gift for mom.  If she isn't a gardener the bag can also be used as a work bag, picnic bag,
reusable grocery bag, or even a stylish diaper bag.
The Marjolein Bastin Accessory Bag is a nice companion to the Marjolein Bastin Tote.  Featuring spring artwork by Bastina  the bag is quite roomy. Is has a purple zipper and a multi-hued tassel pull. The inside of the bag has cotton lining and ample room for all her accessories. Weather she uses it as a makeup case or as a wallet this pretty zippered bag will add a charming appeal to her day.
Marjolein Bastin Floral Tea Towel: Let happy thoughts flutter into your home with this pretty kitchen towel featuring artwork by Marjolein Bastin. Its flower garden design ties together a seasonal spring color palette in your home decor.
Make sure she's hydrated and looking good with a Glamour Has No Age Limit Waterbottle. Made of stainless steel with double-wall insulation the bottle holds 17 ounces of hot or cold beverage. A screw-top lid helps prevent spills. It fits nicely in most cup holders, so she can have her bottle with her while she takes the kids off to soccer and ballet.
The perfect addition to your dining room table these napkin rings are beautiful. Boasting spring details with bird and butterfly figures on each ring the napkin holders are made of cast iron and feature design by Marjolein Bastin.
Gifts for Mom or Grandma in Nursing Home
As your mom ages, traditional Mother's Day gifts may not be appropriate. Hallmark has several mother's day gift ideas for seniors in assisted living homes. Choose from a photo album filled with pictures throughout her life, to note cards, a scarf or a deck of playing cards.
Seniors love stuffed animals.  Just in time for spring, brighten her day with this soft and floppy Snoopy stuffed animal. Covered in a colorful flower print design, he is sure to bring a smile.
Set aside some time on a weekend to help your kids make a beautiful bouquet of tissue paper flowers for Grandma that will
last a long time! All you'll need is some tissue paper and pipe cleaners.
Present the DIY flowers in a pretty vase and include a set of Happy Go Luckys. The Springtime pack includes a lamb, chick and a pretty flower and would be a cute addition to your child's bouquet of flowers for grandma.
Fierce Love: It's a Mama Bear Thing Book: Love is powerful. You needn't look any further than a mother for proof. This gift book lets a Mama Bear in your life know she's a special breed—the perfect mix of strength and tenderness, tenacity and nurturing.
Stylish Statements Inspirational Framed Prints

Made to be shared with important women in your life, each Stylish Statement print can sit or hang, and comes with a beautiful gold-finish frame and easel back.  Mom can combine them with family mementos to create a gallery wall in their home full of love.
What statement best fits the moms you love? Check them all out to choose the perfect fit.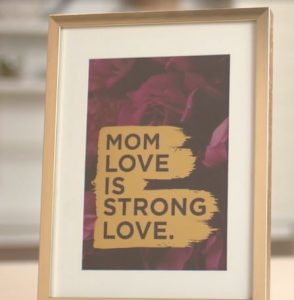 This framed print in black and gold on a floral background is a beautiful gift for reminding mom that she is the powerful, loving force in your life. She can display the framed print alongside your photo in her home or office.
Catalina Estrada Gifts
Perfectly suited to celebrate Mother's Day and the arrival of spring, the Catalina Estrada Floral Collection lets mom bring the beauty of Catalina Estrada's artwork into her home and personal accessories.
The assortment of gifts includes brightly colored umbrellas, cuff bracelets, mugs, frames and other personal accessories featuring the artwork of the popular Colombian illustrator. You can see some of the items from the collection at Mother's Day Gift Ideas from Hallmark.
Mother's Day Cards
This year, the Hallmark Mother's Day card collection includes more than 1,000 designs that address the needs of today's family relationships – stepmother, two moms, partner, former in-laws, dad-as-mom, dad's wife, birth mother, mother of my child, and anyone who is "like a mother." Plus Hallmark creates cards for hard-to-find situations such as celebrating a First Mother's Day, as well as cards for expecting mothers.
Bring a little magic and delight to Mother's Day with Wonderfolds pop-up cards from Hallmark. These beautiful detailed cards bring a whole new dimension to Mother's Day card giving.
Signature Mother's Day Jewelry cards feature an actual 14k gold-plated necklace included in the design. That is, of course, in addition to the gorgeous embossed design with beautiful detail. It's a card and gift all in one- perfect to share with your mom all that she means to you.
These Mother's Day gifts and all things Mother's Day can be found at Hallmark Gold Crown® stores and other participating Hallmark retailers nationwide. For all she does, all she is and all she gives, the best gift that you can give mom this Mother's Day is your time.
Hallmark Giveaway
Enter below for a chance to win a Hallmark "Glamour Has No Age Limit" water bottle. Good luck! Giveaway is open to Canadian residents 18 and over. One entry per household and you must do the mandatory entry, which is to leave a comment on this blog post letting us know your favorite gift from Hallmark for Mom (or yourself.) Contest ends May 12, 2018.