If you're looking for some last minute gift ideas for Father's Day, Hallmark Canada has you covered. Whether his pastime is grilling, relaxing, entertaining or spending time with the family, Hallmark stores has just the right gift.

Grilling Gifts for Dad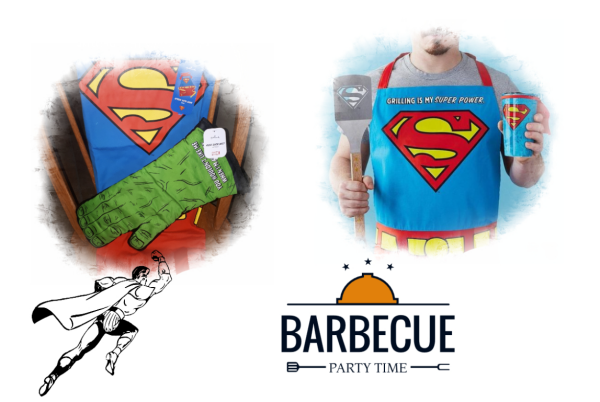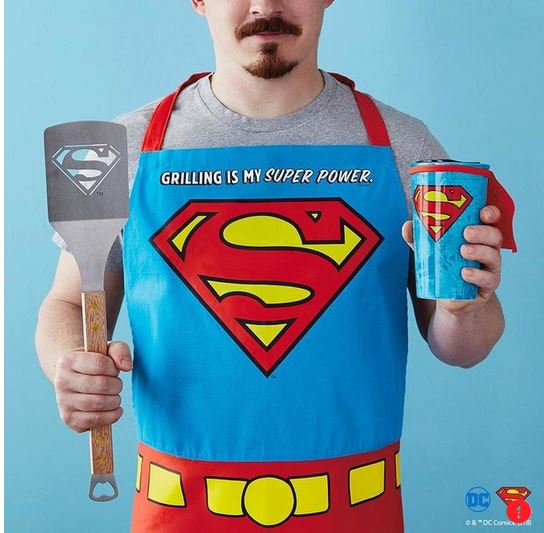 Truth be told all dad wants to do after he finishes cutting the grass this Father's Day weekend is to sit back, enjoy a cold beer and grill some marinated steaks on the barbecue.  On Father's Day make dad the barbeque hero with these grill gifts from Hallmark.
The Superman apron features the Man of Steel's iconic 'S' shield and belt printed on the front with the message, "Grilling Is My Super Power." A red cape at the neck completes the heroic look. He is sure to be a Super Hero grill master wearing this fun apron.  For something extra fun, why not include a Superman grilling spatula and a Superman travel mug!
Prepare to grill! Now dad can flex his grilling muscles with the Hulk Grilling Mitt. The cotton and polyester oven mitt  sports the words " You wouldn't like me when I'm hungry."  Include the Hulk Mean Green Grilling Machine Spatula and Hulk Ceramic Camp Mug for the ultimate Hulk Father's Day grilling gift.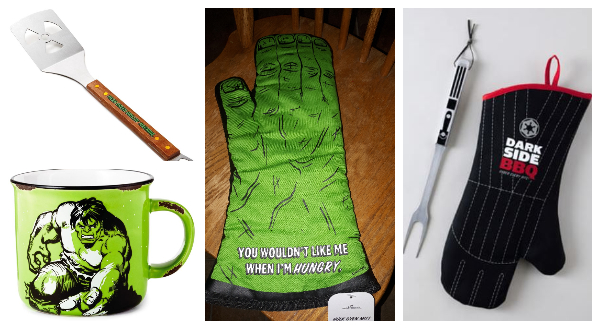 Resembling the power of Darth Vader, the dark side grilling mitt and light-saber fork are perfect for any super grilling fan. ( BBQ and steak not included.)
Drinking Gifts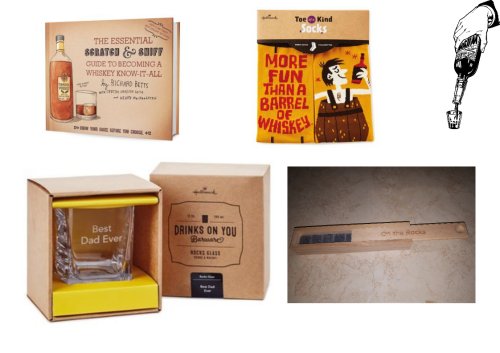 The best dad ever, deserves only the best. Make a DIY gift basket, just for him!  Include some of his favorite snacks, a guide to becoming a whiskey know it all, a pair of groovy socks, natural stone whiskey rocks, a Best Dad Ever rock glass and don't forget to add a bottle of his favorite brew.
The set of natural marble whiskey rocks come packaged in a handsome wood storage box. Simply place a couple of the frozen rocks in a glass of whiskey or preferred liquor to enjoy a beverage that never gets watered down.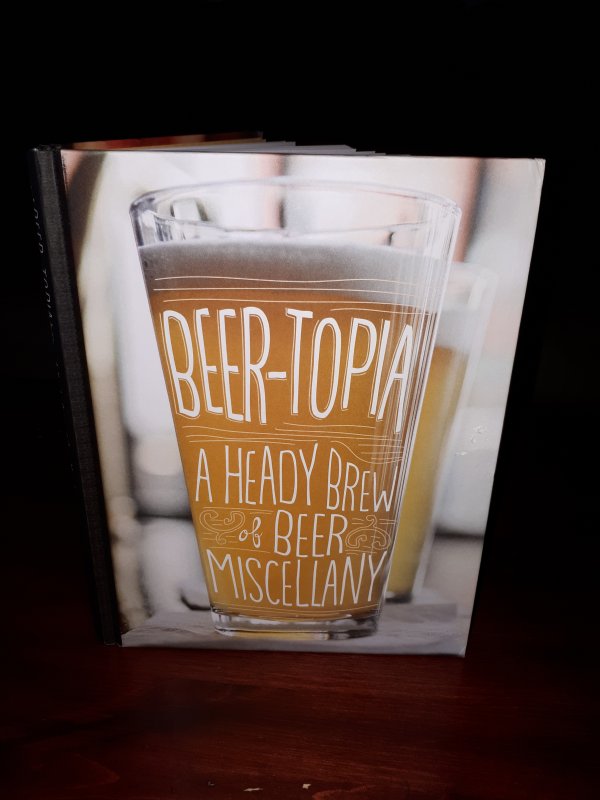 Has the man in your life, been wanting to get to know different brands of beer, but just has not
gotten around to it? We have the perfect gift. The Beer Flight set is designed for beer taste sampling.
Sure to make any beer fan happy why not include a copy of Beer-Topia,. The book is overflowing with everything from beer gadgets, glasses and games to famous brews from every state, beer myths and more. This gift edition is sure to make any beer fan happy.
Signs for Dad
Rustic Wood Quote Signs

Hallmark combines a timeless decorating trend with inspirational quotes, filling your walls with wisdom and reminding dad or grandpa just how important he is.
Choose from six wonderful designs. Each rustic wood quote sign comes with metal accents and a sawtooth hanger for hanging on the wall. The signs measure 10″ W x 7.75″ H x 1″ D.
Speaking of signs- SUPERMAN™ fans will love the slightly distressed finish and throwback appeal of this SUPERMAN™
Embossed Metal Sign. It is sure to complement any man cave or back issue comicscollection.
Remember- what happens in the bat cave stays in the bat cave. The slightly distressed finish adds a vintage touch that's sure to complement any bat cave. It would also make a great addition to any Batman memorabilia collection.
Other gifts that easily fit into Dad's life include travel mugs, photo frames, Toe of a Kind Socks, bottle opener key-chains,and more.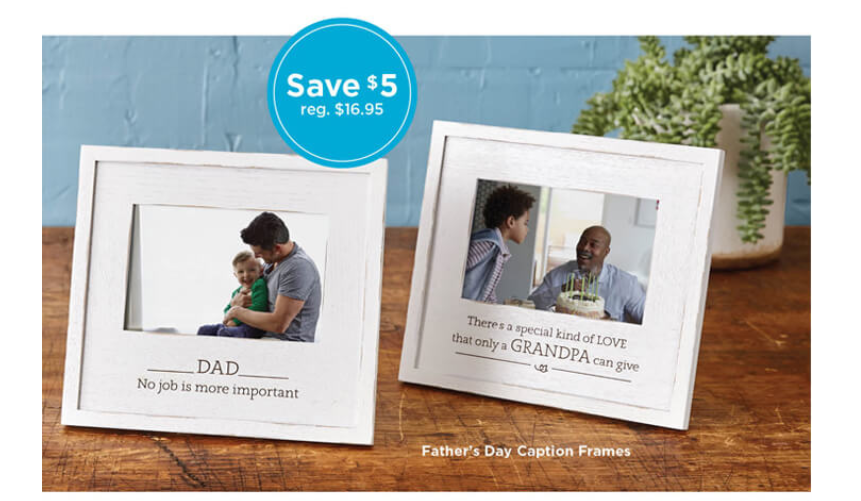 Hallmark Father's Day cards
Hallmark has been producing Father's Day cards since the early 1920s. With an estimated 72 million Father's Day cards exchanged every year, Father's Day is the fourth-largest holiday for giving greeting cards. In addition to dad, husband and grandpa, Hallmark offers Father's Day cards for father-in-law, son, son-in-law, grandson, great-grandpa, uncle, brother and nephew, godson, godfather, cousin, stepfather, partner, dads-to-be and anyone who is a father figure.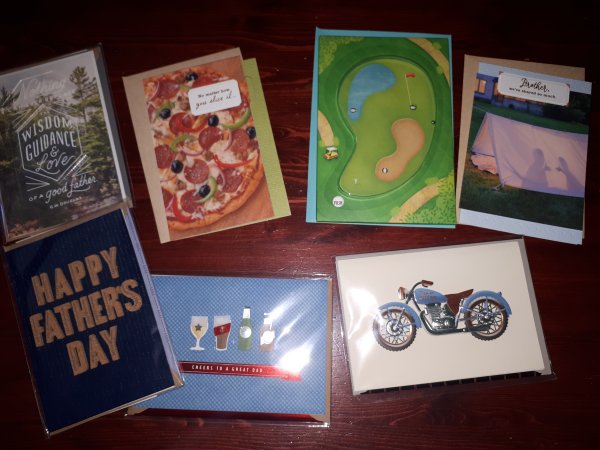 Hallmark also offers a variety of gift bags, wrap and tissue to help make one-stop Father's Day shopping easy.
Visit a Hallmark store near you today to find the perfect gift for dad.
Which product do you think your dad will love?
For more information, visit www.hallmark.ca