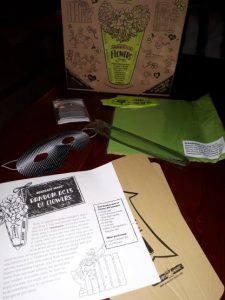 The holidays bring so many wonderful opportunities to teach our children about the spirit of giving and to teach them how to play it forward with random act of kindness.  One way is through Renegade Made Craft and Activity Kits. The kits are designed for kids ages 8 and up to encourage children to brighten the days of others in fun, creative ways. Each kit consists of a craft that kids make at home. They then go out and perform anonymous, kind gestures with the products created. Renegade Made founder Nicole Jakob, a former graphic artist and mother of three, said she wanted to create something to help develop a sense of compassion in kids while having fun at the same time. The four Renegade Made Craft and Activity Kits are: "Fairly Painless Tattoo Lounge for Charity," "Sidewalk Chalk Tagging Kit," "Random Acts of Flowers," and "Made You Look Kit."
"Random Acts of Flowers" kit
The "Random Acts of Flowers" kit contains the materials and directions to make 12 tissue paper flowers in a cardboard vase.
Each Random Act of Flower kit contains:
76 sheets of colored tissue paper squares
12 18″ flower stem wires
1 hanging cone vase
lacing ribbon
12 leaf tags
1 Renegade Mask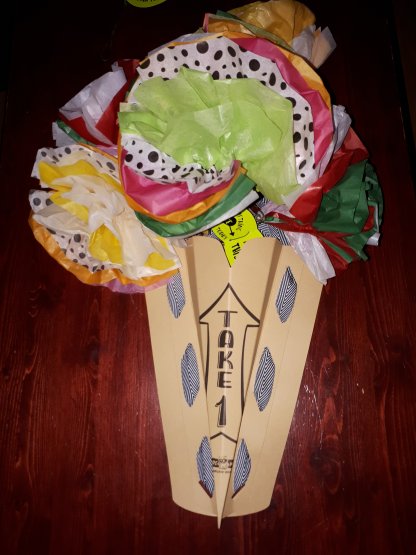 For each flower, pick out six sheets of tissue paper. Lay them at with all of their edges lined up. Layer the paper from dark to light, with the darkest at the bottom. Once the edges of the sheets are all aligned, pick a side and begin to fold over the edge of the entire stack back and forth accordion style. Make sure each fold is roughly an inch wide. Crease the entire edge with your finger as you fold it. Take care to keep the sheets all lined up together as best you can.
Unfold one of the green wire stems at its middle. Wrap an end of wire vertically around the center of the folded paper, then twist to close and secure. Make sure that your interior petal colors are facing (top) up. This way they end up in the center of the flower.
Once the stack is folded down completely and secured with the stem wire, take a pair of scissors and trim the two ends into the same pattern.
Now un-fan one side of the accordion fold carefully spreading out the folds. Gently pull the layers apart to separate
each tissue paper to fluff up your blossom. Repeat with the other side.
Take the enclosed leaf tags, and for each flower, thread the stem wire of your flower through the two holes in the center of the flower. Fold the leaf in half, and close at the notches.
The tags read "I made this for you" and "do something nice for someone today." Also included with the set is a vase  that kids can easily assemble by folding and threading ribbon into the pre-existing holes.
 Renegade Made Craft and Activity Kits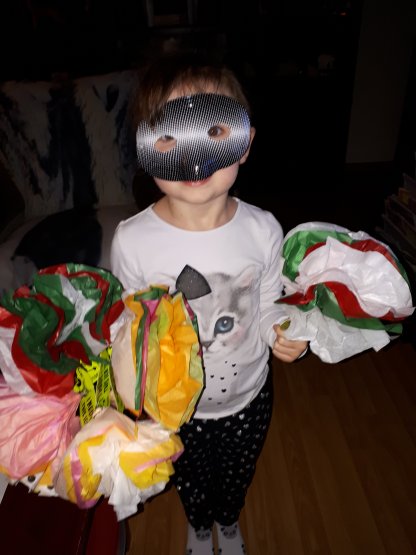 My daughter, husband and I assembled the 12 flowers that were rather easy to do. Though our daughter is only four she was able to help make the flowers. Therefore even younger kids can assist with the kit.
While Renegade, LLC. recommends hanging the vase that reads, "Take one," with the included flowers in it, we decided to go to different businesses throughout our community and have our daughter hand out the flowers to anyone she chose.
It was interesting to see who she handed the flowers to and more so phenomenal was the positive reaction she received from so many people.
Renegade, LLC., believes in both inspiring good and doing good themselves. That is why they not only encourage you to brighten the world with lovely flowers, but they also donate a portion of the purchase price of every kit to a deserving charity that they believe in.
Every Random Acts of Flowers Kit purchased will benefit Random Acts of Flowers, an organization who recycles and re-purposes flowers by engaging dedicated volunteer teams to deliver beautiful bouquets and moments of kindness to individuals in healthcare facilities across the country. (Find out more about this volunteer-run nonprofit at www.randomactsofflowers.org/).
Renegade Made also donates a portion of profits to Camp Kesem. Camp Kesem operates camps for children who have been impacted by a parent's cancer.
Renegade Made kits are available at several toy stores and bookstores in the U.S. and in Canada.
Christmas is a wonderful opportunity to teach your children about how to think about others and help people that are less fortunate. There are endless ways to get kids involved in helping others during the holidays.
Website: https://www.renegade-made.com/
Introduce your child to giving at Christmas
Ask each of your children to go through their toys and pick out several gently used toys they want to donate to a toy drive.
Bake holiday cookies and deliver them to a fire station, police station or to your paramedics.
Take kids shopping and let them pick out a toy for a child in need.
Have them make cards for seniors in a nursing home.
Rice Krispy Canada is challenging Canadians to make their favourite holiday shape with the loved Rice Krispy Square recipe. Just post a picture of your treat and they donate a new toy to a child for Christmas.
The Free Rice Game is an easy multiple choice word game. With every correct answer, you donated 10 grains of rice to The World Food Programme. Answering 10 questions donates 100 grains.
Participate in Operation Christmas Child.
Take the kids to the grocery store to pick items for the food bank.
Animal shelters are always looking for donations of supplies. Involve your child in the shopping for a cat or dog.
Donate a gift to a child in hospital through Sick Kids.
It's never too late to give. How do you teach your kids about giving?