I first heard about Calmoseptine Ointment four years ago on a Facebook chat group. A fellow mother recommended it to me to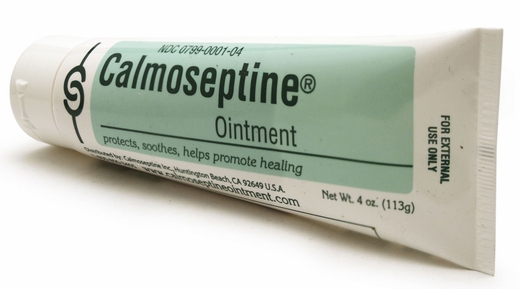 help relieve my daughter's stubborn diaper rash. She gave me some samples to try. I am overjoyed she did. The Calmoseptine worked wonders on my little ones red inflamed skin.
I have used Calmoseptine every sense and not just as a diaper rash treatment. Calmoseptine Ointment was originally developed by a pharmacist as a diaper rash ointment. Today it is effective, for a number of conditions.
What Conditions does Calmoseptine Ointment Treat?
The uses for Calmoseptine Ointment are endless. Calmoseptine multi-purpose moisture barrier treats and heal just about any type of skin irritation such as diaper rashes, sunburns, eczema, insect bites and urinary incontinence
Review on Calmoseptine Ointment
My adult daughter suffers from Orthostatic hypotension, which is a form of low blood pressure that happens when you stand up from sitting or lying down.Severe drops in her blood pressure have resulted in her fainting. Last year she woke up on the floor with a large rug burn on her face. I provided her with some Calmoseptine Ointment to apply to her face and within a few days the rug burns had cleared up.
I use Orthostatic hypotension under abdominal folds to treat chafing. Calmoseptine helps the healing process by keeping the area dry why it heals. My husband has used Calmoseptine Ointment to treat heat rashes and sunburns.In his opinion it works wonders.
How often can you apply Calmoseptine?
Calmoseptine Ointment can be used as often as needed for protection and relief. Be sure to clean the affected area before you use a thin layer. The ointment is very thick and hard to spread, but it stays in place.
Is Calmoseptine safe to use?
Calmoseptine contains zinc oxide menthol, calamine, and lanolin. People with allergies to Lanolin or Menthol may react to Calmoseptine.  Avoid using Calmoseptine on wounds or mucous membranes, nor around the eyes.
Where can I purchase Calmoseptine Ointment?
Calmoseptine is a non prescription ointment. You can purchase it online at well.ca, or Amazon.ca. Most pharmacies can special order​ Calmoseptine® Ointment through their supplier.
Have you used Calmoseptine Ointment? Please share your thoughts in the comment section below.