Most infants between the ages of 0 to 12 months have at least one occurrence of a diaper rash. Most rashes are triggered by enzymes in your baby's stool, which irritate her sensitive skin. Also, perfumes and alcohol in certain soaps, scented baby wipes, and creams can also irritate her skin. You can help prevent a painful, red bottom by changing your baby's diaper frequently. Protect the baby's tender skin with a diaper rash treatment. Apply a thick layer of a barrier cream, such as SkinFix Diaper Rash treatment, at each diaper change to soothe and protect your baby's irritated skin. SkinFix will work as a barrier between a baby's delicate skin and the irritants it encounters between changes.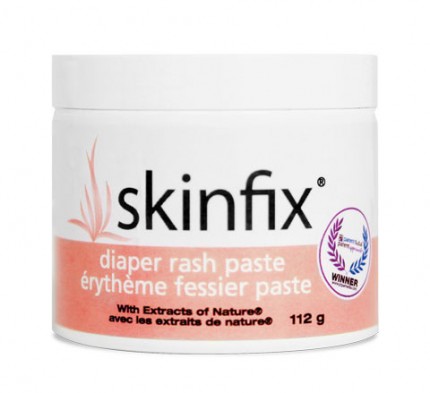 SkinFix Diaper Rash paste was founded on a British family recipe from the 1800s.  It first arrived on Canadian soil in 1871 and was Halifax's little secret for generations.  But word of the happy Halifax bottoms spread, and now Diaper Rash Paste is protecting baby bums – and parents' peace of mind – from coast-to-coast.
SkinFix Diaper Rash balm was awarded the prestigious Parent Tested Parent Approved (PTPA) Seal of Approval and was named Best Product in 2010.  The PTPA panel consists of 40,000 moms who evaluate and rate products for approval to bear the seal. I'm one more mother/ grandma who is here to tell you SkinFix Diaper Rash balm really works!
Pediatrician and Dermatologist tested, SkinFix Diaper Rash Paste is hydrocortisone-free,
steroid-free, nut-free, gluten-free, and fragrance-free. Having used several diaper rash creams with no results, I am sold on SkinFix. It is truly a miracle cream.
I started using SkinFix Diaper Rash Paste when my daughter was just six weeks old.  My daughter has extremely sensitive skin. We have to watch what baby wipes we use bath products and even diaper creams. At 6 weeks of age sweet P had quite the diaper rash on her bottom caused by a reaction from a vaseline-based cream my daughter was using.  To treat the diaper rash I reached for Penaten Diaper Rash Treatment, a product I had used on both my children when they were infants. After 3 days of applying Penaten my daughter still had a bad rash.
That was when we put away the Penaten and reached for SkinFix Diaper Rash balm.  I noticed right away that the SkinFix product looked different than any diaper cream I have used before. It is creamy to the touch and is a different color than other brands of diaper paste on the market. The color reminded me of the cover-up foundation you spread on your face.
I could not believe though that after one day of applying the SkinFix cream, Sweet p's diaper rash was gone. I wish that we had SkinFix when my older children were young. Overall, I would definitely recommend this product.  Of the many diaper creams I've tried. SkinFix is my top choice. Almost a year later and I am still using SkinFix Diaper Rash Paste to treat those bad rashes.
Multi-Purpose Healing Balm
As children grow, SkinFix will grow with them.  SkinFix Body Repair Paste is a multi-purpose healing balm that is proven effective for the whole family.  The same "Skin Healing Complex" formula moves beyond bottoms to heal everything from minor irritations like bug bites and dry skin patches to stubborn skin conditions such as eczema.
Diaper Rash Paste ($14.99/112g MSRP) and Body Repair Paste ($18.99/112 g MSRP) are available at major grocery and drug stores across Canada, including Shoppers Drug Mart, or online at www.skinfixinc.com.  For more information on these or any of the other SkinFix range of products visit SkinFix on Facebook.