Christmas sweaters were once extremely popular in the 1980s. As a teen of the 80's both my husband and I had a closet full of Christmas sweaters that today- people would refer to as ugly or tacky. Fast forward to 2018 and sporting an ugly Christmas sweater during the holidays has reached epidemic proportions and has no sign of stopping anytime soon.  Today an ugly Christmas sweater is a statement.  In fact, many companies actually throw an annual "ugly Christmas sweater" party in lieu of the more traditional Christmas party. I  attended an Ugly Christmas Sweater party a couple years ago where I sported an Ugly Christmas sweater I made myself. Church groups, high schools and even retirement homes are getting in on the fun of the Ugly Christmas Sweater tradition. As the 2018 Ugly Christmas sweater season is upon us, perhaps the easiest, quickest, way to find a wide selection of Ugly Christmas Sweaters is to shop at online shop such as uglychristmassweater.com, where they specialize in the sale of, you guessed it, hideous Ugly Christmas Sweaters.
Whether you're embracing the Ugly Christmas sweater theme for an upcoming holiday party,  want one to wear to a close family Christmas gathering or you're getting ready for Ugly Christmas sweater day you are sure to find something with which to impress your family or win this years' ugly Christmas sweater competition. UglyChristmasSweater also lets users create your own designs online if you can't find what they're looking for.
Festivus Ugly Christmas Sweater
Don't be left without this gem of a sweater during this year's "Airing of Grievances" at the ugly Christmas sweater party! Featuring a Festivus pole on the front, this officially licensed Seinfeld sweater is perfect for any fan of the show. This was my son's 2016 Ugly Christmas Sweater.
He finds that the Seinfeld Festivus For The Rest Of Us Ugly Christmas Sweater does fit on the larger side, which is something to keep in mind when ordering. Like most ugly Christmas sweaters the festivus sweater was a unisex fit.  Made of 60% Cotton, and 40% Acrylic  it is quite cozy and comfortable to wear.
For those of you that are unaware: Festivus is a holiday celebrated on December 23 that is essentially anti-Christmas, a backlash to the commercialization of Christmas and involves the airing of grievances. The term was first used on the American comedy Seinfeld.
Home Alone Replica Beanie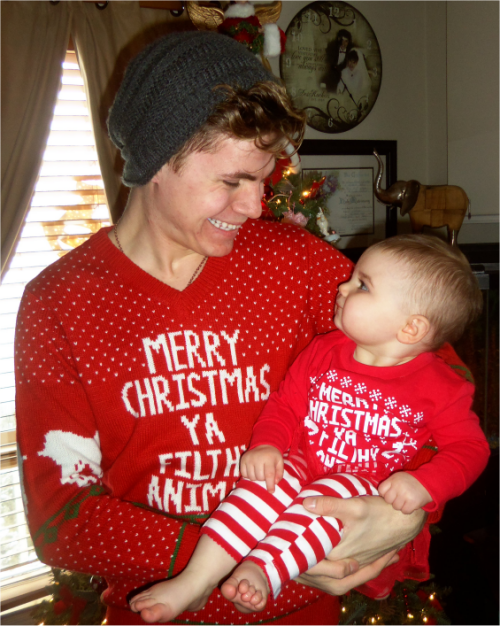 If you're a fan of Home Alone then there will be no doubt that you'll want this offically-licensed Home Alone knit reindeer replica beanie hat. It is sure to keep you comfy and warm on that next shopping trip, especially if you find yourself home alone like Kevin.We found the hat does run small.
Red Filthy Animal Sweater
Home Alone is an endlessly quotable and much beloved holiday classic with unforgettable lines like "Merry Christmas, ya filthy animal!" If you've ever wanted to celebrate the season with this memorable quote, now you can with this ugly Christmas sweater! With snowflakes on the top and bottom, reindeer on both sleeves and your favorite way to say Merry Christmas, this hilarious holiday sweater is sure to bring you more than a few laughs.
Dr Seuss Grinch Ugly Christmas Sweater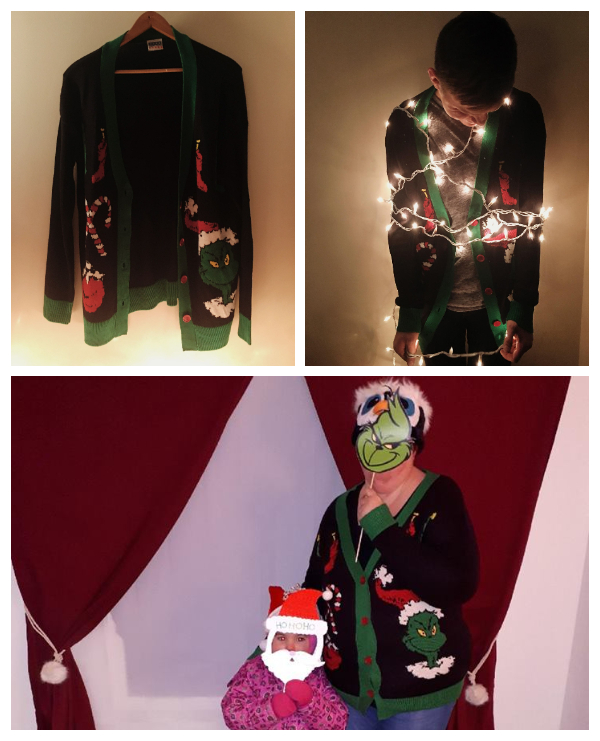 You hate the holidays. HATE 'EM. To you, nothing is worse to the hustle and bustle of store malls, listening to winy children and that annoying Christmas music played in stores. To make things worse your friends have begged you to go to an ugly Christmas sweater party with them. Fine, you'll go, but on one condition: You get to wear your Grinch Christmas sweater. After all:  You sure are a mean one, Mr. Grinch. The Grinch as Santa sweater runs one size small,  so you may want to order a size up.
Grinch Seuss cardigan
If a pull over sweater isn't for you why not opt for a cardigan. Highly fashionable and featuring a hilarious Grinch design, this ugly Grinch Seuss cardigan is not only comfortable, but also funny. If ordering this you do need to know that the cardigan runs large, I normally wear a size 2x and an XL in the cardigan fit me, though I would have preferred the 2x just for extra room. The Grinch Ugly Christmas Cardigan Sweater was my son's 2017 Ugly Christmas sweater choice and mine.
Women's Reindeer Fidget Spinner Ugly Christmas Sweater
Rudolph's red nose is getting a fidget spinner upgrade. If you love the latest fidget spinner craze then you'll love this Women's Reindeer Fidget Spinner Ugly Christmas Sweater. Available in sizes small up to 3x the sweater features a removable spinner will attaches to thee sweater via snap on button.  I ordered a size 2x and the sweater is roomy enough to wear layers underneath for extra warmth. Like other sweaters I have ordered via UglyChristmasSweater.com I am  impressed with the quality of the sweater and I think it should stand up to a lot of wear over a few Christmas.
UglyChristmasSweater.com has three different fidget spinner ugly Christmas sweaters to choose from in both men and women sizes.  Why not sport matching ugly Christmas sweaters this holiday season?
Ugly Christmas Sweaters
Overall,  I highly recommend UglyChristmasSweater.com for that Christmas sweater that gets everyone talking. Remember that Ugly Christmas sweaters are just half the picture. You can also find holiday-themed pajama jumpsuits, lounge pants, Christmas leggings,  and even Ugly Christmas blazers. I kid you not! I for one, was and still am quite fond of the ugly Christmas socks.
UglyChristmasSweater.com has been featured on the NY Times, USA today and Trendhunter. They currently have ugly Christmas sweaters in sizes small up to XXXL with new ones being added.  They have gone to great lengths in 2018 to add a whole slew of new, offically-licensed ugly Christmas sweaters to their website.
Now go ahead and make yourself a cup of hot chocolate, settle down in your lazy-boy chair, laptop in hand and begin the search for that perfect ugly Christmas sweater at uglychristmassweater.com.
Will you be sporting an ugly Christmas Sweater this year?

Have fun with your family this weekend!
BLACK FRIDAY SALE:
$5 OFF $40+ Code: 5OFF40
$10 OFF $75+ Code: 10OFF75
$30 OFF $100+ CODE: 30OFF100
About UglyChristmasSweater.com
UglyChristmasSweater.com offers numerous products to choose from, including shirts, sweaters, jackets, leggings and shoes. The wide range of inventory makes them a leading provider for holiday tackiness. Sizes range from small to XXXL in most apparel styles. For more information or to shop online, visit www.uglychristmassweater