Finding the perfect present for the stylish women in your life is no easy task—but we're here to make the process a little easier this season with some wonderful gift ideas from Reitmans, Canada's largest women's apparel retailer and leading fashion brand.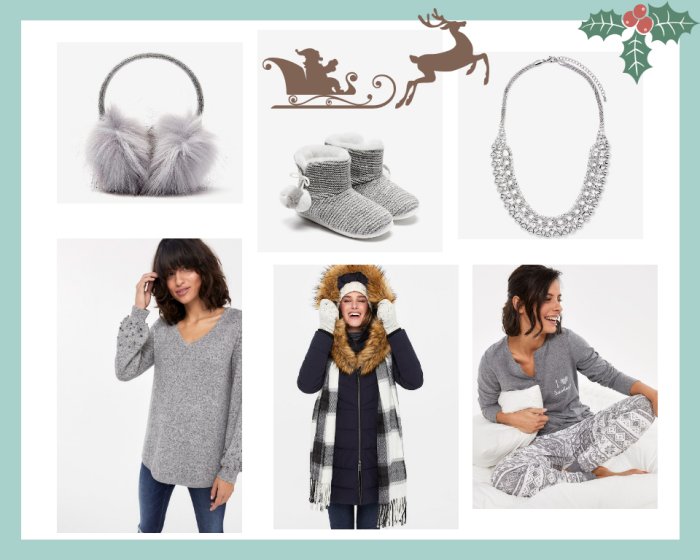 You can never go wrong with the gift of pajamas. Snow will soon be falling, and there is nothing better than a cute and cosy PJ to sip on a hot beverage in the comfort of your living room. This cotton PJ set includes a long sleeves henley top and patterned jogger pants. Its cute print will make you and your loved ones smile. Available in sizes xxs up to 2x.
Protect her ears with elegance with these faux fur earmuffs. Perfect to avoid ruining her hairdo, the trendy style of these earmuffs will match any outfit.
Keep warm all winter long in Knit bootie slippers. Featuring pompoms on one side and lined with plush, she won't want to take them off. They are available in two colors.
Adorn her outfits with this multi row necklace. Rhinestones and various chains will make it easy to match to any look. Its faceted beads will also give a chic effect.
She'll stay warm with this water repellent faux down coat. With its 2-way stretch technology, this coat will give her freedom of movement without compromise. Featuring elastic cuff sleeves, faux fur at hood and microfleece pocketing, it will protect her from the icy winds.
This sweater is far from boring. Featuring pearl-embroidered balloon sleeves and V-neck, it is gorgeously feminine and trendy.
Holiday ready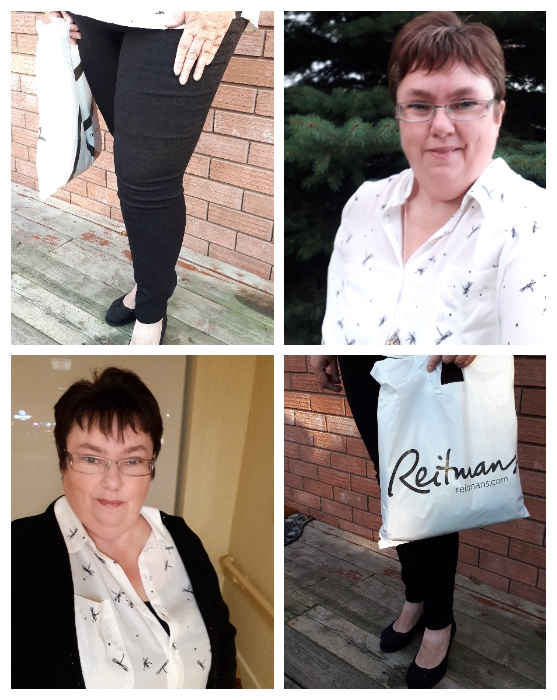 Reitmans caries a vast collection of clothing designed for all body types. That includes the curvy and fabulously sized woman as well- also known as plus size clothing. If you have never shopped at Reitman's before their clothing is an ideal balance between casual and more office driven.
Ladies let your outfit reflect your festive cheer with that perfect holiday outfit.
Featuring a front pocket and adjustable sleeves, this dragonfly blouse is perfect to get you from the office to a night out. Pair it with ankle pants and leather shoes for a trendy look.
You can dress the blouse up or down and you can even add outerwear like a sleek leather jacket or suit jacket. Try it with a pair of your favorite jeans for a relaxing casual look.
I added this top to my collection and have dressed it up by wearing it with black dress pants and dressed it down by wearing it with my casual jeans and favorite cardigan. I found it to be a flattering fit that draws attention away from my rounded stomach.
If there's one fashion trend that keeps coming back every season, it's leggings. The figure-flattering Tall Iconic Leggings are my go to pant. They are made with a super stretchy fabric that are comfortable and stylish. The soft comfort waistband is the ideal support for a smooth silhouette.
Pair them with high heels and a Sleeveless Velvet Top or a meallic lace blouse for a more sophisticated look. Play with your accessories to dress this look up or down, depending on where the night will take you. Reitmans caries a selection of fashion accessories too, so you can find everything you need for your holiday event in one place.
The leggings can be dressed down with a bagging cardigan and fitted t-shirt.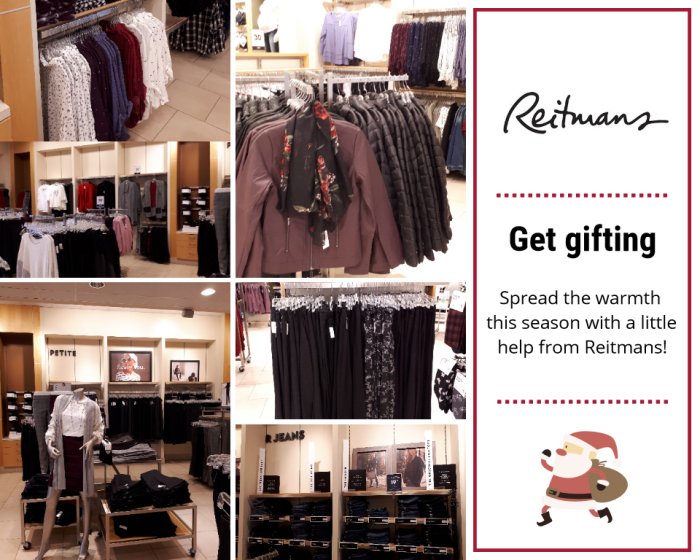 Whatever you choose, be sure to pick a design which flatters your body shape. Right now you can save 40 % on your holiday outfit. If you haven't purchase that little black dress for News Year Eve, there is no better time like the present.
About Reitmans (Canada) Limited:
Founded in Montreal in 1926, Reitmans a division of Reitmans (Canada) Limited has grown to become one of Canada's most loved women's apparel and accessories brand, with a strong online presence and over 280 stores across the country. Reitmans' collections offers everything from timeless styles to lively must-haves in Canada's greatest style diversity with sizes ranging from 0-22 (XXS-3XL) in Tall, Regular and Petite. Their in-house design team strives to create clothes that fit into their customers' lifestyles and encourage them to feel their most confident while staying true to and celebrating their own unique style. Reitmans is the namesake brand for Canada's leading specialty fashion retailer, Reitmans (Canada) Limited (TSX: RET, RET-A) which includes Reitmans, Penningtons, Addition Elle, RW&CO., Thyme Maternity and Hyba. For more information, please visit www.reitmanscanadalimited.com.