Attention comic and fidget fans. From the designers of the original Zuru fidget Cube, Antsy Labs brings to you DC Comics Superhero Fidget Cube and Zuru Marvel Fidget cube. Zuru, is combining your love to fidget with your love of comics.
DC Comics Fidget Cube features Warner Bros summers blockbuster, Wonder Woman, as well as Batman and Superman. Marvel fidget cubes feature Marvel characters – Spider-Man, Captain America, Hulk and Iron-Man.
The six-sided fidget cubes have an array of addictive features. There is a switch to flick up and down, the Breathe side, which is like a worry stones. There are five clicker buttons, two of which are silent for quiet fidgeting, and a glide side, which features a circular disk.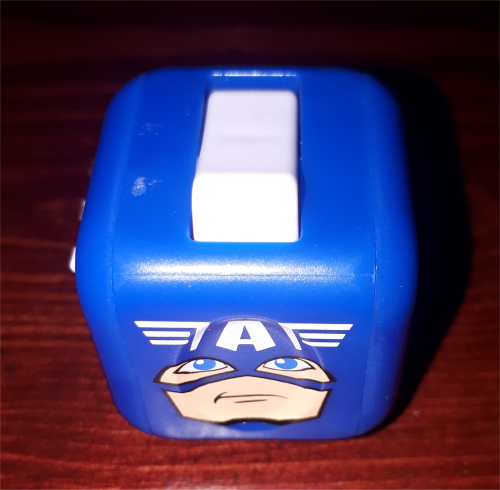 Just like original Fidget Cubes, these theme cubes are meant to help restless hands focus.
I must admit that I was skeptical when it came to the Fidget Cubes. I couldn't understand what all the fuss was about. Once once I started playing with it the fidget cube, I realize it was highly addictive.
Although some experts challenge if fidget cubes are beneficial, many people feel they do relieve workplace stress and are a helpful tool for children.
Created by brothers Mark and Matthew McLachlan of Antsy Labs, the Fidget Cube™ became a global viral sensation on Kickstarter, attracting more than 150,000 individual backers and raising $6.4 million.
The McLachlans state "It's not uncommon to hear fidgeting being spoken about negatively. However, this behavior isn't one that should continue to be mocked as inappropriate."
Be it you are for it or against, Fidget toys are a popular trend that is showing no signs of slowing down.
Along with the Zuru fidget Cube by Antsy labs featured here, Zuru Spinner and Fidget Prism are also available via zurufidget.com.
About ZURU Toys
ZURU is a disruptive and award-winning company that designs, develops, manufactures and markets innovative toys. Inspired by kids and imaginative play, ZURU is one of the fastest growing toy companies and is known for their agility, creativity and new-age manufacturing techniques. The company employs more than 400 staff, has 10 offices and supplies most major retailers in 120+ countries. ZURU has delighted millions of families all over the world through partnerships with entertainment properties, including Nickelodeon, Disney, Universal Studios and DreamWorks as well as successfully building their own global brands such as Bunch O Balloons™, X-Shot™, Robo Alive™, Micro Boats™ and Hamsters in a House™. Let's reimagine play, everyday!