Originally introduced in Japan, Tsum Tsum (pronounced "tsoom tsoom") are playful, unique, collection of your child's favorite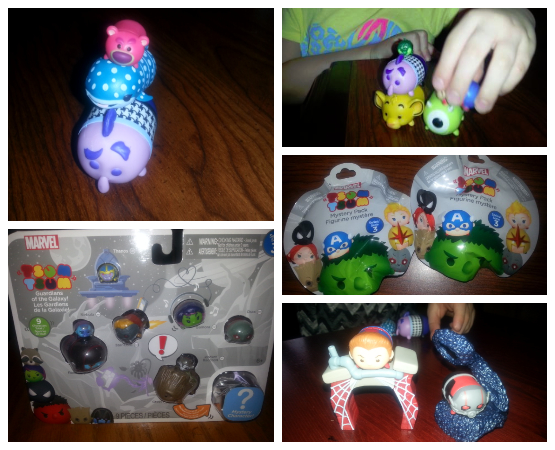 Marvel characters that they can collect, stack and display.  Tsum Tsum toys from Jakks Pacific come in three different sizes- large, medium and small.
Not only are these collectibles fun to play with, they are absolutely adorable and make a really cute add-on to any other collectibles your children may own.
Much like Shopkins, the larger packs of Tsum Tsum feature a mystery Tsum. Also included in each pack is a checklist. so that your child can keep track of which Tsums they already have.
Of course, the series wouldn't be complete without Jakks' Tsum Tsum mystery packs. These blind packs feature one medium-sized surprise Marvel Tsum Tsum with an accessory. Blind bags give the extra excitement of not knowing what character kids will open up next.
If your son or daughter isn't a fan of Marvel no worries, as there is a Disney line of Tsum Tsum Collectibles as well. My daughter absolutely loves the Disney Tsum Tsum. They have proven to be a true favorite and gets lots of daily play. I look forward to more exciting Tusum Tsum offerings from Jakks Pacific in the future.
Are your kids collecting the JAKKS Pacific Tsum Tsum? What's their favorite figure so far? Let us know in the comments below.
About JAKKS Pacific, Inc.
JAKKS Pacific, Inc. (NASDAQ: JAKK) is a leading designer, manufacturer and marketer of toys and consumer products sold throughout the world, with its headquarters in Santa Monica, California. JAKKS Pacific's popular proprietary brands include BIG-FIGS™, XPV®, Real Construction®, Max Tow™ and Friends, Disguise®, Moose Mountain®, Funnoodle®, Maui®, Kids Only!®, as well as a wide range of entertainment-inspired products featuring premier licensed properties. DreamPlay Toys, LLC is a joint venture between JAKKS and NantWorks LLC to develop, market and sell toys and related consumer products incorporating NantWorks' proprietary iD™ recognition technology. Through JAKKS Cares, the company's commitment to philanthropy, JAKKS is helping to make a positive impact on the lives of children. Visit them at www.jakks.com