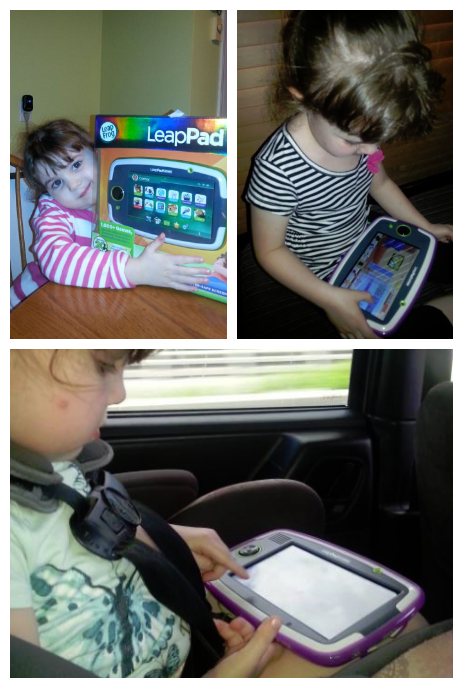 One of the products that is perfect for Summer travel is the Leapfrog LeapPad Platinum Tablet. LeapFrog is one of the best-known brands when it comes to kids tablets. The Leapfrog LeapPad Platinum, is a 7-inch kid's tablet.  It's target age is children from 3-9 years old. Although children as young as two could use the tablet with some help.
Setting up the tablet takes about 5 minutes and it extremely easy. Set up can be done either by connecting through your home WiFi, or using the USB cable with your computer.  It takes about 5 hours to fully charge, but you can set up the tablet while it is still charging.
I am amazed how quick my daughter figures out technology. In a snap she was able to maneuver the tablet with the touch screen feature.
The first thing we noticed with the LeapPad Platinum once we had charged it up, was how impressive the screen is. The transitions between screens and apps is quick, and the touchscreen is quickly responsive.
The platinum comes with 10 pre-loaded apps and some demos, and you can buy more apps from the LeapFrog app store. Kids can play LeapFrog games from cartridges or downloaded games.
The tablet includes a music app in which your child can  listen to pre-loaded songs or you can add MP3s via your computer. I really like that LeapFrog has a library of over 1,000 educational games, books, videos and more.
The LeapPad Platinum includes an 8GB memory, which will hold up to 40,000 photos or 100+ game apps!  Actual storage capacity for photos and games may vary depending upon use. The tablet includes a stylus to make writing on the screen easier. The stylus has a cool soft rubber tip covered by mesh. Mom and dad will be pleased to know that the stylus comes with a small cord attached to the main tablet device, so it won't get lost. My daughter barely ever uses the stylus, but it is a nice feature to include.
LeapFrog Platinum camera and video recorder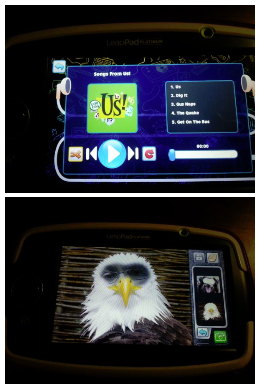 There's a 2 MP camera at the front and back of the camera, plus the tablet has 480 pixel video recording. We found the quality of the camera very poor. You need to have lots of background light or the photo comes out black. Although, my daughter has fun using the camera to take photos and videos. When I looked back through the photos there must be over 100 photos of herself and our living-room ceiling. Fun! No worries though as photos can be easily deleted.
Multiple Profiles
The tablet supports profiles for multiple children. Because the LeapPad tablets allow every kid in the family to each have his or her own account, the difficulty level of each game matches each child's ability. Perhaps, one of my most favorite thing about the LeapPad Platinum is that the learning stays true to the child's level.
Games
We purchased both LeapFrog Learning Friends: Preschool Adventures Learning Game and LeapFrog – Get Ready for Kindergarten Learning Game Pack  for our daughter's tablet.  Both games are helping better prepare her for school in the fall. I really love that learning is constantly embedded into every single activity with the platinum. Get Ready for Kindergarten Learning Game Pack teaches your 3-5 year old child phonics, counting, letter & number recognition, and important daily routines. However there are many  more games that can be purchase via Amazon.ca, Toys R US and wherever LeapFrog products are sold. So you can really  personalize the tablet to your child's age and skill level.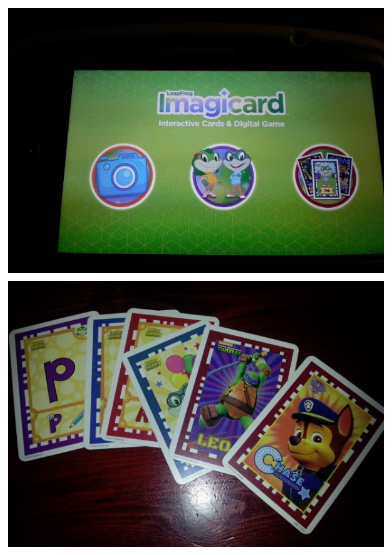 One of the most fun and interesting aspects of the new LeapPad Platinum are the Imagicards. The LeapPad Platinum comes with six Imagicards. Kids use the camera to capture a photo of a card to bring a character into a game and unlock magical game play. You simply hover over the card and it recognizes the unique code on each card to unlock a game or character. LeapFrog Imagicard is also backwards compatible with all LeapFrog LeapPad tablets with the exception of LeapPad 1.
Battery Life
The battery life on the LeapPad Platinum is about 5 hours, though we have gotten longer playing time. We find that the battery time is fine for our daughter who uses the tablet throughout the day for about two hours ( split up), and it was perfect for a 3 hour drive to Ottawa.
Sound Quality
The sound quality on the LeapFrog Platinum is very good. Kids can adjust the volume up or down or you can purchase a pair of headphones like we did.
Durability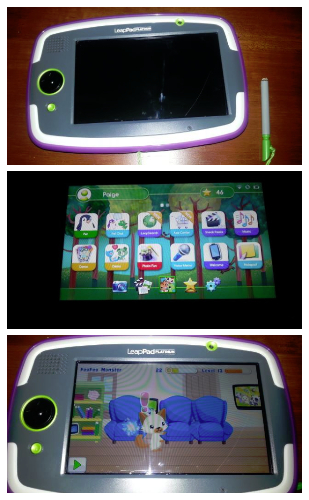 LeapPad Platinum is built tough for kids, with a shatter-resistant screen. This feature is perfect for my preschooler! My daughter has dropped her tablet multiple times, and despite the scratch on the screen it is still holding up to her daily use. It should be noted that any scratches or damages to the screen does void the warranty and a replace screen can not be purchased. Because of this, I highly recommend purchasing some crystal-clear display protection film for the tablet. I wish we had of.
LeapSearch for safe browsing
Unlike other tablets the The LeapFrog LeapPad Platinum offers countless safety features. With LeapFRog my daughter will not stumble across any inappropriate content. LeapSearch is a child-safe web browser, for LeapFrog PLantinum. LeapFrog's LeapSearch internet browser gives my four year old access to pre-approved pieces of content including videos, images, games and web pages. If you don't like the option of a safe browser, you can disable Wi-Fi all together. An ultra-secure parent settings include a four-digit security code, so I can can manage Wi-Fi, app purchases, screen time and more.
Peer-to-peer feature
With the peer-to-peer feature, your child can play games or 'chat' with another child who has a wifi-supported LeapPad device, but they must be in the same room. This is going to be really fun to use when my niece gets her LeapFrog PLantinum.
LeapFrog LeapPad Platinum Accessories
The Leapfrog LeapPad Platinum Gel Skin comes in your choice of two colors- green or purple. The lightweight, durable gel material forms perfectly to the tablet to offer better grip and protection from drops and scratches. The gel skin goes on easily and stands up to my daughter's daily use.
Provide quiet learning time for your little one with LeapFrog headphones. The headphones are available in green and purple. The adjustable, padded headband and soft ear cushions are perfect for little ears. We don't own the earphones, so I am unable to comment on the quality.
Leapfrog also sells a number of carry cases for the tablet. There is also many reputable third party companies that  carry merchandise compatible for the LeapPad Platinum.
Overall Verdict of Leapfrog LeapPad Platinum Kids Learning Tablet

Although Leapfrog recommends the LeapPad Platinum from age 3-9, I think  children as young as two could use it with little assistance.  I love that LeapPad Platinum is focused on education and that my daughter is learning while having fun.  If you're after a tablet for your kids – or grandkids – the LeapPad Platinum is a good choice and one I highly recommend.
About LeapFrog
LeapFrog Enterprises, Inc. is the leader in innovative solutions that encourage a child's curiosity and love of learning throughout their early developmental journey. For 20 years, LeapFrog has helped children expand their knowledge and imagination through award-winning products that combine state-of-the-art educational expertise led by the LeapFrog Learning Team, innovative technology, and engaging play – turning playtime into quality time.  Learn more at leapfrog.com or http://www.leapfrog.ca .