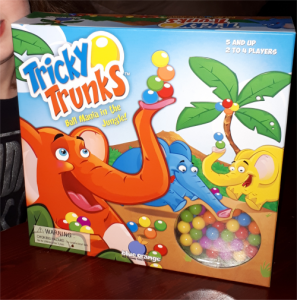 Children Board Games make wonderful Christmas gifts not just for children, but for for the entire family, which is proven with this new game from Blue Orange Games. Hungry Hungry Hippos is so yesterday as there is a new game in town. Designed by Brian Weinstock and published by Blue Orange Games, Tricky Trunks is a fun new game for children 5 and older. Although the game can be played with children as young as 3, as long as a parent is supervising.
The game comes with four elephants, 48 challenge cards, and 48 balls. The game box becomes the playing board where the 48 balls are put.
How to play Tricky Trunks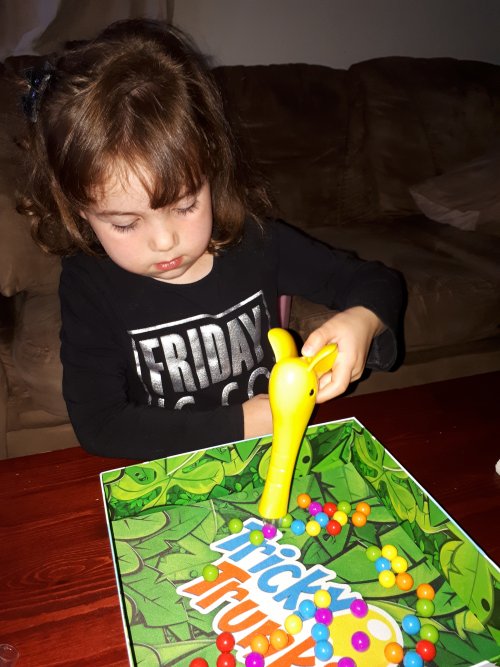 Place the 48 balls into the bottom of the game box. Next shuffle and place the 48 cards face over on the table. Flip over a challenge card. All players then race to fill their trunks with the balls on the card. To do so hold the elephant game piece by the handle. Place the trunk tube over a ball and press down. To empty the tube, slide the clip and flip the elephant over.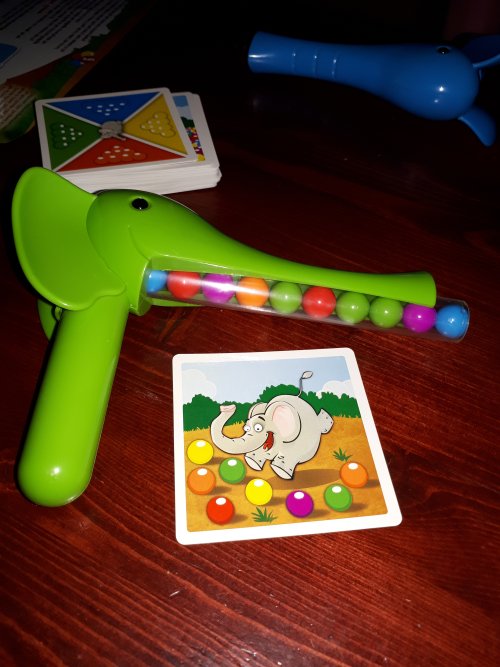 There are 3 different type of challenge cards. Players pick up as many balls as they can, all of their own color, or a specific combination of balls. The first player to finish the challenge correctly wins the round and collects the card as a point. The first player to earn 10 points wins the game.
You can also play without using the challenge cards.  My daughter decided we would play by racing to fill our trunks with all eight balls of our own color and by collecting 11 balls of any color. The first person who filled their elephant tube first was the winner.
Our thoughts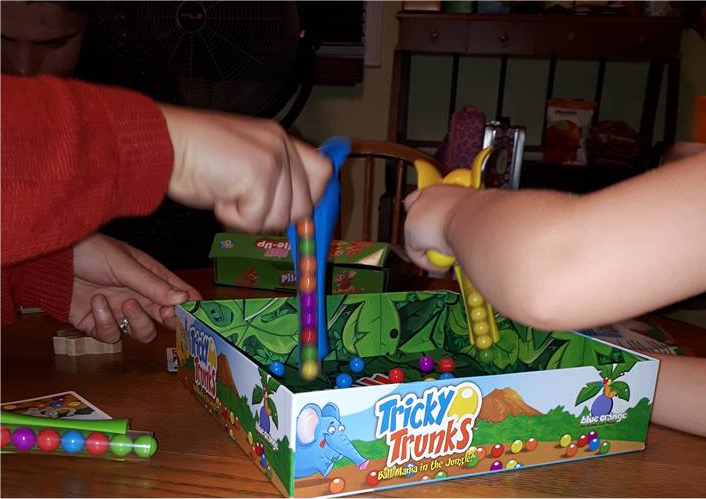 Tricky Trunks is designed to help children with dexterity and motor skill development, while challenging their visual, color matching skills and counting. However, kids will also have lots of fun while playing.
It has quickly become one of my daughter's favorite games. In fact she says that the game is lots of fun. While Tricky Trunks looks like a game that only kids would enjoy, adults will have fun with this as well. Even my 25 year old daughter n law gets super excited when she plays Tricky Trunks.  Perhaps too excited! Don't tell her I said that.
Overall, we think that this is an adorable and fun addition to the children's gaming aisle and would make a wonderful gift this upcoming holiday season. Miss P highly recommends that you purchase the game for your kids.
Note: The rolling balls can be tricky to pick up and make sure to empty the balls over the playing box.
Does your family have a weekly Family Game Night? Let us know in the comment section what you think of Tricky Trunks.
About Blue Orange Games
Since 2000, Blue Orange Games has been creating timeless games for the whole family. With a catalog of games that have won awards from the likes of Mensa, Major Fun! and Oppenheim Toy Portfolio, Blue Orange prides itself in creating games that have earned a reputation for high play value, skill development, and continuous fun. The eco-friendly company focuses on high quality designs that use durable materials, and plants two trees for every one used in the construction of their wooden games. Looking towards the future with an eye for constant improvement, Blue Orange is steadfast in their mission to bring HOT Games to a COOL Planet.
Blueorangegames.com · facebook.com/BlueOrangeGamesUSA · twitter.com/BlueOrangeGames