Mermaid blankets are growing in popularity. Mermaid blanket are a fun new way to keep your little ones warm and cozy during the winter season. And they make wonderful gifts for little mermaids. In 2016 the "most watched deal" on Amazon for the Christmas shopping season was mermaid tail blankets. Sadly the newfound popularity made mermaid tail blankets pretty hard to purchase. The popularity of mermaid tails are extending into the 2017 Christmas season. This season, let your child feel like Ariel with the Make It Real Knot and Bling Mermaid Tail Blanket kit. With this DIY project, kids as young as six can create there very own no sew Mermaid kids tail blanket.  And for little crafters, the only thing more fun than creating a sequined mermaid tail blanket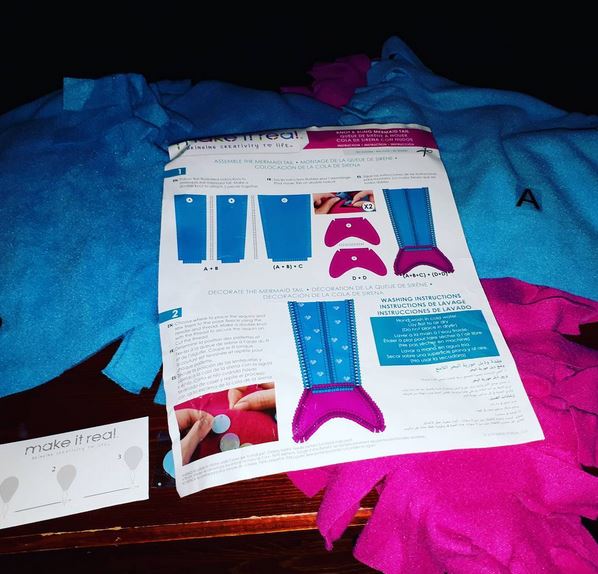 is cozying up in something that they have created them-self.
The fabric comes precut, so there is no cutting involved. The kit comes with 5 pieces of pre-cut fleece, 40 large sequins, sewing kit, needle, and instructions. Our daughter is almost five, so was unable to make the blanket on her own, so we made it for her. It took us under an hour to complete the blanket from start to finish.
Leave the blanket laying flat on your working surface, with all fringes lined up. Start tying from the left and work right. Continue around the blanket- connecting fabric piece A to B, then to C. If you are left-handed, you may find it easier to start on the right and work left. I found it easier to connect A and C together, then add B, but whatever works best for you.
Then it is time to add the mermaid tail- pieces D & E, which get added to the bottom of the blanket. Double tie the knots. All the knots should be snug up to the blanket, but not too tight. To make the mermaid tail blanket creative, you may also add sequins to the tail.  However, we chose not to add the sequences to our
completed mermaid tail blanket.
Overall this was a fun craft. I think if my daughter was a year older she would have been able to complete this craft much on her own. If a child can tie their own shoes they can  make the " Make It Real Knot and Bling Mermaid Tail" blanket.
If your child is too young to create the DIY no sew mermaid tail herself, you can always purchase the kit and create a blanket for her.
Make it Real's fashion craft kits encourage both creativity and customization. If you are looking for a Christmas gift idea or a craft project for your little one consider Make It Real. They have several kits that will provide hours of creative fun for your child.
About Make It Real
Make It Real manufactures and distributes beautiful, compelling product for tween girls around the world.   Make It Real gives girls a window into the real world of design and creativity. www.makeitrealplay.com
Make It Real Mermaid Tail kit USA giveaway
Today's Woman has partnered with Make It Real  and we are giving away one Make It Real Mermaid Tail kit to one lucky USA winner. You must be 18 years or older to enter. Only one person per household may enter.