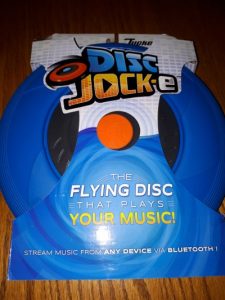 The Disc Jock-e™ Frisbee by Tucker Toys is designed similar to other Frisbee model, but now you can listen to your favorite songs simply by syncing your tablet or cell phone to the flying disc. You can even turn up the volume, play, or pause right from the disc itself simply by using the easy-to-push buttons.
The connection is very easy to set up and we find the sound quality to be quite impressive. It's strong and clear.
To connect Disc Jock-e to a device make sure your bluetooth settings are on. Flashing red & red lights indicates it is searching for your device. Disc Jock-e will turn off if left unconnected for 5 min. You will need to charge the battery for four hours prior to first use. A red light signals the disc is charging and a blue light will indicate a full charge.
The speaker rests in the center of the disc, so it doesn't get in the way of throwing or catching. And the flying disc is as lightweight, as any other Frisbee on the market. This flying disc is even water resistant, but not waterproof.
The Disc Jock-e™ Frisbee is available in orange or blue. And if my review has not convinced you to run out and purchase one, please let this promotional video help you decide. While the is age is for kids 8+, I am guessing that many teenagers and adults would love this too.
What do you think of the Disc Jock-e™ Frisbee?
About Tucker Toys:
Tucker Toys, based in Hamilton, NJ, brings to market a line of toys with far wider ranges of use, spanning all ages and transforming almost all environments into playable ones. Tucker Toys evolved from marketing only through a few international distributors to nearly 50 countries currently with a strong public outreach, engaging kids and families directly.
Every toy created by Tucker has received awards from various prestigious organizations including Mom's Choice, Parents' Choice, The National Parenting Center, The Toy Insider and veteran toy marketer Einstein, da Vinci and Goldberg. Most recently, two of Tucker's toys received special needs approval by AblePlay, a division of Lekotek, proving the versatility of Tucker's toy innovation that brings value to parents and benefits to children across the spectrum. Products from Tucker Toys include the internationally award-winning Phlat Ball®, Crush-It!™ Bat, Zoingo Boingo™ Pogo, and the ZB Freestyle™ Board, a high-bouncing action sports toy ideal for skateboarding and parkour enthusiasts.