Hallmark knows just how to get us into the holidays spirit , offering many creative ideas for both decorating and gift giving. Set a festive holiday mood throughout your house with home decor and gift decorating from Hallmark. Check out the Hallmark Holiday 2017 collection.
Every room can use a Christmas touch, and the Hallmark Holiday 2017 collection can cover all your indoor spaces.
Decorate Your Kitchen for Christmas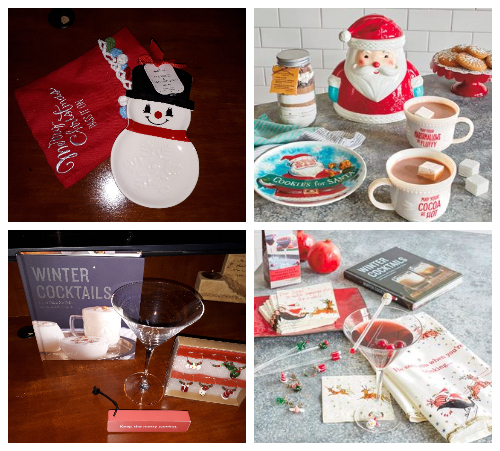 Add that festive touch to your kitchen this season with kitchen accessories and kitchen Christmas linens from Hallmark. You can go all out or keep things nice and simple.
Start by replacing your regular cookie jar with a holiday-inspired one.  Switch out your everyday linens for festive holiday-inspired ones. Dress up any open shelving  with flameless candles.
For warming up, why not create a hot cocoa station in your kitchen? Include holiday mugs, spoons and mix as well as a few added extras like marshmallows, candy canes and a little cinnamon for sprinkling on top!
Tiny touches like a wreath hanging in the window, Mr. & Mrs. Snowman Salt and Pepper Shakers on your table is just enough holiday decor for a high-traffic area.
Snowman tea towel and dish
Give your appetizer spread a little holiday cheer with festival serving trays. Pass on the merry with a ceramic jolly snowman plate sized for appetizers and a woven tea towel with embroidered design and crochet details. The snowman tea towel with dish also makes for a cute Christmas gift. The tea towel is adorable with pom pom and crochet details. Tea Towel reads "Merry Christmas, Pass It On". I will be using the ceramic appetizer for helping to entertain guests, and also as a spoon rest on my kitchen counter in between holiday gatherings.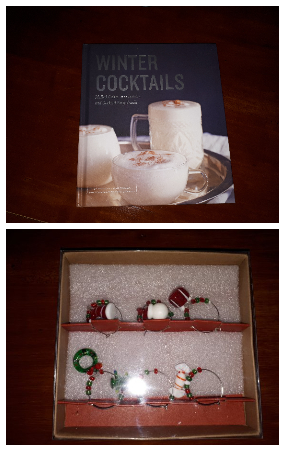 The " Winter Cocktails book" is the ultimate hardcover book to help you entertain this year!  From mulled ciders, to hot toddies it contains everything you need to make the perfect beverages for guests. This would also make the perfect gift. I know my brother would love the book, especially if gifted with the handmade blown mover and shaker Martini glass. All that is missing from the gift is a bottle of gin and a  festival faux leather wood bottle tag from Hallmark. The bottle tags add a special charming touch. Each one has a fun sayings.  There are 4 different bottle tags available to purchase.
If you want to add some flair to your Christmas Eve cocktail and wine glasses these handmade blown glass wine charms featuring colorful, holiday-inspired icons and beads is the perfect accessory. Or pair it with a bottle of wine for the perfect gift for a neighbor.

I hope you feel inspired to add some Christmas cheer to your kitchen this year.
Decorate the Living Room for Christmas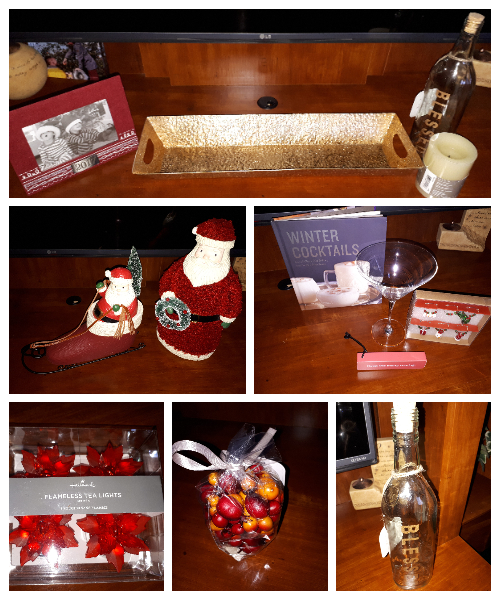 My living room is my favorite room in my house to decorate. After-all, It's where the Christmas tree goes, it's where presents get opened, and it's where I gather with family and friends all season long.
You can create a festive focal point by taking over a bookcase or the top of your media center with Christmas figurines. The Mixed Media Santa and mixed Media Santa in a sleigh are my favorite new additions to my home.  With a hand-carved look, bottle-brush tree, leather straps and metal runners on the sleigh, this Santa is a great addition to my coffee table.
Create a formal and elegant Christmas centerpiece wit Hallmark's hammered Metal Tray. It is perfect for some fragrant potpourri ,Mix Rose Hips and Poinsettia Flameless Tea Lights that omit a warm glow.
Create a centerpiece with Hallmark flameless candles. The 3×4 pillar candle imitates the flicker, wax look and light of a real candle using 2 AA batteries (not included). It also has a 5-hour timer. The candle makes the perfect gift for a senior living in a nursing home who may not be able to have real candles in their room due to the fire risk.
Dated Frame: Frame beautiful memories from the holiday this year with a felt covered photo frame! Whimsical lines and swirls dance across the base of the frame, that is dated with 2017. It is a festival way to display this years family portrait.
The  blessed water bottle adds a special touch to any decor. It would even look beautiful with small flickering string lights inside.
Hallmark Musical Animated Snowmen
I love the animated plush snowmen that Hallmark releases each year. I already own the Time For Cookies Snowman from 2015, and Stockings Hung With Care is a welcome addition to my ever growing snowman collection. Press the button to see the snowman and the dog companion, Rex, move and sing "Jolly Old St. Nicholas". These animated plush are always  fun for the kids as well. My daughter loves the various animal holiday plush that we own.
3 x 4 pillar Candle: When snowing outside a candle makes the mood of my living room warmer and more welcoming.
Build Your Own Snowman Kit: Kids can add some of their own personal touches to your Christmas tree by making their your own snowman ornaments.  Designed by keepsake artist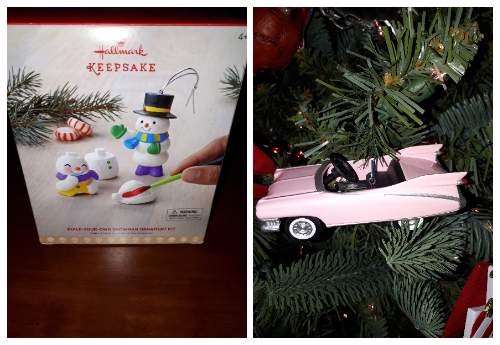 Tammy Haddixm, kids can create these snowmen however they like by painting them and adding glitter too.  The build your own snowman kit comes as a set of 3 ornaments.
Without a doubt, the Christmas tree is the highlight and the center point of our holiday festivities. With holiday music playing the background, we spend hours decorating it just right.
Each year, I add a new Ornament or two to our decoration collection. This year I am adding the 1959 Cadillac Eldorado Biarritz -Kiddie Car Classic to my tree. This cool classic ride is made of die-cast metal with wheels that actually turn. Pair it with any of Hallmark's Kiddie Car Classics Collectible Toy Cars for a classic gift.
Hallmark 2017 Keepsake ornaments make the perfect gift. When giving a Hallmark 2017 Keepsake ornament as a gift, you are sure to find something that matches the unique personality and interests of your recipient.
Hallmark Gifts for Kids
Holiday Peanuts® itty bittys™ Set
Add to their itty bitty collection with these Peanuts characters! Lucy and Snoopy are just as cute as their animated selves and are great for stocking stuffers or  to add to any itty bitty collection. You can also collect Charlie Brown and Woodstock.
My daughter owns several Hallmark itty bittys and as a mom I just love this adorable line. The tiny four inch tall plush toys are the perfect item to collect. The Hallmark itty bittys collection has grown from eight characters at launch to more than 50 different characters to choose from.
Peanuts® Snoopy's Dog House itty bittys® Stuffed Animal Carrier
Now she can take her Peanuts characters with her wherever she goes with the fun carrier that's shaped like Snoopy's dog house. Decorated for the holidays, it's a great seasonal display, and encourages lots of play. It also makes for a fun gift under the tree.
Hallmark Gift Wrapping
Gift wrap and accessories are available to wrap up the season with flair. Aflix gift tags to your presents to add pizazz. Hallmark has more than 100 Holiday gift bag available in small, medium, large, x-large, grand, and jumbo and bottle bags with tags. Attach honeycomb, snowman characters to your Christmas gift bags or boxes.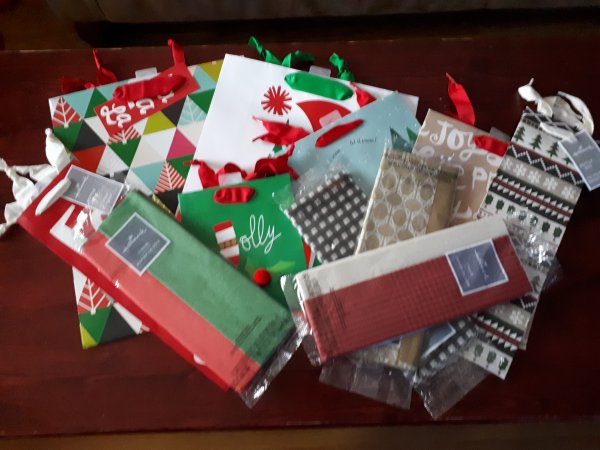 Make your wrapped Christmas packages pretty by attaching small tokens to each gift. This adorable cinch bag is a fun way to add a small gift to a larger gift.
Santa's trousers is a cheeky way to give a gift. Suit up some treats for little ones, fill with small gifts for under the tree, or give teacher gifts in the cutest bag yet.
Hallmark Holiday Cards
For all of his 91 years, Joyce "J.C." Hall cared enough to send his very best. In 1915, Joyce along with his brothers created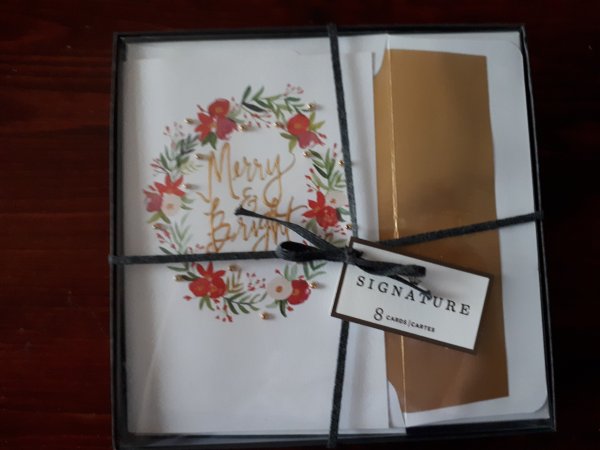 Hallmark for the purpose of marketing and selling greeting cards. In 1954, Americans sent 2 billion Christmas cards as a personal and heartfelt way of saying Merry Christmas or Happy Holidays. This holiday season send unique, stylish Christmas cards from Hallmark. Your card is sure to stand out from other holiday cards on the mantel, desk or wherever it is displayed.
We hope you have enjoyed a sneak preview of just some of the items from the Hallmark Holiday 2017 collection. These products and more are available at Hallmark Gold Crown® stores nationwide, and participating Hallmark retailers. With a few special added touches from Hallmark, you can make this holiday season unforgettable. Here is hoping you have a Very Merry Christmas.
Website: http://www.hallmark.ca
Hallmark Canada Giveaway
We have partnered with Hallmark Canada and are giving away a set of poinsettia candles and a 1959 Cadillac Eldorado Biarritz -Kiddie Car Classic.