Today, as people become more health conscious they have begun making their own hamburgers at home. When making homemade Burgers you don't have to limit yourself to beef. You can make burgers out of ground turkey meat, ground pork, ground chicken, salmon or make vegetarian burgers. If you are going to start making burgers at home though, you may want to invest in a burger press. While there are lots of different burger press on the market the Chef Remi Non Stick Burger Press is the only press you will ever need!
Chef Remi is 100% committed to designing genuine quality kitchen tools to support busy parents that take the time to cook for their family. "We realized that some of our customers needed help when making homemade burgers." "We wanted to show our customers that, with the right tool to hand, creating juicy, succulent homemade burgers is easy with the Chef Remi Non Stick Burger Press!"
Chef Remi Non Stick Burger Press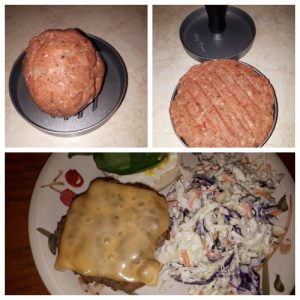 I put the Chef Remi Non Stick Burger Press to use right away and have already made about a dozen patties. The burger press is constructed from ultra-strong, food-grade aluminum alloy that can be safely used with ALL foods. It's guaranteed not to corrode from hot liquids or become dull over time. The press provides just enough pressure to make patties that can withstand falling apart on grill. The press also stops you from overworking the mince, which yields dense, dry and tasteless burgers.
Unlike iron burger presses the Chef Remi burger press won't rust over time. The company has added a nonstick coating to the inside of the burger press too. This effectively stops raw ground meat from sticking. The Chef Remi burger press also has interior ridges, on the inside bottom plate and top press plate. When your frying or flame broiling your burger you'll get just the right amount of contact, so the burger's sear evenly.
The handle gives you just the right amount of pressure to create patties that stay together. The handle also easily detaches from the press, and stores away inside, which is handy for storage. When prep is over you can simply rinse clean with detergent & water, or throw it into the dishwasher.
Chef Remi believes that families are the centerpiece of society, and communities are stronger when they sit down together, even if it's over a quick, wholesome meal. "We believe that every child deserves a home cooked meal with a family who loves them."
Check out Chef Remi full line of products at https://chefremi.com/
You can purchase the Chef Remi Non Stick Burger Press via amazon.ca for just $16.99.