If you know someone looking for a powerful, versatile alternative to their full-size oven then you should consider gifting them the Cuisinart Combo Steam & Convection Oven. While the counter top appliance might look like a regular old toaster oven, we assure you it's much more.
Features:
6 Cubic Ft. Capacity
Cooks food fast (up to 40% faster than conventional ovens)
Food retains valuable nutrients, vitamins and minerals as well as moisture and freshness
Electronic Controls with LCD Display
1800 Watts of Power
9 Functions, Including Steam
Steam Clean Feature
Limited 3-year warranty
This must have gem can bake, broil, steam, steam and bake or toast whatever your heart desires, plus it can be used to warm-up left overs or as a warming tray to keep Christmas favorites hot and ready to serve.
The Cuisinart Combo Steam & Convection Oven comes pre-programmed with 9 functions. Steam or poach any type of vegetable, fish, poultry or rice… or use steam in combination with both Broil or Bake functions to create roasts that are beautifully browned on the outside, yet moist and juicy on the inside. Special settings allow you to proof breads, rolls – even homemade pretzels and donuts. Bake them faster, with bakery-quality results.
Getting to Know Your Control Panel
The Cuisinart Steam Convection Oven features a pleasant blue-lit LCD display which allows you to view the cooking functions, time, temperature, and active heating elements. The large blue-backlit LCD screen is easy to read, and clearly displays the function, time, temperature, and toast shade you have selected. Indicators also let you know if top, bottom or both elements are heating, and when to add water to the reservoir. When the oven is plugged in and not in use the clock will display.
The program button dial is use to select cook function, change preset time, or temperature and choose toast shade. The preheat indicator will disappear once the oven has reached set temperature. Food should be placed in the oven before selecting cooking function and starting oven as preheat time is minimal and incorporated into overall cooking time.
PARTS AND FEATURES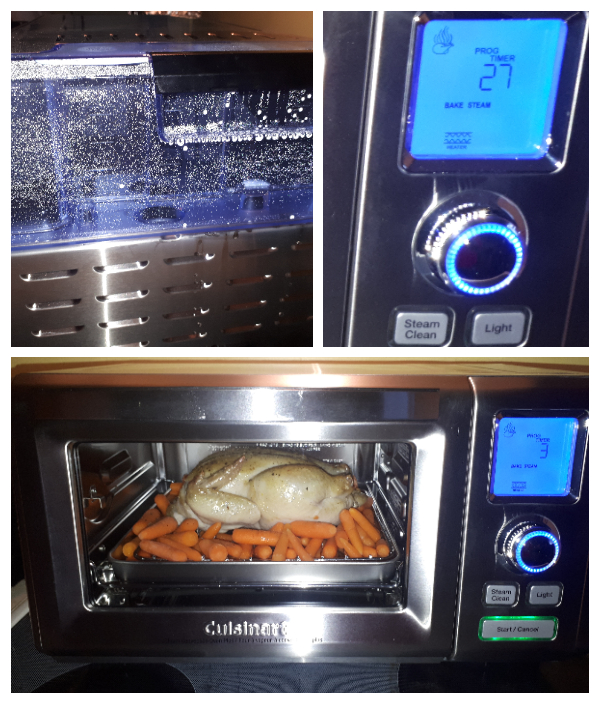 The water reservoir is located on the right of the convection oven and has a spill safe pressure cap, allowing you to pull it off and fill it anytime you need. There is also an "add water" alert, where the unit will continuously beep and shut off when the reservoir needs refilling. If it needs refilling fill the reservoir and replace on oven.
Wait 30 seconds and press the program button. The oven will automatically resume from the point cooking cycle was interrupted. A full reservoir should run for approximately 2 hours on a steam function, which we tested and it does. Fill the water reservoir with tap water if using a function requiring steam.
The Cuisinart Steam Convection Oven comes with a shallow pan and a cooling rack. There is also a crumb tray that sits underneath the heating elements to catch crumbs from bread and toast. For convenience, you can remove the crumb
tray when using steam functions.
The steamer oven also features a drip tray just underneath the glass door that simply pulls straight out.  Natural juices tend to accumulate in the baking pan when cooking with steam functions. Should the baking pan be full of liquid after cooking, allow to cool and then carefully remove before emptying. Cuisinart also included a drain plug in the back, so when you done cooking you can drain the excess water from the convection oven.
The Cuisinart combo steam and convection oven also has two handles on both sides that are clearly visible and heat resistant, allowing you to move the oven easily and safely.
OVEN RACK POSITION
The four-position rack is handy for multiple cooking functions: LOWER for roasts, poultry, casseroles, bread and baked goods. MIDDLE for standard- size foods and dishes, toast and bagels. It also features two broil positions, UPPER and LOWER, for broiling.
We liked that the Cuisinart Steam Convection Oven has a light, so you can easily see what you're preparing without needing to constantly open the door. If you do open the glass door you actually hear the vacuum seal sound. The glass door is air tight keeping the moisture and heat within the oven, so your food cooks evenly.
For us what really sets this machine apart from others is its steam capability — with cooking settings like Bake Steam, Broil Steam and Super Steam, you're able to cook rice and vegetables. Cooking with steam means you don't need to use oil for healthier results and increased moisture retention. The steam oven also cuts cooking time by up to 35% compared to a conventional oven.
Cleaning the machine is a breeze. Select the steam function default, and once the cycle is complete, just wipe the interior clean.
The Cuisinart Steam Convection Oven also comes with a friendly user guide and a recipe booklet.
Our Thoughts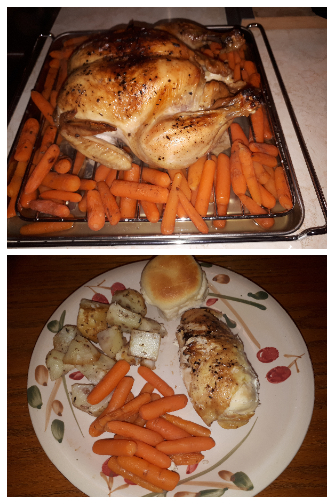 We've been test driving the Cuisinart Combo Steam & Convection Oven for the last month or so at home and absolutely love it. The first time we used it, I made a roast chicken in the steamer-convectional oven and couldn't get over the results. My whole chicken turned out moist and very tender.
It was so much better than the supermarket rotisserie chicken my wife and I have purchased. No more grocery store rotisserie chickens for us. If you are like us and enjoy the juicy taste of the rotisserie chickens from your local super markets you will be pleased to know that the Cuisinart Steam Convection Oven gives those results.
We also used the Cuisinart Combo Steam & Convection Oven to roast vegetables on the Bake Steam function and are looking forward to using the Bake Steam function to make some bread pudding.
I haven't had the pleasures of baking goodies with the Cuisinart combo steam oven just yet, but with Christmas around the corner it will give my wife a reason to have me in the kitchen.
While we are still exploring all it features, we have concluded that the Cuisinart Combo Steam & Convection Oven is a solid machine for the price point.
Website: Cuisinart.ca