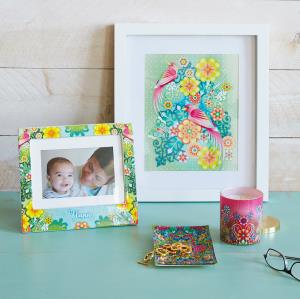 Mother's Day is a perfect opportunity to celebrate the women in our lives. With the holiday fast approaching we bring you  some of our favorite Mother's Day Gift Ideas from Hallmark.
Perfectly suited to celebrate Mother's Day and the arrival of spring, the Catalina Estrada Floral Collection lets mom bring the beauty of Catalina Estrada's artwork into her home and personal accessories. The collection celebrates the many colors of Mom through the vibrant and inspiring designs. The assortment of gifts includes brightly colored umbrellas, cuff bracelets, mugs, frames and other personal accessories.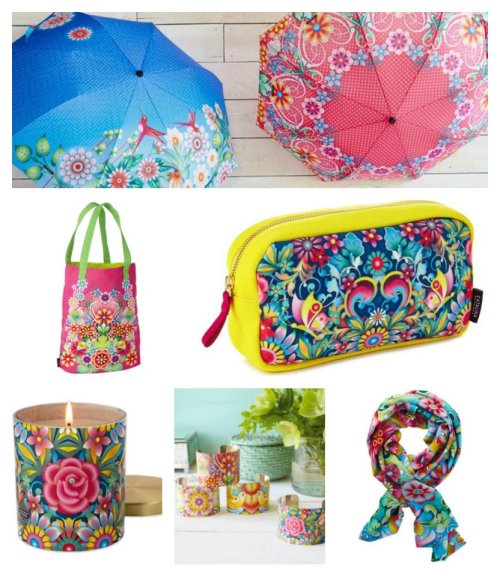 Available in four vibrant designs, Catalina's umbrellas are just what mom needs to keep her dry, especially given all this rain we are having lately in Ontario. My personal favorite it Catalina Estrada Hummingbird Haven Umbrella. Inspired by nature, her design infuses a vibrant world of colors and bold blooms set against an intricate blue background.
Mom will want to take this bag everywhere- be it a trip to the gym, grocery store or library. Distinctively designed by artist Catalina Estrada, the fuchsia tote bag features exotic floral accents and lime green trim. It's very pretty. In fact. my eldest daughter wants to borrow it (Never return it to me.)
Whether at home or traveling this upcoming summer, mom will be well organized with this next gift. Every mom needs a makeup bag. If she doesn't wear makeup, she can use it as a toiletry bag. It's that roomy! Vibrant yellow fabric accentuates the blue and pink symmetrical floral design on the cheerful bag.
This metal bracelet will quickly become a favorite go-to accessory for an adventurous fashionista. Available in four unique designs, artist Catalina Estrada art is featured on each bracelet, which comes with a muslin pouch. Inspired by Latin-American folklore, Catalina presents a symmetrical spin on nature on the Flourishing Blooms Cuff, which features a mosaic of colorful flowers.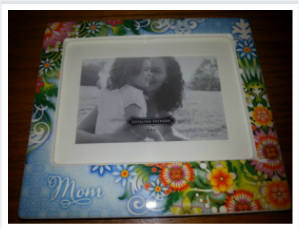 A myriad of colors and floral blooms makes this beautiful scarf a versatile accessory, featuring another distinctive design by artist Catalina Estrada. This pretty scarf adds a touch of warmth and fashion to her spring wardrobe.
After a long day of work at home or office, mom can give herself some aroma therapy with the Catalina Estrada Blue Rose Candle. Decorated with a fresh floral pattern, this glass candle holder features a removable lid and is filled with an exotic palm leaf and orchid-scented wax.
The Catalina Estrada Mom picture frame ($19.95) will lovingly bring a pop of colour to her home office or work office. It is the perfect place to display your photo.
In addition to the Catalina Estrada Gifts Collection, here are a few other gift collections available this Mother's Day to shower mom or grandma with love.
Ceramic Mugs With Tea Infuser and Lid- For the tea-lover on your list, might we recommend the Ceramic Mug with Tea Infuser ($24.95). This colourful ceramic mug with comfortable handle is accentuated by a turquoise and brown bird motif (also available in orange). It features a removable lid with button handle for perfect steeping temperature, along with a ceramic infuser basket for bagged or loose tea! It's dishwasher and microwave-safe.
Stylish Statements – Made to be shared with important women in your life, each print features words that inspire, affirm and empower. The framed prints can sit or hang, and come with a beautiful gold-finish frame and easel back.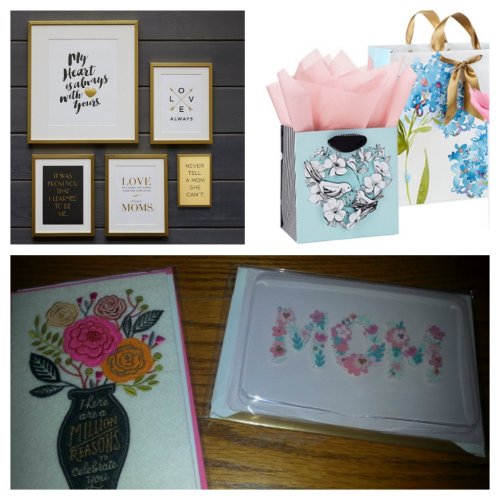 A gift just isn't a gift without a pretty presentation! Hallmark has everyone covered with beautiful signature gift bags.
With an estimated 118 million Mother's Day cards exchanged every year, Mother's Day is the third-largest holiday for giving greeting cards. This year, the Hallmark Mother's Day card collection includes more than 1,000 designs that address the range and relevance of today's  moms and families.
Hallmark Signature Mother's Day cards feature fresh designs and genuine messages. You are sure to find the perfect card for the women in your life.
We hope that you have enjoyed these Mother's Day Gift Ideas from Hallmark.
All things Mother's Day can be found at Hallmark Gold Crown® stores and other participating Hallmark retailers nationwide. Of course, these items are available well past Mother's Day, so if you have a birthday like I do coming up this month be sure to hint around for a few gift ideas.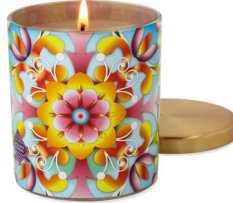 Website: hallmark.ca
Catalina Estrada Candle Giveaway
Hallmark has set aside a Catalina Estrada Candle for one of our lucky Canadian readers! Enter below. Giveaway ends Sat May 13th at 8 pm EST time.