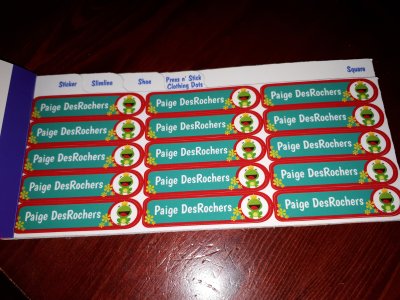 Every year the school lost and found contains many personal items of clothing that are never claimed. The expense of lost gear can really build up.  Therefore, it is a cost-saving measure to label your child's shoes, coat and other belongings. It makes finding them in the lost and found box easier.  And remember that your child's items may look very similar to their classmates By labeling belongings with his or her name, not only will it help prevent loss, but it will also help in handling confusion and possible upset for your child. Lovable Labels offers an easy way for you to label your child's belongings, including hard-to-name items like shoes and socks. The company was born in 2003, when owner, Laura Porreca, was sending her son to school and realized that there were few options for parents to easily label their children's' school gear.
The Back to School label pack is available in 35 designs / Colors and 45 Icons. If none of the value packs suit your needs, Lovable Labels offers a NEW "Create Your Own" pack feature!
The Back to School label pack includes:
15 Sticker Labels 7cm x 1.5cm (2 ¾" x 9/16″)
80 Slimline Labels 5cm x 0.7cm (2″ x ¼")
12 Shoe Labels 3.8 cm X 3.8 cm (1 ½" x 1 ½")
60 Press N' Stick Clothing DOTS
-20 Medium – 2.6 cm x 2 cm (1 1/8″ – 3/4″) and 40 Small – 2.2 cm x 1.6 cm (7/8″ – 5/8″)
12 Square Labels 3.65cm x 3.17cm (1-7/8″ x 1¼")
2 Mini-Metal Tags 5.3 cm x 2.9 cm (2 1/8" x 1 1/8") are perfect for lunch bags and backpacks.
The Press n' Stick clothing DOTS are perfect for labeling sweaters and jackets.
Shoe Labels work well on both the inside and outside of footwear! You can stick them on the inside of your child's running shoes or on the outside of your child's rain boots.
Mini-Metal Tags are great for backpacks or your child's zipper on their jacket.
Slimline labels are perfect for toothbrushes, pens/pencils, toys, pencil cases and hair brushes.
Sticker Labels are perfect for lunch containers, water bottles, sports equipment, school binders, etc.
Square labels can be used on everything from toys, video games, DVDS, laptop to books and binders.
Get Your Daycare Packs from Lovable Labels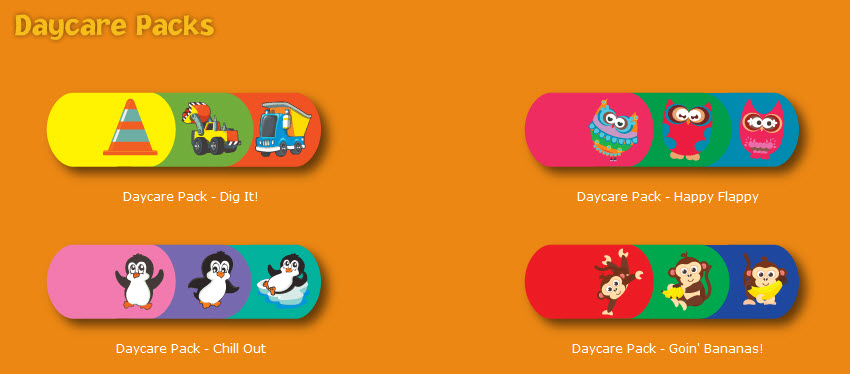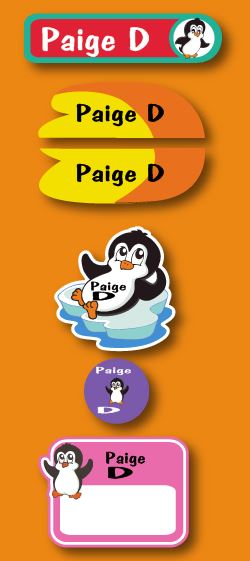 Check out Lovable Labels daycare packs, which are perfect for daycare or preschool. They are perfect for labeling anything headed to daycare! Each pack includes: re-writable snack labels, preschool shoe labels that help them to learn left from right, clothing labels and multipurpose labels that have fun shapes and designs for easy recognition. Available in 4 designs, you get:
15 Sticker Labels 7cm x 1.5cm (2 ¾" x 9/16″)
16 Match It Shoe Labels 2.5 cm x 3.6 cm (1″ x 1 1/2″)
10 Fun Stickies 3.5 cm x 4.2 cm (1 2/5″ x 1 2/3″)
60 Mini DOTS 1.5 cm or 5/8″ circle
8 Snack Labels 5.2 cm x 4 cm (2″ x 1 4/7″)
One thing I appreciate about "Lovable Labels" is that their labels are waterproof, as well as, dishwasher, microwave, sun, and laundry safe. And they have several different styles to choose from in comparison to some of their competitors. The labels are made with the highest quality materials, and adhere well to various materials. Overall, Lovable Labels are a fun, easy solution for labeling my daughter's belongings, as well as providing me with some peace of mind.
While labeling your children's clothes and belongings may seem like a bit of a hassle, it certainly beats having to replace lost clothes and gear! Most noteworthy: Label everything (even things you can't imagine your child leaving behind!)
What handy tips do you have to stop your kids from losing their school items?
Happy New School Year!
About Lovable Labels:
When Laura Porreca was ready to send her child off to daycare for the
first time, she quickly discovered that she was not the only frustrated parent looking for the best solution to ensure her little ones "stuff" came home with him every day. After researching the market and testing a variety of products available, Lovable Labels was born. Today, Lovable Labels sells its fun and durable labels online to fill the need globally. Their product line along with their company has grown throughout the past seven years. Products now include everything from labels for baby's sippy cups and young kid's lunch boxes to Medical ID Wristbands and Allergy Alert labels. Of course, Moms are not left out with their "Spice It Up" labels and "Connect With Me™" cards. Lovable Labels is a proud two consecutive winner for the Profit Canada's Top 100 Women Entrepreneurs in 2009 and 2010 and received the Entrepreneur of the year for 2009 Business Excellence.