It is hard to believe that we are already closing in on the end of summer. With a new school season upon us, now is the perfect time to stock up on back to school supplies and essentials! OOLY products will help inspire the creative artist in your child(ren) and make learning fun.
Art Materials for Junior Kindergarten and Kindergarten
For kindergarten age children, try OOLY arts and crafts supplies, such as their left to right crayons, Chunkies Paint Sticks, Jumbo Brights Neon Colored Pencils and Stampables.
Chunkies Paint Sticks are a mess free paint in a solid stick form that draws smoothly over paper, wood and canvas without the need of brushes or water. They're easy to use, quick drying and portable, making them perfect for little hands! Each pack includes 12 different vibrant colors. My daughter has been using the paint sticks to make pictures with and to paint wood with.
Stampables is a set of 24 colored double sided markers; one side of the marker is for coloring and the other is for stamping. The markers also come in 10 different scents, which reminds me of the scented markers of the 80's. Stampables come in a durable carry case, making them perfect for traveling. My daughter has used her Stampables to make DYI wrapping paper, cards, for pictures and on dot a dot printables.
Left Right Crayons,  are a huge hit in our house with my daughter. They are her go to coloring supply. They are made of an Eco-friendly polymer. The crayons are totally non-toxic, so even young children can color safely. The crayons are perfect for toddlers just learning to color, as they are strong and do not break easily like normal crayons. My 2 1/2 year old niece loves them. They also prevent the mess of a wrapper. The ergonomic design of the crayons also assists with building fine motor skills by allowing the natural contours of the hand to hold the crayon for improved grip. Each package includes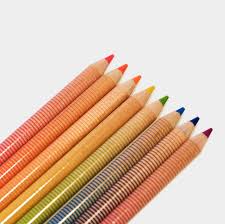 10 crayons in 10 colors – Light blue, dark blue, green, black, brown, yellow, orange, red, pink, purple. Did I mention they're erasable?
I have always been fond of colored pencils (or pencils crayons as we say here in Canada). Jumbo Brights Neon Colored Pencils are age appropriate for children entering junior kindergarten and senior kindergarten.  The large size makes them easy for small hands to grasp. The package of 8 colored pencils will last quite a long time. The thick barreled pencils measure nearly 7 inches long. The pencils remind me of the chunky pencils I learned to print with back in the 70s.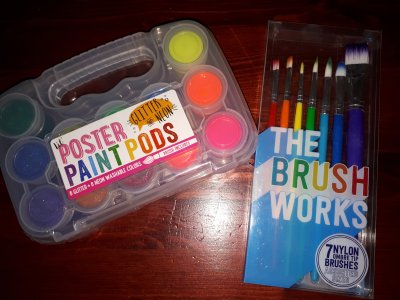 We get lots of use out of lil' Poster Paint Pods in our house. They are our go to paint. The Glitter and Neon lil' Poster Paint Pods set comes with 6 glitter and 6 neon paint pods. Of course we couldn't of did any painting without the Brush Works paintbrush set.  The Brush Works makes a great all-in-one set with 7 paintbrushes of different sizes and styles including small flat, small angle, extra small round, medium round, medium filbert and large flat. I love that the set comes with so many different size brushes and I found that the brushes clean up nicely too.
For older children who are preparing for back to school you can help them stock their pencil cases with everything from scented erasers and pencils to gel pens.
Pencil, Pens, and Coloring- Oh My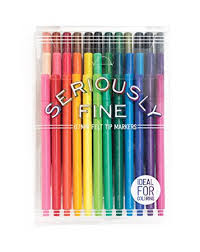 Designed for adult coloring enthusiasts in mind, this set of felt tip markers features a super fine tip at just 0.7mm. With 36 colors to choose from, the set offers a wide variety of options. The barrels are triangular shaped, so they provide a great grip. They also won't roll off your coloring book or tabletop. They would perfect for  high school art students.
As set of graphite pencils will make homework, and school work super fun. Choose from pencils featuring sharks, donuts, and unicorns.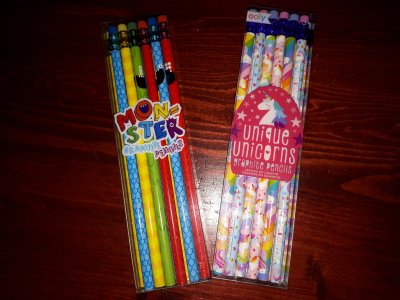 Why use a boring black or blue pen when you could have a pen that had four or more colors?  I remember these pens from my school days in the 70's and 80's.  Of course these pens were prone to jamming, but the current model from International Arrival works much more smoothly.  At the click of a color-coded button you select the color you want. Ink colors include blue, green, yellow, red, purple and classic black. The Summer Fun 6 Click Pen comes in four different varieties with fun summer themed artwork on the barrels. Choose from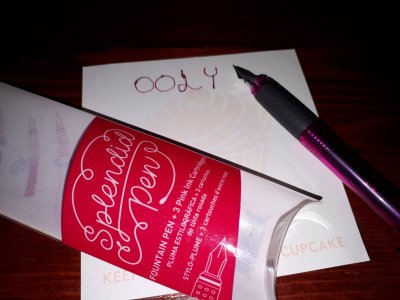 light blue, green, light pink and hot pink.
Enjoy writing with the refined style of a fountain pen with the Splendid Pen. The Splendid Fountain Pen comes with a rubber grip barrel and 3 ink cartridges. Splendid Pens have a small ball-shaped point for a no-scratch writing feel. The pens are available in blue, black, green, red, pink and purple with individual refills available.
Scented School Supplies
Undoubtedly, scented erasers have become a widely accepted school supply.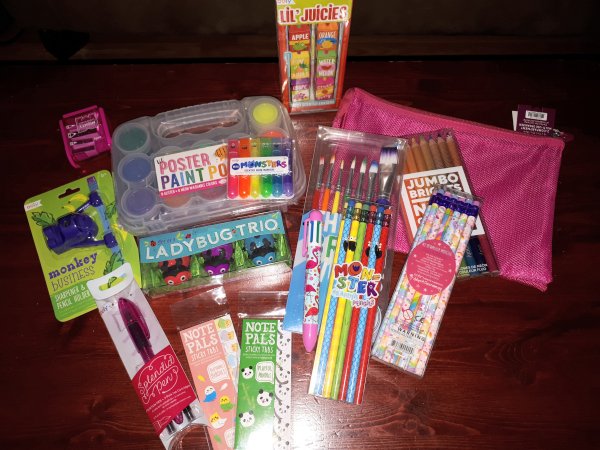 Enjoy the sweet smell of delicious fruit when you erase with Lil Juicies Fruit Scented Erasers. Your kids can now enjoy the tangy flavors of apple, orange, pineapple, watermelon, grape and strawberry.Each package comes with 6 erasers.
Mini Monster Markers are perfectly sized for small hands to grasp. They come in six sweet smelling scents (Melon, Banana, Orange, Strawberry, Grape and Blueberry).  Kids will be attracted to the goofy monster faces. Each marker measures 2.75 inches long.
Surprise your children with highlighters that are different from any other. Star Struck Scented Highlighters are super cute highlighters with a star shaped tip. Use them for star shaped stamps and highlighting. There's 6 colors in a set each with their own fruity scent; Strawberry, Orange, Lemon, Green Apple, Blueberry and Grape. So yummy!
You can count on OOLY to bring you an excessive amount of scented products for back to school.
Some last minute back to school supplies
Pencil Sharpeners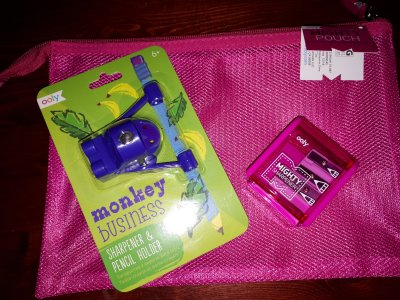 A good sharpener is a must have companion to your pencil. Pencil sharpeners have come a long way sense the ones I used in public school. The monkey business pencil sharpener and holder will add a little fun to the boring job of sharpening pencils. Just slide any pencil into his hands and he will be ready for whenever you need to sharpen a pencil.
The Mighty Pencil Sharpener is a 3-hole pencil sharpener, one for regular sized pencils, one for larger pencils and one to sharpen for a really fine tip. The pencil sharpeners come in 6 different colors, red, pink, teal, blue, green and black.
Make your notes, calendars and binders super cute with these note pad sticky tabs from OOLY. Each package contains 120 tabs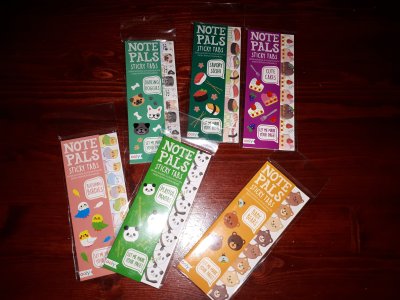 and the sticky tabs are available in a variety of cute designs.  Both my eldest daughter and I use the note pad sticky tabs  from OOLY and we find they stick rather well.
Last, but surely not lease, keep everything organized with this mighty pencil case. Measuring 10 inches by 7 inches the case is large enough to hold several  back to school essentials. The front side features a see-through mesh and the pouch comes in 4 fun colors.
Here are some necessities to have in your case:
two lead pencils
multi colored pen, one blue pen, one black pen
sharpener
scissors
glue stick
highlighters
Markers or pencil crayons
sticky tabs
eraser
ruler
My daughter will be headed off to junior Kindergarten next month with some of the fun OOLY back to school supplies featured here.
OOLY is a contemporary gift/stationery company who offer an assortment of FUNctional items geared toward children and children at heart! Pay them a visit today: http://www.ooly.com