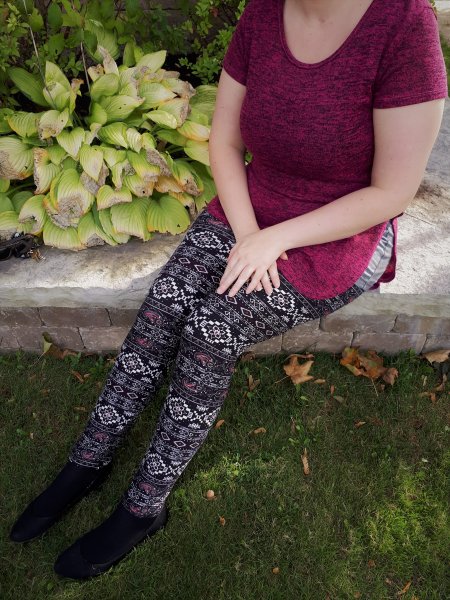 While leggings have topped the fashion trends for quite some time now, there cannot be a better time than the holiday season to add a few pair of new leggings to your wardrobe. From Du North Designs Ltd  comes flattering yoga pants, and fashion leggings in fresh colors and fabulous fun prints for whatever trend you're following this season. Leggings also make a great Christmas gift when shopping for that hard to buy for woman.
Some recent popular styles in leggings from Du North Designs Ltd  include patterns such as fall fiesta prints, plaid and animal print. Why not add a layer of warmth and comfort with stylish winter leggings.
Choose from snowflake patterns, season greetings, rein dear patterns and more.  Perhaps you rather keep warm and cozy this winter with the fleece lined leggings available at Du North Designs. Whichever fashion leggings you choose, remember ladies – leggings are not pants! If you're going to wear a shirt with leggings, make sure the hemline of your top falls below your bottom.
My older daughter is wearing Du North Designs date night leggings. The leggings feature bold burgundy flashes throughout. She paired it with a burgundy long knit tunic topic from Giant Tiger and a pair of black flats. She commented that the leggings would look super cute with a pair of black faux suede boots(like the ones she has had her eye on at Giant Tiger.)
Fashion leggings can either be worn as a layering garment or on their own when paired with a long cardigan, or with a tunic top as my daughter has. A tunic is usually reserved for spring and summer, but you can transform it into the perfect winter look when warn with a cardigan. Leggings from Du North Designs Ltd are an essential addition to my daughter's wardrobe and they get lots of wear. We also found that compared to other brands, Du North Designs Ltd leggings hold their shape wash after wash.
Leggings are also great to wear under a short dress to add an extra layer of warmth. Plus leggings can transform your dresses into shirts. Leggings look good with boots and layered up with other chunky knits- like leg warmers.
Select a long, knit sweater and matching knee-high boots to give your edgy, colourful leggings the super cozy finish. Try matching a printed pair of fashion leggings with a long-sleeved top, high-waisted mini skirt and pointy-toe flats for a stylish semi formal look for the staff Christmas party.
Fashion leggings have definitely changed dramatically over time with so many different designs and different ways of wearing them. Regardless if  she uses them as a comfortable gym attire, put under a dress for warmth or as an accessory for the perfect layered looks, legging has become a part of women's wardrobes. Keep her warm and snug with legging styles this season from Du North Designs Ltd. Remember though: If you are buying leggings for as a gift, consider the body type. Black and darker-colored leggings will have a nice slimming effect on the wearer's legs. Du North Designs Ltd leggings come in classic sizes, diva and plus sizes.
Fashion Leggings for Girls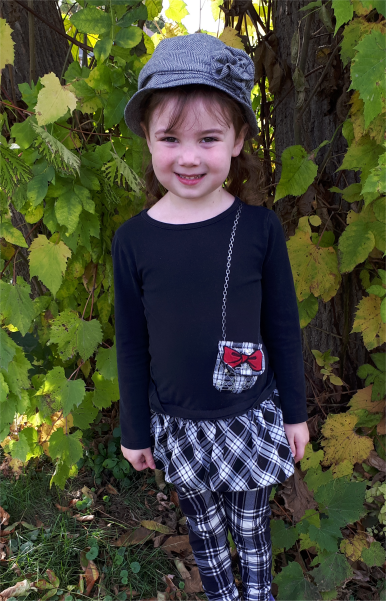 Du North Designs also carries a collection of toddler leggings in size 2t to 4t, and girl  leggings in sizes 4-6x and 7-12.
Little girls' leggings are the perfect fashion accessories, keeping little legs warm underneath pants, skirts and dresses. They also look sweet when paired with a tunic. 
The company is also well known for their printed leggings for mommy and me. Like leggings in larger sizes, I find the girl leggings to be super soft and stretchy. 
My youngest daughter (pictured right) is wearing black plaid leggings from Du North Designs. We paired it with a tunic top that she had in her wardrobe already. The tunic top has a plaid hem, therefore it matched the leggins perfectly.  We finished off the fall look with a cloche hat. 
About Du North Designs Ltd
Du North Designs Ltd. retails fun boutique-style clothing at an affordable price online and through independent distributors. They take pride in providing a wide assortment of products from a mommy and me line to curvaceous ladies apparel. They believe that every woman is beautiful and that every woman should embrace what makes her special, following her own fashion compass.
Website: https://dunorthdesigns.com