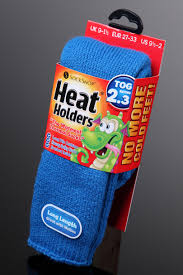 Snow is just around the corner here in Ontario. You know what that means. Yep, the cold, wet and snowy season. While my daughter loves the snow this mom is not a fan.  However, as a mom I make sure my daughter is ready for anything winter throws our way. That of course means a warm winter jacket, snow-pants, dozen of hats and sets of mittens as we all know how often a mitten or hat gets lost at school. And when Jack Frost visits town, my daughter will be ready with her Heat Holder socks. Rated as the warmest socks in the world with a tog rating of 3.1, with over 10 million pairs sold worldwide, Heat Holders have proven to be a revelation.
Innovative knitting technology locks in warm air, holding this closer to the skin, keeping feet warmer for longer. The soft brushed inner adds comfort and softness where feet need it the most.  And the grip pads prevent sliding on slippery surfaces.
Heat Holders are diabetic friendly and provide relief for cold feet without causing circulation problems.
Children's Character Heat Holder Socks

Heat Holders socks for children are great for use with winter boots and are available in many vibrant colors! For indoor comfort and warmth, choose Heat Holders children's slipper socks, styled with your child's favorite characters.
Choose from Disney Princess, Elsa and Anna from Frozen, Star Wars, Minions, Spider Man and the Incredible Hulk! These indoor slipper socks come with non-slip grippers on the bottom to provide better traction on indoor wood or tiled surfaces.
Maintaining your Heat Holders is easy. Simply place them in your washer using warm water and then tumble dry on the lowest setting. Do not, however, use bleach, an iron or dry-clean as this breaks down the properties of the socks.
Heat Holder Tights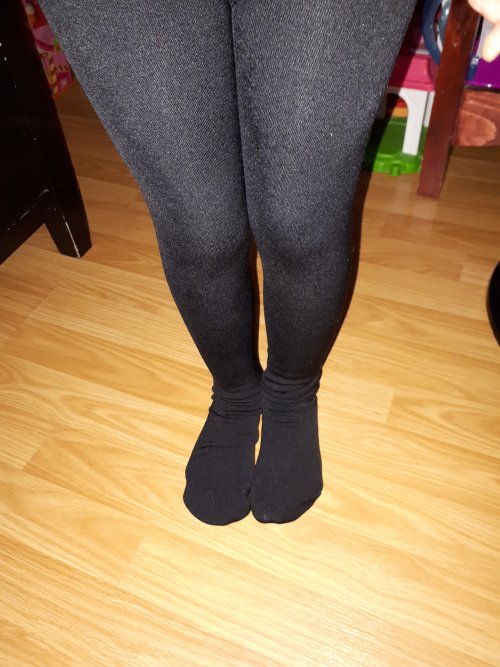 Protect their delicate legs with these girl's Heat Holders® 0.52 Tog Thermal Tights. The specially developed Heat Holders® thermal yarn provides high performance insulation, by holding more warm air close to the skin, and a lovely soft feel too. The tights are surprisingly light and fine, despite a 140 denier thickness, with a soft brushed inner and flat, comfortable seams. Heat Holders® Thermal Tights are tested to a 0.52 Tog rating, so you can be sure they are cozy.
The heat holder tights work well and don't add bulk. Not only are they perfect for an extra layer of warmth under pnats, but they look good under a special occasion dress as well.
Our thoughts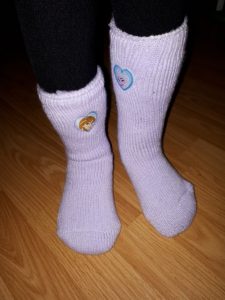 We recently stood out in cold temperature to watch our annual Santa Clause parade and my daughter was kept warm in her Heat Holders 0.52 Tog Thermal Tights and her Frozen Heat Holders slipper socks.  The Frozen Heat Holder slipper socks feature a decal of Elsa on one sock and Anna on the other. On the bottom of the sock is grip sole treads shaped like snowflakes. With an amazing tog rating of 2.34, Heat Holders® children's socks are over seven times warmer than a typical cotton sock, therefore there was no need for me to double up her socks to keep her feet warm and dry. Overall, I really like the Heat Holder Character Slipper Socks.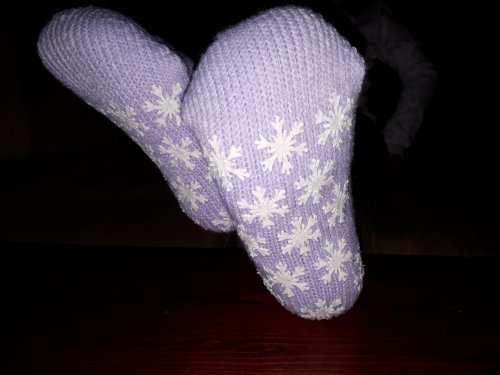 With Christmas round the corner Heat Holder socks are a fantastic stocking filler for any member of the family! Give a sock hug this holiday season, and add in a snugly  Heat Holders blanket for an extra layer of comfort.
The Heat Holders brand also extends to warm blankets, hats, snoods and thermal clothing, too, ensuring there's something for everybody.
If you are looking for a practical gift that the whole family will love then head over to heatholders.co.uk, heatholders.com or heatholders.ca.