Skechers shoes are one of the highest-quality kids shoes on the market.  They are well known for  producing shoes that stay on top of trends. Adding one-of-a-kind elements to each design, Skechers Back-to-School range of footwear for boys and girls will have them looking fly in the class room and on the play ground.
Lets take a look at one of the best running shoes for girls and find out which pair girls are going crazy over.
Emoji have taken the children's fashion world by storm, showing up on everything from T-shirts and socks to backpacks and lunch bags. Skechers is appealing to young girls love of emoji with the release of SKECHERS Game Kicks: Swift Kicks – Emoti Match shoe. These sneakers keep children entertained while on the move with a built-in light-chasing, memory game.
Not only are the shoes stylish for my little fashionista, but the awesome game features to these shoes make them well liked by my daughter. I can see these shoes getting my daughter into some trouble during class, but thankfully I can turn the feature off during class time.
Four different emoji shaped buttons light up and make sounds in a classic 'match the pattern' game. The soles are high quality and comfortable, which means that they are going to hold up as long as her feet fit in them! These shoes have a bungee stretch lace that provides a little extra room to get them on. Your kids will be styling on the playground in SKECHERS Game Kicks: Swift Kicks.
SKECHERS Microburst – One Up shoe
SKECHERS Microburst – One Up shoe are a must have in your daughter's wardrobe as we gear up for back to school. 
Featuring a soft crochet fabric upper with openwork floral design & glitter overlays the shoes give her timeless sporty style with all day comfort.
The shoes allow for easy on/off, and is quickly secured with an adjustable hoop-and-loop closure. The shoes are one of the most versatile shoes in my daughter's wardrobe. Both functional and stylish they look cute warn with a dress or with denims.
S lights- Air lights running shoes
S lights- Air lights running shoes for girls are a lightweight and comfortable shoe, which provides a flexible fit. Not only are they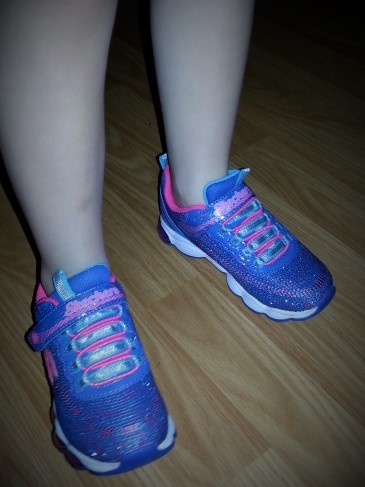 stylish, but they are highly functional. The shoes feature a bungee lace front panel for easy slip on. They also feature an on/off switch on the side of the shoes to the deactivate the light-up feature, with the exception of sizes 10.5 to 13.5, which do not have the deactivation feature. S lights- Air lights feature breathable glitter finish fabric and provide cushioned comfort with each and every step. A flexible rubber traction out-sole enhances durability.
Back-to-school shopping isn't just for students.  Sometimes mom and dad need a new pair of Skechers shoes to see them into fall. Be sure to check out the new fall line of Skechers shoes for men and women too.
Have you found any great shoes lately? What are your kids wearing on their feet for back to school?
Visit the official Skechers website to see the full line of Skechers shoes for your family!