The Easter holiday has inspired some great children's books. Are you looking for some new books to read with the kids over the Easter holiday? Check out some of our favorite Easter books for preschoolers.

Happy Easter, Curious George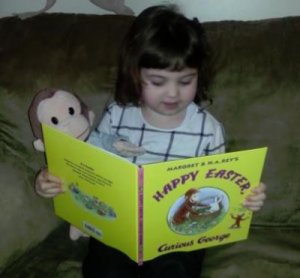 Everyone's favorite lovable monkey is back in Happy Easter, Curious George. Learn and experience with George the tradition of dyed eggs and the Easter egg hunt. "Happy Easter, Curious George is a winning holiday story based on H. A. and Margret Rey's popular primate and painted in the original watercolor and charcoal style. One fine Easter morning, George and the man with the yellow hat head to the park. George can't help but join in the fun when he sees children dyeing Easter eggs . . . but what's that man doing with their prized creations?
This was a delightful book for my young Curious George fan. The repetition is great for building vocabulary and familiarizing children with reading. The illustrations are simply wonderful.   The glitter stickers in the back of the book are a bonus and perfect for Easter decorating.  This was indeed a very cute book to read at Easter.
Ollie's Easter Eggs (reader)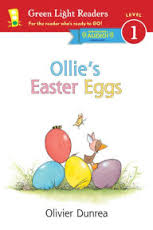 Olivier Dunrea is the author of many bestselling books for children. His work centers around farms, animals, architecture, and Olivier Dunreafolklore. He lives in the tiny village of Narrowsburg, New York, in the Catskill Mountains. "Gossie & Friends began in 2001 with sketches of goslings while Dunrea was staring out the studio window watching Canada geese fly overhead, honking loudly. A pair of red rubber toy boots sat on his bookshelf for some strange reason. As he sketched goslings, he started drawing them wearing red rubber boots. And that is how the idea for Gossie and her 'bright red boots' came to life."
In "Ollie's Easter Eggs"- Gossie, Gertie, BooBoo, and Peedie—4 tiny, but assertive ducks from the Gossie & Friends seriesBoard Books for Easter for Toddlers—gather, dye, and hide eggs for Easter. Olliw wants eggs too though; sporting a pink bunny-eared bonnet, Ollie moves the eggs to a hiding spot, leading to the ducks searching and hunting for their eggs.
My 4-year-old daughter loved this book and how sneaky Ollie was as he snatched the hidden dyed eggs and re-hid them! This is a cute addition to this popular series. My daughter had a number of the Ollie Series of board books when she was younger. The level 1 reader is just right for children beginning to sound out words. The book is written with simple sentences with lots of repetition. The repetition allows young readers to read some words along with their parents.
The Great Easter Race! (Sesame Street Scribbles)
Everyone's favorite Sesame Street Character is back in The Great Easter Race! (Sesame Street Scribbles). "It's Easter morning, and all of Sesame Street is gathered at the park for the Great Easter Race. Who will win the day? Will it be the turtle, who moves slowly and steadily toward the finish? Or will it be the bunny, who runs faster than thunder, but seems easily distracted? Fun surprises wait around every turn, so come along with Elmo and all the Sesame Street friends!"

So far we've liked all of the Sesame Scribbles books.  The illustrations in the book are bright and colorful and will engage young children. The book consists of simple sentences and rhyming text that children can interact with. This was indeed a delightful addition to my daughter's book collection and although Easter themed, I am sure she will enjoy it when Easter is over.
What is your favorite Children's Easter book?
Website:raincoast.com