Thanksgiving is over here in Canada and the count down to Christmas has begun. Please do not shoot the messenger. If you want to get a jump start on your holiday shopping and are shopping for a child six and over then these all natural beauty kits make a great gift idea. Kiss Naturals DIY beauty kits contain all natural ingredients and are made right here in Canada. Whether you are conscious about what goes onto your child's skin, or your child is just discovering things like lip balm and bath bombs, making your own beauty products at home is a rewarding use of time and teaches children math and science.
Choose from Kiss Naturals DIY lava lip gloss, Kiss Naturals lip balm, Kiss Naturals bubble bath kit and so much more. Here at Today's Woman we have owned several of the Kiss Naturals kits over the last couple of years and just love Kiss Naturals DIY beauty kits.
Kiss Naturals Bubble Bath Kit
The process Kiss Naturals Bubble Bath Kit is simple, fun and easy to follow. The kit comes with everything you need to make your own bubble bath. While the recommend age for the kit is six and up my almost five year old daughter needed very little help and had lots of fun with this DIY bath set.
First: Pour 30 ml of bubble bath base into the included measuring cup. Select your choice of fragrance and add 10 to 30 drops. Next: Add 0-20 drops of coloring to the measuring cup depending on how dark you want your bubble bath. You can combine scents to create your own fragrance.
Next: stir with the included stir stick. Carefully pour the mixture into one of the included bubble bath bottles. Place the cap on tight.  The bath kit makes 4 bottles of bubble bath.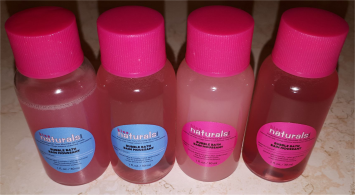 The bubble bath smells great and leaves the bath water brimming with bubbles. My daughter loves taking baths, over showers  The bubble bath kit was such a hit that she couldn't wait to take a bath, so that she could use her new bubbles.
Kiss Naturals Hair Chalk Kit
The hair chalk kit comes with everything you need to make 6 chalks (each one a different color). You get 6 mold trays, 6 packages of powder to make the chalks, water to mix with the powder, a mixing cup, and spoon.
Measure out the water in the measuring cup, add the powder and mix it up. Place the mix into the mold and let it sit for 2 hours. After 2 hours pop it out of the mold and you have hair chalk. Then apply to your hair like any other hair chalk. The kit comes with detailed instructions with pictures that are super easy to follow.
From Christmas holidays to snow days, insure your child isn't bored with Kiss Naturals DIY beauty kits.
Website: http://kissnaturals.com/
We want to give one of our lucky Canadian readers a chance to win a DIY bubble bath kit from Kiss Naturals. You can enter below.  If you don't have any kids to gift it to, perhaps you can enter and donate it to a Christmas sharing program in your area should you win. Good luck everyone.