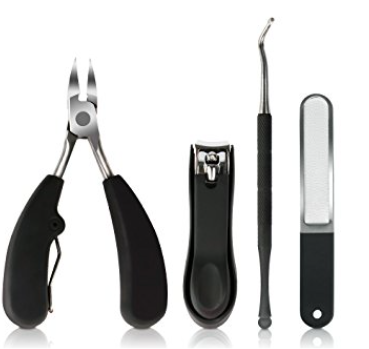 Overtime, frequent salon visits can become quite costly. Save money and time by doing your own manicures and pedicures in the comfort of your own home.  The Manicure & Pedicure kit from MiroPure gives your nails the salon treatment .

What impressed me most about this manicure & pedicure kit from MiroPure is the durable, sharp toenail clipper which cuts through my hard, thick nails with ease. The curved blade and narrow tip allowed me to reach under my ingrown nails without any difficulty. Thanks to the in-built spring, the jaws of the blades open wide, making my thick nails easy to cut.The point of the blade was perfectly shaped for precise cutting where the nail meets the cuticle. The blade tip's sharpness, left a smooth edge on my nails. The smooth handles on the clipper are comfortable to both grip and hold.
The Toenail Lifter/cleaner is a stainless steel tool that is wonderful for pedicures. It is the perfect tool for home pedicures and work well to lift my ingrown toenail.
The clipping catcher nail clipper is quite sharp and ideal as it holds the clipping inside. Like the rest of the manicure, and pedicure tools it is manufactured from the highest quality stainless steel.
Finally a nail file that works great. It is easy to grip and comfortable to use. The nail file has a fine sapphire grit that efficiently reduces nail length and smooths edges. My only complaint is the that nail file is not double sided. It only has nail grit on one side.
Be sure to prevent fungal infections by keeping the tools in the kit sanitized. Wash them off after each use and give them a quick rub with a cotton ball dipped in rubbing alcohol.
Overall, I am really impressed with this manicure & pedicure kit. I only wish is came with a case for storage instead of the box it comes in and some of other nail tools like scissors, a cuticle pusher for pushing cuticles back and cuticle nippers.
Available via Amazon.ca
Other beauty must haves" for summer ready feet is the AVANTEK Electronic Pedi Perfect Pedicure Foot File and Udderly Smooth Shea Butter Foot Cream.
AVANTEK Electronic Pedi Perfect Pedicure Foot File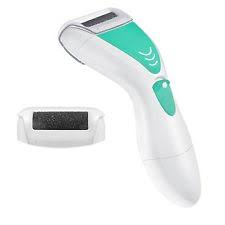 AVANTEK Electronic Pedi Perfect Pedicure Foot File is quite efficient at removing dry dead skin and calluses from your feet. It uses micro-mineral crystals to quickly scrub away your calluses. It is powered by two AA batteries, which are included. The power button is conveniently placed on the unit for quick and easy shut on/off. It comes with two heads and a cleaning brush. I only wish it came with a bag for storage. The remover is light weight and small enough to use for travel. The only downside to the tool is that it does create a mess of skin dust.
Available via Amazon.ca.