Kiss Naturals DIY kits lets your daughter have her own chance to have a hands-on pampering experience. In addition it also educates her about what exactly goes into the products she is making. As the name suggests, Kiss Naturals uses only natural ingredients for its kid-safe DIY beauty kits. Today we are going to look at 4 of the companies DIY kits.
Kiss Naturals DIY Lip Balm Kit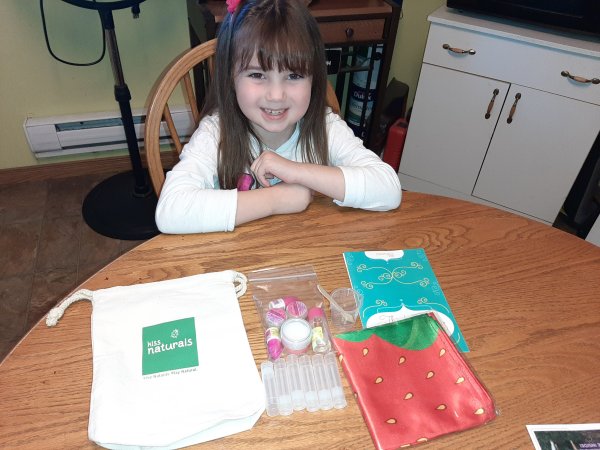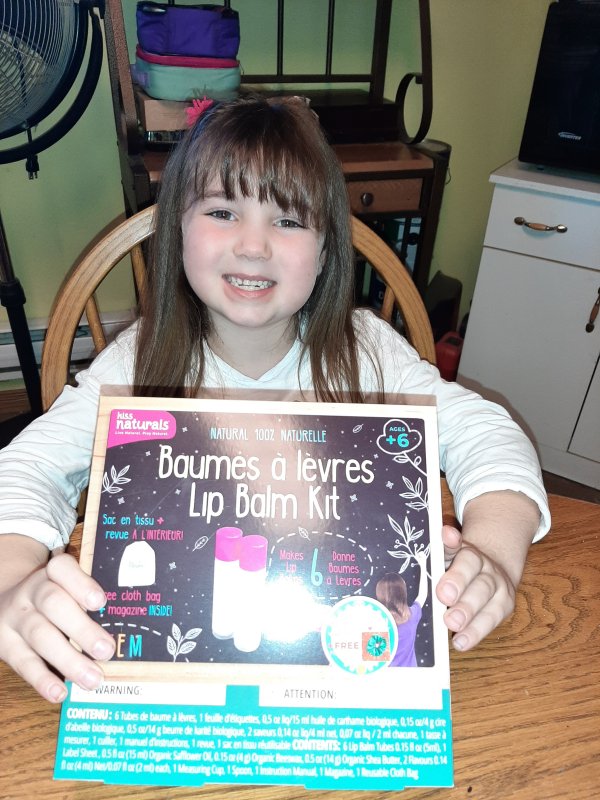 With Kiss Naturals lip balm kit your children will learn about what goes into lip balms when you mix the beeswax, shea butter and safflower oil to get the perfect formulation. Like other kits from Kiss Natural line of DIY beauty kits, I was amazed at how simple and easy the Lip Balm was to make. The Kit comes with step by step instructions. Young children will need adult supervision. The ingredients do need heated in a microwave, so please assist your children when needed.
Ingredients
Safflower oil: Safflower oil is high in Linoleic acid and vitamin E, which is a beneficial combination in the treatment of dry skin. It is an excellent moisturizer and works exceptionally well in lip balms to soothe and hydrate dry lips. You can use it in many recipes to nourish hands, face, and even hair!
Beeswax: Beeswax is an ideal emollient for the skin. Its natural hydrating quality puts moisture into the lips and provides nourishment and protection. Beeswax is rich in vitamin A and contains healing, softening and antiseptic properties. It is an ingredient of choice for many cosmetic products.
Shea Butter: Shea butter has been used for generations to rejuvenate hair and skin. It contains the nutritional vitamins A, E and F. Its superior moisturizing properties can be easily absorbed by the skin, making it silky. It is popular on its own or used as a base for lip balms, body butters and hair conditioners.
Kiss Naturals lip balm making kit instructions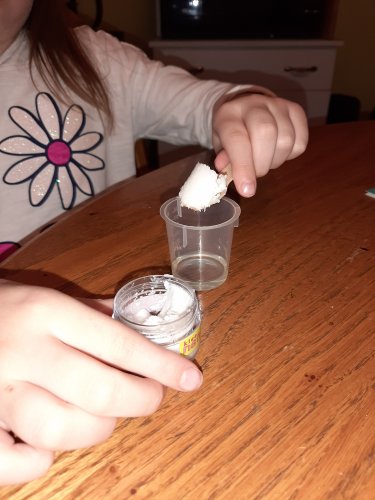 After preparing a tube you measure out 5 ml of safflower oil. Next, measure 1/3 of the shea butter and add this to the safflower oil. Measure out 25 wax beads and add it to the measuring cup.
Place the measuring cup on a microwave safe plate and place it in the microwave and heat for 1 minute. Stir and make sure the beads have melted. If you need more melting time, microwave for another 30 seconds. We find that it takes a long time for the beads to melt so you may need to add more time. Next add your desired flavor and stir.
Carefully fill your tubes. Place caps on and refrigerate for 20 minutes. Check and see if they have solidified and if needed allowing more time in the refrigerator.
The results are an all natural lip balm that is easy to carry in a bag or purse. The all natural lip balm would make a great DIY gift for your child to make for Christmas gifts.
Kiss naturals lava lip gloss

The Kiss Naturals Lip Gloss Kit contains everything you need to make six lip glosses.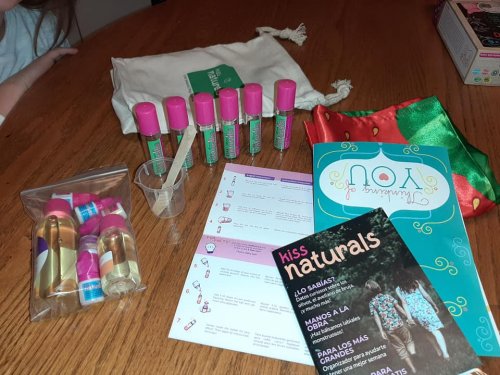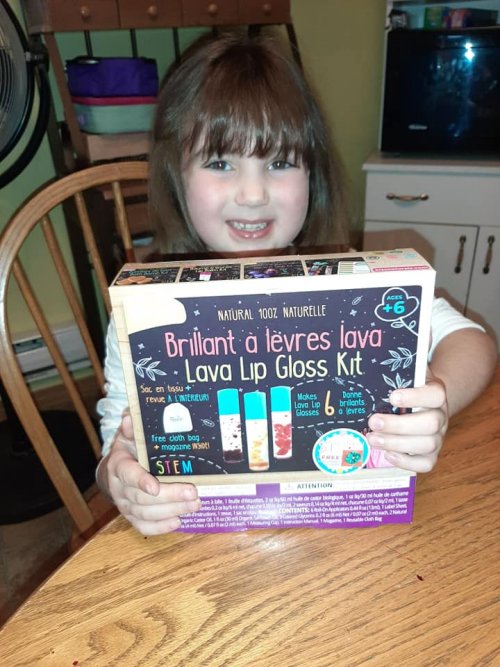 The craft kit includes a 60ml bottle of Castor Oil, a 30ml of Safflower Oil, 3 2ml bottles of colorant, 2 2ml bottles of flavoring, a small measuring cup, and 6 lip-gloss applicators.  It also includes instructions, a guide, a gift card and wrapping for gift giving.
Instructions: First remove the cap and ball insert from lip gloss applicator. This is where younger kids might need some help. Pour 5 ml of castor oil into the cup. Some instructions of what line to poor to may be needed. Next  add 5 ml of safflower oil to the same cup up until the ten-ml line. Again, some instruction of what line to pour to might be required.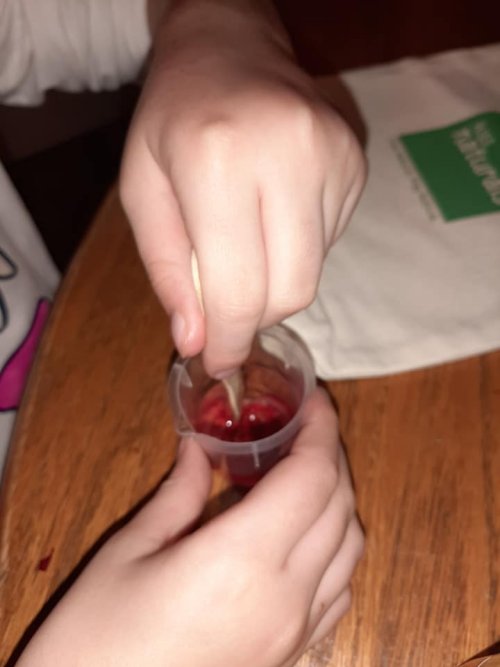 Next add approximately 30-40 drops of the colored glycerine directly into the applicator. In the video I mistakenly tell her 60, but the correct number is 30-40. The included colors are purple, pink and yellow. You can either drop a single color or choose to mix the colors. Next, add approximately 5-10 drops of flavor directly into the lip gloss applicator. The included flavors are Boysenberry and Bubble Gum. Mix the ingredients together and poor into the tube.
Lastly, replace the rolling ball and cap on the top of the lip gloss applicator and shake vigorously. You now have one tube of lip gloss.
Kiss Naturals Bath Bomb Kit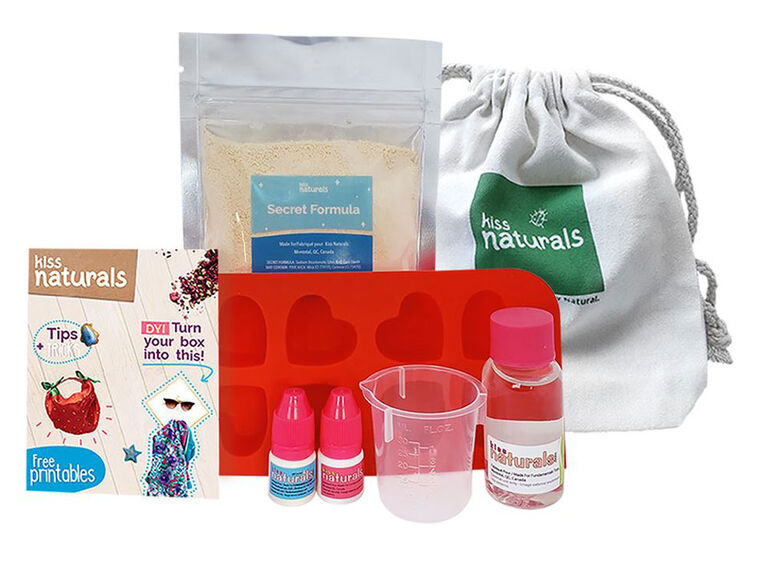 Miss P has recently become obsessed with bath bombs. With Kiss Naturals DIY bath bomb kit she was able to make eight of her own bath bombs. Out of all of the Kiss Naturals DIY crafting kits we have used over the years this is perhaps the easiest for kids as young as four to complete themselves. Each of the kits come with a reusable cloth bag.
Kiss Naturals bath bomb kit instructions: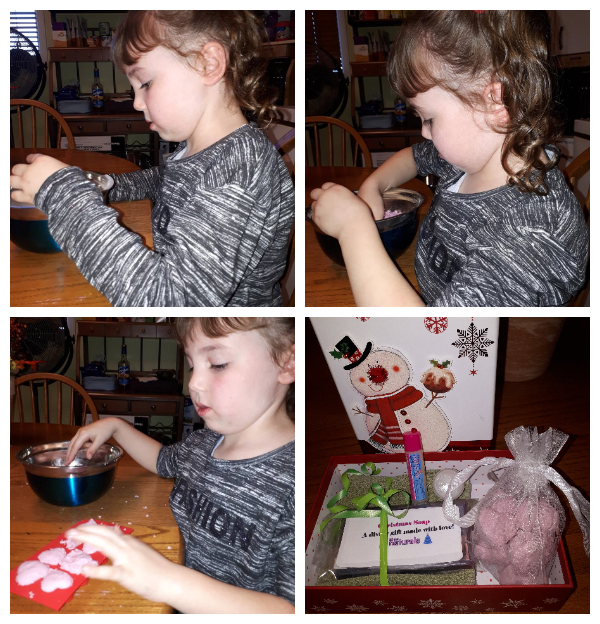 Like with all of Kiss Naturals sets the step to step instructions are clear and so easy to follow. Empty the secret formula into a bowl. Next: Measure out 10 ml of Witch Hazel into the small measuring cup. Empty into the bowl and start mixing right away. Now add the entire content of one fragrance bottle into your mix. Continue to mix for one min using your hands.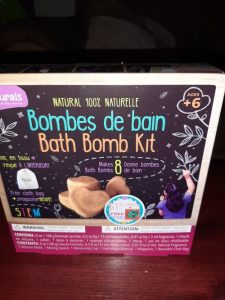 The texture should feel like moist (not wet.) sand. Pack into your mold and let dry for two hours.
The bath bombs  did crumble a little on us when I took them of the heart mold. Nonetheless, we were quite pleased with the Kiss Naturals DIY bath bomb kit and Miss P quite enjoyed the opportunity to make her own bath bombs.
We have used the bath bombs in the bathtub, and they work great.
Kiss Naturals DIY Glycerine Soap kit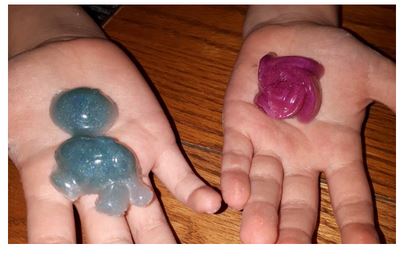 The Kiss Naturals DIY Glycerine Soap kit contains a bar of glycerine soap portioned into 8 squares, a silicone mold with four different shapes, red and blue mica based colorants, two natural fragrances in Jasmine and Tropical Sunset, and a mixing spoon and cup.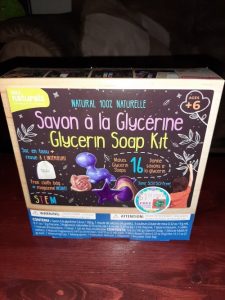 This DIY beauty kit requires adult assistance as you need to melt the glycerine in the microwave. Fortunately, it only takes 10 seconds to do so.
Separate one cube of soap. Drop soap into measuring cup. Melt in the microwave until soap is melted then add a small amount of color until you are satisfied with the shade. Now add a few drops of fragrance oil mixing thoroughly and place in to two molds and let harden.
This kit has a recommended cooling time of 15 minutes though you may want to let stand longer. The fragrance is light, and the soap cleans nicely without drying. One kit will make 16 soaps. Last year when did this kit we chose to make four small bars of soap for Miss P and one large bar to give as a Christmas gift to her older sister.
Final Thoughts

One of the things that I love about Kiss Naturals is that all of their DIY beauty kits are tested by the owners own family members before they are introduced to the marketplace. Furthermore, not only do the craft kits include everything you need to make the items, but all the ingredients are natural. They do not add fillers, additives, dyes or synthetics to any of their products nor do they test their products on animals.
From Christmas holidays to snow days, insure your child has fun with Kiss Naturals DIY kits.
Your child can pamper those they love by making Christmas gifts as Miss P has with any of Kiss Naturals DIY craft kits.  Therefore, order a kit or two today!
Website: http://kissnaturals.com/
Kiss Naturals Giveaway
Now is time for a giveaway. Miss P had so much fun creating her own lip balms and bath bombs made from 100% natural ingredients from Kiss Naturals
,therefore she has partnered with Kiss Naturals and wants to give away two kits to one lucky winner. Open to residents of Canada and the United States.