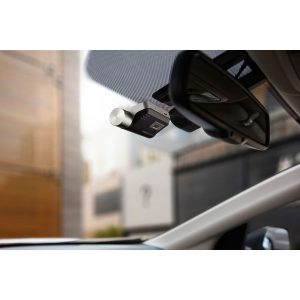 This holiday season give the gift that not only will safeguard them, prove liability in case they are ever in an incident, but also  protect  their car while parked. Dashboard cameras are rising in popularity because they provide one with their own record of an event, as well as a record of ones own driving behaviors. For those who drive a lot, a dash cam can be a good protection measure. With their huge popularity and so many dash cams on the market which one do you choose? The Thinkware F800 Dash cam with Super Night Vision & WiFi has some of the best features in a dash cam and it is the cam that I use in my own vehicle. The F800 is about the size of a deck of cards.
Package Contents:
Main Dash Cam Unit
Mount with 3M tape (1ea)
Cigar Jack Adaptor
Adhesive Cable Holders
MicroSD memory card with adapter(consumable)
Quick Start Guide/Warranty Card
The F800's camera mounts very close to the windshield to reduce distortion, and swivels in the vertical with a range of about 90 degrees. The top of the F800 has four slots that slide onto the mounting plate which allows for easy installation and removal. The mounting plate is securely held to the windshield by a 3M adhesive strip (vs suction cup mount). The dash cam locks into place with a secure, wiggle-free connection.
Thinkware F800 features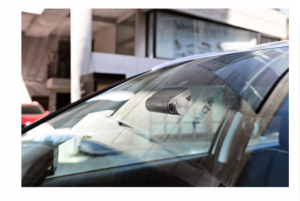 The F800 provides a number of "Advanced Driver Assistance System" or ADAS features such as a built in alarm system that alerts you if you swerve or leave your lane and it also alerts you of being too close to the car in front of you insuring you can stop in time in the case of a car abruptly comes to a stop in front of your vehicle.
The warnings about red lights and red light cameras, speed zones and mobile enforcement zones are perfect tools for teens or perhaps even yourself and hopefully will make you a better driver. As a parent I like the idea of a dash cam as it can provide a record of what kids are doing right and wrong when driving. Plus, most teens are likely to drive safer if they know that the dash cam is on recording. .
The F800 is equipped with the latest cutting-edge Sony STARVIS CMOS image sensor, so it captures crystal clear, highly detailed Full HD 1080p video at 30fps (Frames per second). It's also equipped with one of the best night vision recording I have seen as it illuminates the light to insure detailed crystal clear image recordings. Not too many cameras can record at night or compare to the quality of this dash-cam.
And I must say the Thinkware F800 has absolutely the fastest built-in GPS I have ever tested.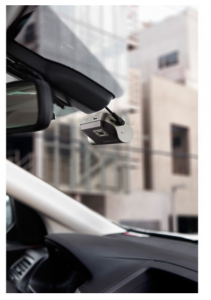 Even when you leave your car at the mall or underground parking lot its protected; as the F800 features parking surveillance mode with motion detection when hard wired directly into the vehicle.
But not to worry that if you use the parking surveillance mode your going to either fill up the memory card, or drain your vehicles battery as the F800 has "Time lapse," recording available in parking surveillance mode which allows for longer recording time via small file sizes and low power consumption.
The Built-in GPS antenna lets you know what speed you are traveling at and any red lights you are about to approach. It also records it for future reference.
The Thinkware Dash cam features built-in downloadable mobile app for android or apple smart phones that let you control settings from your phone. The mobile app also lets you stream or download video to your compatible smartphone for safe keeping.
One of the nice features of the Thinkware F800 is you can upgrade it by adding more memory, as it can support an SD card up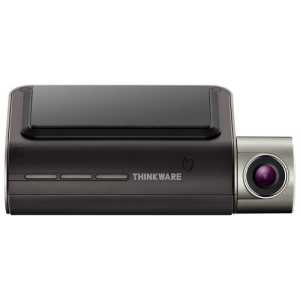 64 GB. You can also purchase a rear-view camera to record rear-end incidents in the same crystal clear quality as the F800 . Rear-end and angular crashes are more common during the busy holiday season when people are out shopping.
Other nice features include: a built-in thermal sensor protects the F800 hardware and data against intense heat by automatically turning it off to prevent overheating. The F800 features a lighter outlet 12 DC socket power cord, therefore your gift recipient can start using their new Thinkware F800 right away. Or Thinkware has an optional wiring kit that allows them to hard-wire their dash-cam directly into their cars electrical system. This enables them to use the F800's Parking Mode with time-lapse recording to capture video when they leave their car or regular video if it detects an impact.
Conclusion
Whether driving or parked, your car deserves around the clock security and protection, and there's no better way to accomplish this than the Thinkware Dash cam F800. In my opinion and compared to other dash cams on the market it is the best f the best. The Thinkware F800 1080p Dashcam with Super Night Vision & WiFi can be purchased via Best Buy Canada for $449.99. It is currently on sale until Dec 9th for $379.99.
Website: Bestbuy.ca