For many parents, keeping your car organized can be a bit of a nightmare. The backseat can look like a war zone, especially if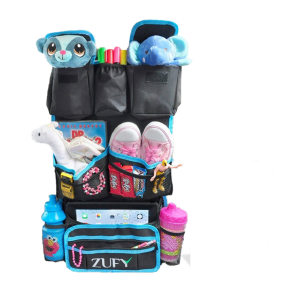 you have a child still in a car seat. For me that means a car seat, dozens of toys, snacks, DVDs and endless child items. The key to keeping my daughter happy in the backseat is to keep her stuff within reach — and then make sure that it doesn't go too far! We do a great deal of traveling with our daughter, so I was on the market for a backseat car organizer. Designed with family in mind, this child-focused seat-back organizer from Zufy includes a removable compartment, eco-friendly fabric, and even a bonus gift.
The backseat car organizer from Zufy consists of 3 different rows with 6 front pockets of varying sizes, 2 side pockets for drinks and bottles, and an easily detachable zippered pouch that's secured with Velcro.
The top row has three pockets, two of which Velcro shut. The pockets are quite roomy. We put an emergency bandage kit and pack of Kleenex's in the one pocket.  Bandages  is something handy to have in your car, even if you don't have kids. In the other pocket I plan to put a pack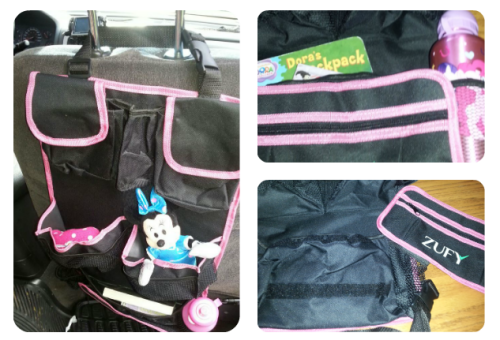 of crayons.
The middle row has two large, open pockets. In one we stored an extra set of mittens for our daughter and extra hat. In the other we stored a stuffed animal. Both pockets are roomy  enough for toys. Each of these pockets have two mesh pockets on the outside of them.
The last row consist of one large pocket with elastic along the top.  This is where I store her books and plan to add a coloring book. There are small mesh pockets on either side, where you can store a baby bottle, bobble of water or your child's sippy cup. I did find the mesh pockets were a tad snug, but that could just be that the bag is new.  I don't imagine all sippy cups would fit in the mesh pocket. There is also a removable, zippered pouch on the front of the backseat car organizer.
The top has an adjustable strap that clicks around the head rest and another that straps around the bottom.
The backseat car organizer also acts a mat protecting your back seats from stains, footprints and dirt. We did have to tuck the belt down into the seat, so mom wouldn't feel the strap when you sit in the adult seat.
Overall, I really like the organizer and it worked  for what I needed it to. I only wish it came in solid black, instead of the standard pink and blue. Though I am thinking on purchasing another one in pink for the back of my daughter's bedroom door to organize things.
As a bonus gift Zufy also throws in a set of car sun shades at no additional cost.  We have tented windows, but the sun shades were still a nice bonus gift.
With that said, even if you're not a parent, this organizer has a ton of useful features to pack anything you might need for your next road trip.
Available via Amazon.ca & zufyonline.com