Inspire your children to make their own Christmas gifts for friends and family with PlushCraft Fabric craft kits. These fun kits require no sewing and are mess free. Children simply follow a legend and punch pretty fabric to create wall art, journals, plushy friends, pillows and more. The PlushCraft line is rated for ages 5+. However, children as young as 3 can complete the kits with some help.
It's time to build a PlushCraft snowman.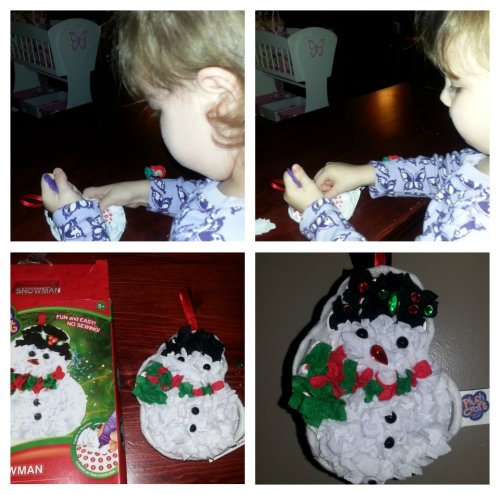 Each of the different colors of fabric have a number. Find the numbered spot on the snowman and push the corresponding fabric piece into that spot using the stylus. This is similar to painting by number", but The Orb Factory calls it "fabric by number".
Because my daughter is unable to read numbers, I only left out the colors she would need.  You only need 4 colors for the snowman, so it is pretty basic.  I did guide her along by instructing her where each color went.
I will admit that she was a little intimidated by the craft at first, and wasn't sure she could do it. Nonetheless, after I showed her how with a couple of pieces of fabric and the little punch stylus, she was so happy to finish and couldn't wait to decorate the hat. PlushCraft does take some patience and at times strength to punch, the fabric in.
The PlushCraft Snowman Ornament Kit makes the perfect stocking stuffer or can be made ahead of time to give as a gift.
Overall, PlushCraft Fabric by numbers from Orb Factory is an easy, but fun craft. I plan to get her the 3D puppy figure.
About The Orb Factory
The Orb Factory Limited is a leading specialty toy company known for its popular brands of craft kits, including: PlushCraft®, Pixel Pops™, Curiosity Kits®, Sew Softies™, Glitter Petz™, Sticky Mosaics®, Stick'n Style®, and Magnetic Mosaics®.