Christmas is fast approaching and no doubt there's someone on your list you have yet to buy for. We have 3 suggestions for the bacon lover, your dirty-minded best friend, and the cousin who loves to fib. Board games are always among the top 10 Christmas gifts. These fun adult board games from TDC Games are sure to be a hit. These are not the typical classic games you are used to.
First up: The Game of Makin Bacon for the bacon lover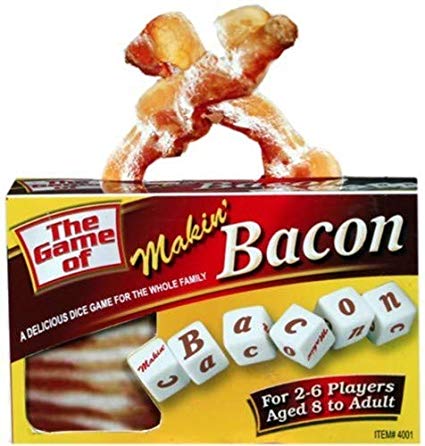 The bacon craze that has been sweeping the nation is far from slowing down. Products TDC Games Makin' Bacon Dice Game surrounding the sizzling meat is all over the Internet. The latest additions to the trend come to us just in time for Christmas. Introducing a sizzling new dice game from TDC Games called " The Game of Makin Bacon." Perhaps the perfect stocking stuffer for the bacon lover on your holiday shopping list.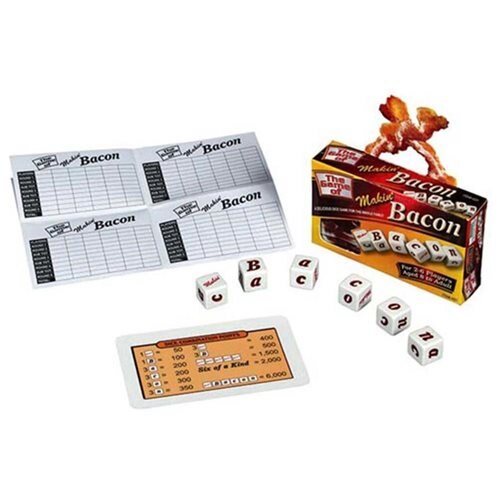 Recommended for 2 to 6 players the game contains 6 Makin' Bacon Dice, a score sheet, and instructions.
Scoring is similar to Yahtzee. Each player begins by taking turns rolling all 6 dice. Dice are labeled on all 6 sides- makin', b, a, c, o, n and each dice are worth different points.
1 "Makin'" = 50 points
1 B = 100 points
3 a's = 200 points
3 c's = 200 points
3 o's = 300 points
3 n's = 350 points
3 "Makin'" = 400 pointsMakin' Bacon
3 B = 500 points
5 "Makin'" = 1,500 points
Six of a kind = 2,000 points
Makin' B A C O N = 6,000 points
Like in the game of Yahtzee you can choose which dice to keep and which dice to re-roll based on the value of the combination you have rolled. As you roll your points must increase in order to continue rolling. You must get a minimum of 400 points — when that has been reached, you can decide whether to keep the points and stop rolling the dice or to chance to lose all points (Piggin Out) by continuing to roll the dice ( die.)
The first person to score 6,000 points across all rounds played is the winner. If anyone rolls a Makin "B-A-C-O-N, though they automatically win the game.
Makin' Bacon can be a little confusing when you first start, but once you get the hang of it then it is lots of fun to play.
The Game of Baloney for the cousin who loves to fib
Baloney Board Game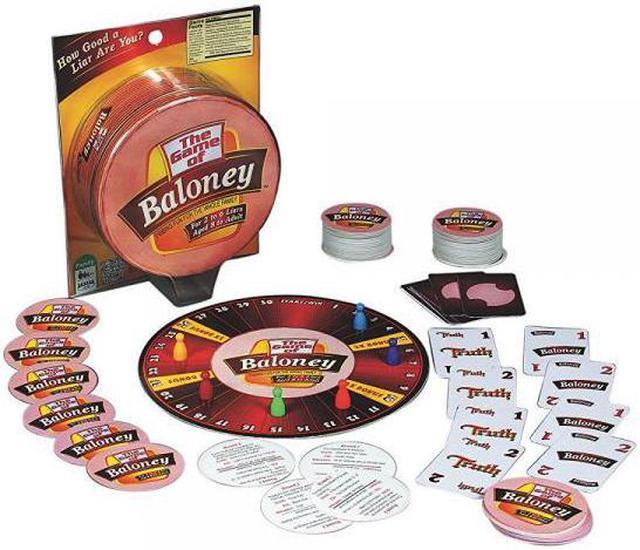 As children we grow up being told to always tell the truth and that we should never tell a lie. This is one of those times where you are encouraged to lie. In fact the better you are at telling a lie the better chances you win to win the game of Baloney. This new fun game from TDC Games has you pick a Fun Fact Card and read it aloud. It's up to you to offer the truth, a little fib, or a whopping lie! You will have to convince your opponents you're telling the truth for the best player at fibbing and fooling wins! The game includes 192 Baloney Cards, 384 Fun Fact Cards (1,152 lies) 24 Betting Cards, 6 pawns, a game board, and instructions. For 2-6 players, ages 8 to adult.
That Dirty Card Game for your dirty minded best friend
That Dirty Card Game.
With the holidays comes holiday cheer in the form of alcoholic beverages that add to the celebration. Here at Today's Woman we of course are going to encourage you drink to responsibly. Whether you have an alcohol-free get-together with adult friends and family or one where alcohol is served, we have the perfect adult party game for you. Recommend for players 18 and over this is of course a mature game, due to the "suggestive nature" of the content. That Dirty Card Game contains 100 Harmless Word Cards, 40 Innocent Stories, 2 Story Books, and 2 Book Marks. Each of the 100 cards has a totally innocent word printed on it. Play one of the cards from your hand to add to the story. Once everyone has played their cards read the story with the words from your cards added in to create a hilarious, and inappropriate story. The goal of That Dirty Card Game is to score the least amount of points by using your word cards to fill in the blanks of stories given in the story booklets. This isn't the game for shy players that is for sure.