This Christmas give the gift of sleep to a parent with a toddler or preschooler. Stay Asleep Buddies Hedgehog is a nightlight,
and sleep trainer. It is one gift that your gift recipient's parents will thank you for. This simple interactive plush pal uses melodies and lights to send clues to a child about when it's time to sleep and when it's time to get up.
The nightlight can help ease a child's fear of the dark. It shuts off automatically after 45 minutes. Use the sound soother to play a dreamy lullaby or without. The sound soother turns off after 45 minutes. If the child does wake in the night and picks up the hedgehog then the motion sensor is triggered and a lullaby is played for 23 minutes to help kids drift back to sleep. The controls are easy to use and you can access them even while it's inside the hedgehog.
The glowing light is bright enough for my daughter to notice, but not too distracting.
When it's time to wake-up, parents can set the hedgehog to play a morning tune and the light changes to bright green, letting
the child know it's OK to get up. The adjustable volume control allows you to set the volume for both melodies. Every Stay Asleep Buddy comes with batteries, a small storybook pamphlet, and is super soft to the touch. He is small enough to take with you anywhere and is machine washable, just make sure you take out the battery pack though before hand.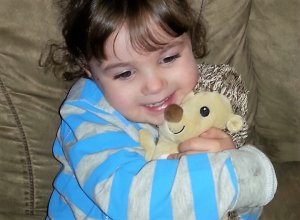 This would be a useful gift for newborns all the way up to preschool years, though the recommended age is 1-3. My daughter is just turning 4 and this little guy has become well loved in our house. Our daughter has been sleeping with the hedgehog every night since his arrival. We absolutely love the Stay Asleep Buddies and highly recommend it for sleep training, nightlights, and white (music) noise!
Website: cloudb.com/Canada